IMOCA 60s stream in
See the latest sched at the bottom of the page and charts of the following - overall, IMOCA 60s, Multi50s and Class 40s
Images courtesy of Expedition navigation software and PredictWind.
Competitors are starting to reach Guadeloupe thick and fast in the Route du Route-La Banque Postale. Over the weekend we saw Roland Jourdain and Veolia Environnement claim first place in the IMOCA 60, arriving at the finish line off Pointe a Pitre on Sunday morning at 05:12:56. He was followed in by Armel le Cleac'h on BritAir who claimed second at 13:08 yesterday. This morning they have been followed in in swift succesion by Marc Guillemot on Safran at 00:30, Jean-Pierre Dick's Virbac Paprec 3 at 03:16 and then former Vendee Globe winner Vincent Riou on his new PRB at 06:05 GMT.
The next arrivals today are set to be confusing with Philippe Monnet on La Boite à Pizza, formerly Ellen MacArthur's 75ft former B&Q/Castorama trimaran due to take fifth place in the Ultimate Class, 26 miles from the finish at the latest sched. Monnet is set to be followed this evening by the first Multi50 home in Lionel Lemonchois' Prince de Bretagne, at present 69 miles ahead of Lalou Roucayrol on board Région Aquitaine - Port Médoc.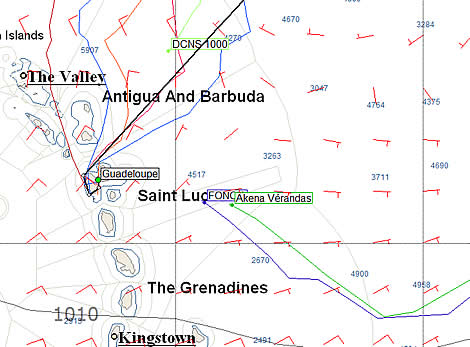 Third placed Marc Guillemot and Safran finished almost six hours off second place despite having been almost neck and neck with Britair on Saturday.
Guillemot observed on his arrival: "None of the boats are slower than the other. Bilou [winner Roland Jourdain] had a magnificent race from the start. It's not really a question of who designed the boat, as a solo race is first of all a race between men. And looking at this aspect, Bilou has shown his full talent: well done! His race went without a single hitch. Looking at it from the outside, we can say he made wise choices. All of us made some mistakes, me too under spinnaker: Bilou managed to set the pace and was a deserving winner. As for Armel, he has always been incisive, as we saw in the Solitaire du Figaro in the summer. I'm pleased to be on the podium with two sailors of that calibre. So I'd just like to congratulate them as they were the best.

"I had some technical problems, nothing that important, but it does take time and effort. I imagine I wasn't the only one in that situation, but let's not forget that we're all on our own out there… I attacked too much under spinnaker and that caused me problems. After that, you have to keep your cool. As everything starts to fall apart, when you lose it. I managed to keep pushing hard to the final stretch and I'm pleased to have made it back to the front and end up on the podium... I know I wasn't the best, but I never give up in such situations and this result is down to that determination. I'm proud and happy for all those, who have supported me. The energy I found to keep pushing comes from all those, who have been with me in the preparation of Safran and those who have encouraged me. I'm pleased with third place, even if I was aiming higher. We still have a lot of things to do together.

"I really enjoyed this race. I could never have imagined when sailing solo that I would be able to keep up the spinnaker in winds between 28 and 36 knots! Really enjoyable. Even if it did lead to me getting knocked down twice. It was stressful, but incredible fun. I am extremely satisfied to have been able to compete in this race and to have fought hard to the finish for this place on the podium."
The next IMOCA 60 arrival due in is Michel Desjoyeaux and Foncia currently 187 miles away from the finish.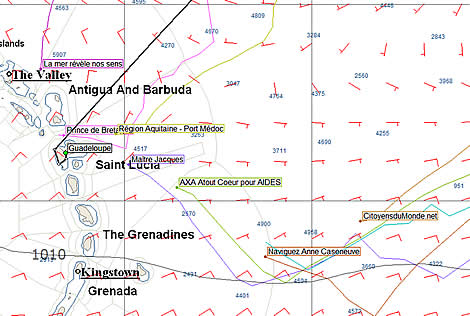 In the Multi50s, as mentioned, Lionel Lemonchois on Prince de Bretagne has done a good job defending his lead. The latest sched has the 2006 Route du Rhum winner approaching the north side of Guadeloupe from where he must sail around the west side of the island before he reaches the finish line on the south side of Guadeloupe.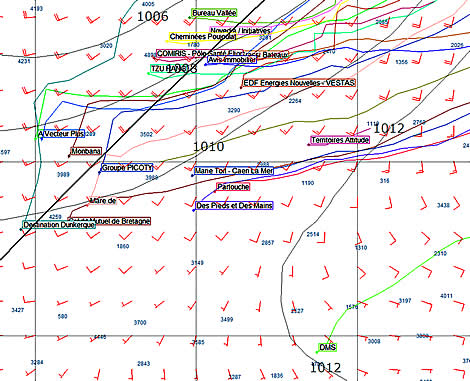 The Class 40 battle remains between perennial leader Thomas Ruyant and his Destination Dunkerque and second placed double Solitaire du Figaro winner Nicolas Troussel on Credit Mutuel de Bretagne. Yesterday afternoon Troussel had squeezed his deficit on Ruyant down to 41 miles but overnight Ruyant has made better progress and at the latest sched is back up to 57 miles in front. The general trend of the leaders has been to dive west and when possible south and due to this they have been coming down to the line of German Mini sailor Joerg Riechers on mare.de who over the last 48 hours has pulled up from fifth place to third, now108 miles from Ruyant, as Yvan Noblet on Appart City and Sam Manuard on Vecteur Plus have suffered in the north.
And what of the Brits? On Saturday morning Pete Goss on DMS was 14th, 380 miles from the lead and his position is virtually unchanged this morning. The Vendee Globe hero remains some 560 miles to the southwest of Ruyant but over the last 48 hours this doesn't seem to have paid any particular dividends. Goss is still on a slight southerly descent in order to find the elusive trades. Provided he can get far enough south, the forecast from here to the finish is looking evenly balanced for both the leaders coming in from the northeast and Goss coming in from the southeast with reaching conditions in NW to NEerlies for the north group and easterlies for Goss.
Richard Tolkien on ICAP ORCA is in 31st place 613 miles off the lead, and two places astern of the eloquent Marco Nannini on UniCredit.
Back to top
| | | | | | | | | | | | |
| --- | --- | --- | --- | --- | --- | --- | --- | --- | --- | --- | --- |
| Pos | Boat | Lat | Long | Spd | Crs | Spd | Crs | Spd | Dist | DTF | DTL |
| | | | | Instant | | 4 hour aver | | 24 hours | | | |
| | Ultimate | | | | | | | | | | |
| 1 | Groupama 3 | 9d 3h 14m 47s | | | | | | | | 0 | |
| 2 | Idec | 9d 13h 50m 48s | | | | | | | | 0 | |
| 3 | Sodebo | 10d 3h 13m 11s | | | | | | | | 0 | |
| 4 | Gitana 11 | 11d 11h 56m 38s | | | | | | | | 0 | |
| 5 | La Boite à Pizza | 15 59.39' N | 61 46.81' W | 4.5 | 107 | 3 | 140 | 9.1 | 219.5 | 26.3 | 0 |
| 6 | Défi Cancale | 14 50.21' N | 58 19.53' W | 7 | 322 | 9 | 320 | 9.1 | 219.2 | 274 | 247.6 |
| 7 | Saint-Malo 2015 | 14 22.58' N | 57 25.04' W | 10.5 | 305 | 10.2 | 308 | 10.5 | 252 | 333 | 306.6 |
| ABD | Oman Air Majan | | | | | | | | | | |
| ABD | Côte d'Or II | | | | | | | | | | |
| | | | | | | | | | | | |
| | IMOCA | | | | | | | | | | |
| 1 | Veolia Environnement | 13d 17h 10m 56s | | | | | | | | 0 | |
| 2 | Brit Air | 14d 1h 6m 7s | | | | | | | | 0 | |
| 3 | Safran | 14d 12h 28m 2s | | | | | | | | 0 | |
| 4 | Virbac Paprec 3 | 14d 15h 11m 13s | | | | | | | | 0 | |
| 5 | PRB | 14d 18h 3m 52s | | | | | | | | 0 | |
| 6 | FONCIA | 15 49.83' N | 59 29.23' W | 10.5 | 301 | 10.5 | 307 | 8.5 | 205.1 | 187.3 | 0 |
| 7 | DCNS 1000 | 18 40.23' N | 60 09.47' W | 4 | 211 | 3.1 | 216 | 3 | 73 | 214.6 | 27.3 |
| 8 | Akena Vérandas | 15 45.62' N | 58 55.52' W | 9.5 | 304 | 9.2 | 300 | 9.2 | 221.9 | 219.4 | 32.1 |
| ABD | Groupe Bel | | | | | | | | | | |
| | | | | | | | | | | | |
| | Multi50 | | | | | | | | | | |
| 1 | Prince de Bretagne | 16 40.67' N | 61 46.24' W | 15.5 | 171 | 11.9 | 275 | 5.7 | 137.5 | 66.1 | 0 |
| 2 | Région Aquitaine - Port Médoc | 16 41.89' N | 60 16.57' W | 15 | 250 | 7.4 | 269 | 4.3 | 103.8 | 134.9 | 68.8 |
| 3 | Maître Jacques | 15 57.21' N | 59 57.44' W | 7 | 290 | 10.1 | 300 | 10.1 | 241.9 | 159.5 | 93.4 |
| 4 | La mer révèle nos sens | 18 18.81' N | 62 13.78' W | 5 | 157 | 3.9 | 184 | 3.3 | 79.7 | 164.7 | 98.6 |
| 5 | AXA Atout Coeur pour AIDES | 15 20.88' N | 58 38.47' W | 9 | 292 | 7.4 | 294 | 9.3 | 222.7 | 243.9 | 177.8 |
| 6 | Naviguez Anne Caseneuve | 13 32.01' N | 56 14.08' W | 8.5 | 303 | 9.7 | 291 | 8.5 | 204.8 | 412.5 | 346.4 |
| 7 | CitoyensduMonde.net | 14 26.27' N | 53 45.09' W | 13 | 254 | 7.2 | 258 | 6.4 | 152.8 | 528.8 | 462.7 |
| 8 | Actual | 20 43.94' N | 52 06.24' W | 7.5 | 306 | 6.8 | 264 | 5.7 | 137.4 | 656.1 | 590 |
| 9 | Nootka | 16 18.29' N | 46 52.87' W | 9.5 | 211 | 8 | 215 | 4.3 | 104 | 903.9 | 837.8 |
| NL | FenetreA - Cardinal | | | | | | | | | | |
| ABD | Crêpes Whaou ! | | | | | | | | | | |
| ABD | Delirium | | | | | | | | | | |
| | | | | | | | | | | | |
| | Class 40 | | | | | | | | | | |
| 1 | Destination Dunkerque | 23 00.95' N | 55 27.22' W | 10 | 222 | 5.9 | 203 | 6.5 | 157.1 | 585.9 | 0 |
| 2 | Crédit Mutuel de Bretagne | 23 05.51' N | 54 03.67' W | 8.5 | 198 | 8.1 | 202 | 6 | 143.4 | 643.6 | 57.6 |
| 3 | Mare.de | 23 41.26' N | 53 23.95' W | 7.5 | 186 | 7.9 | 202 | 6.2 | 149.6 | 694.6 | 108.7 |
| 4 | Appart City | 25 34.26' N | 55 00.07' W | 7.5 | 179 | 7.6 | 192 | 5.3 | 127.9 | 721.6 | 135.7 |
| 5 | Vecteur Plus | 25 34.12' N | 54 47.68' W | 8.5 | 195 | 8.2 | 192 | 5.2 | 124.1 | 728 | 142.1 |
| 6 | Monbana | 25 05.05' N | 53 58.16' W | 7.5 | 189 | 7.9 | 202 | 6.2 | 149.4 | 732.8 | 146.9 |
| 7 | Groupe PICOTY | 24 36.83' N | 53 01.21' W | 7.5 | 189 | 8.1 | 199 | 6.2 | 148.3 | 747.7 | 161.8 |
| 8 | Routes du Large | 24 59.48' N | 51 08.32' W | 8.2 | 200 | 4.8 | 257 | 5.9 | 141.1 | 835.4 | 249.5 |
| 9 | Des Pieds et Des Mains | 23 33.64' N | 50 06.46' W | 9.5 | 195 | 7.5 | 219 | 6.7 | 160.7 | 835.6 | 249.7 |
| 10 | Marie Toit - Caen La Mer | 24 34.07' N | 50 10.10' W | 8 | 239 | 7.6 | 245 | 6.3 | 152.1 | 866 | 280.1 |
| 11 | Partouche | 24 07.19' N | 49 26.11' W | 1.5 | 188 | 3.8 | 219 | 5.8 | 139.6 | 884.6 | 298.7 |
| 12 | TZU HANG | 27 28.16' N | 51 32.59' W | 7 | 297 | 7.6 | 287 | 5.2 | 123.8 | 926.5 | 340.6 |
| 13 | COMIRIS - Pôle Santé Elior | 27 52.58' N | 51 21.91' W | 7 | 284 | 7.3 | 281 | 5.4 | 129.6 | 951 | 365.1 |
| 14 | DMS | 19 27.77' N | 46 17.39' W | 7 | 196 | 6.3 | 227 | 5.4 | 130.1 | 952.5 | 366.6 |
| 15 | Cheminées Poujoulat | 28 20.57' N | 50 57.89' W | 8 | 291 | 7.7 | 277 | 5.8 | 139.3 | 985.9 | 400 |
| 16 | Avis Immobilier | 27 41.35' N | 49 45.83' W | 7.5 | 269 | 6.8 | 265 | 5.5 | 131.7 | 1002 | 416.1 |
| 17 | EDF Energies Nouvelles - VESTAS | 27 00.13' N | 48 37.00' W | 7.5 | 263 | 6.5 | 192 | 5.5 | 132.5 | 1020.9 | 435 |
| 18 | Novedia / Initiatives | 28 29.00' N | 49 41.65' W | 7 | 289 | 7.5 | 263 | 6.1 | 147.5 | 1038 | 452.1 |
| 19 | Bureau Vallée | 28 59.18' N | 50 15.92' W | 9.5 | 305 | 7.5 | 274 | 5 | 119.8 | 1039.3 | 453.4 |
| 20 | Grassi Bateaux | 27 50.18' N | 48 46.73' W | 4.5 | 259 | 6.9 | 275 | 5.8 | 139.3 | 1046.5 | 460.6 |
| 21 | Territoires Attitude | 25 27.43' N | 46 34.06' W | 6.5 | 207 | 7.9 | 269 | 7 | 168.9 | 1059.9 | 473.9 |
| 22 | TALES "Villa Esperanza" | 20 03.67' N | 44 04.87' W | 2 | 296 | 4.1 | 246 | 5.7 | 136 | 1081.3 | 495.4 |
| 23 | Techneau | 27 57.96' N | 47 21.64' W | 7.5 | 281 | 7.4 | 261 | 6 | 143.6 | 1109.3 | 523.3 |
| 24 | Regis Guillemot Charter | 28 42.26' N | 48 01.47' W | 6.5 | 298 | 7.9 | 274 | 5.6 | 135.3 | 1110.9 | 525 |
| 25 | Gonser Group - Cambio | 29 40.09' N | 48 58.04' W | 9.5 | 287 | 7.8 | 275 | 5.7 | 137.2 | 1115.5 | 529.6 |
| 26 | Ville de Douarnenez | 28 52.19' N | 47 55.12' W | 2 | 343 | 3.8 | 242 | 4.8 | 116 | 1121.7 | 535.8 |
| 27 | GEODIS | 27 57.08' N | 46 54.32' W | 5.5 | 245 | 6.9 | 247 | 6.2 | 147.7 | 1125.1 | 539.2 |
| 28 | Drekan Energie - Groupe Terrallia | 29 00.63' N | 47 50.44' W | 9 | 293 | 8.7 | 277 | 6.6 | 158.1 | 1130.4 | 544.4 |
| 29 | UniCredit | 31 26.87' N | 50 08.23' W | 6.5 | 265 | 4.7 | 271 | 4.2 | 101 | 1157.5 | 571.6 |
| 30 | Fermiers de Loué - Sarthe | 19 19.75' N | 42 36.27' W | 7 | 226 | 7.6 | 223 | 7 | 168.6 | 1158.2 | 572.3 |
| 31 | ICAP Orca | 27 26.17' N | 44 51.89' W | 7 | 216 | 6.7 | 242 | 5.6 | 134.1 | 1199.4 | 613.5 |
| 32 | Les 3 caps-Respectons la terre | 30 19.79' N | 46 15.65' W | 8 | 260 | 7.5 | 257 | 6.9 | 166.3 | 1244.5 | 658.6 |
| 33 | 40 Degrees | 31 38.63' N | 47 17.89' W | 6 | 328 | 7.6 | 275 | 6.9 | 165.9 | 1260.7 | 674.8 |
| 34 | Kogane | 19 46.51' N | 39 39.80' W | 10 | 227 | 10.3 | 232 | 6.5 | 156.4 | 1326.4 | 740.4 |
| 35 | Tradition Guadeloupe | 22 18.66' N | 39 43.50' W | 9 | 225 | 6.3 | 227 | 4.7 | 112.1 | 1345.9 | 760 |
| 36 | Green Energy 4 seasons - Diabetics Challenges | 34 20.04' N | 44 39.48' W | 7 | 245 | 6.3 | 268 | 4.2 | 99.7 | 1465.1 | 879.1 |
| 37 | Ville de Saint Grégoire | 27 11.85' N | 36 53.23' W | 8 | 264 | 7.6 | 266 | 3.5 | 83.2 | 1576.3 | 990.4 |
| 38 | BINIC un port dans la ville | 22 49.09' N | 33 00.25' W | 7 | 284 | 8.1 | 300 | 6.5 | 157 | 1717.9 | 1132 |
| 39 | CHIMIREC - EVTV | 31 49.40' N | 36 08.50' W | 7 | 266 | 3.7 | 194 | 3.4 | 82.3 | 1724.7 | 1138.8 |
| 40 | Voiles 44 Région Guadeloupe | 26 02.42' N | 32 29.57' W | 7 | 275 | 6.1 | 251 | 3.3 | 79.5 | 1781.9 | 1196 |
| 41 | White Swallow | 38 31.81' N | 28 37.55' W | 0 | 0 | 0 | 0 | 0 | -1.1 | 2239.4 | 1653.5 |
| ABD | Adriatech | | | | | | | | | | |
| ABD | Solo | | | | | | | | | | |
| ABD | Tieto Passion | | | | | | | | | | |
| | | | | | | | | | | | |
| | Rhum | | | | | | | | | | |
| 1 | Vento Di Sardegna | 25 13.04' N | 51 06.91' W | 9 | 178 | 4.6 | 225 | 6 | 144.7 | 848.9 | 0 |
| 2 | Pour le Rire Médecin | 27 27.20' N | 49 18.38' W | 8.5 | 281 | 6.9 | 276 | 6 | 143.6 | 1010.3 | 161.4 |
| 3 | monopticien.com | 29 56.65' N | 48 24.79' W | 9.5 | 296 | 8.2 | 285 | 4.2 | 100.1 | 1147.5 | 298.5 |
| 4 | Acapella | 28 13.72' N | 44 56.44' W | 2.5 | 291 | 2.3 | 264 | 5 | 119.6 | 1221.9 | 373 |
| 5 | Jeunes Dirigeants - Lorans | 30 36.38' N | 46 02.38' W | 8.5 | 247 | 7.3 | 258 | 6.6 | 159.1 | 1264.1 | 415.1 |
| 6 | Eurosanit | 28 06.90' N | 39 06.74' W | 4.5 | 290 | 5 | 278 | 4.4 | 105.4 | 1487.8 | 638.8 |
| 7 | VALE Nouvelle Calédonie | 25 32.87' N | 34 14.99' W | 6 | 242 | 4.5 | 236 | 2.2 | 53.6 | 1682.7 | 833.7 |
| ABD | GENERIK - EXP'HAIR en Beauté | | | | | | | | | | |
| ABD | ATNinc.com | | | | | | | | | | |
| ABD | Un monde bleu tout en vert | | | | | | | | | | |
| ABD | Destination CALAIS | | | | | | | | | | |
Back to top