Second consecutive Route du Rhum win for Roland Jourdain
The familiar megawatt smile lit up the darkness on a still Caribbean night as Roland Jourdain and his Veolia Environnement finally ghosted to a halt in Pointe-à-Pitre, Guadeloupe as the charismatic skipper wrote himself further into the history of the Route du Rhum as the first sailor to win the IMOCA 60 class twice in consecutive editions.
Veolia Environnement crossed the finish line off Pointe-à-Pitre, Guadeloupe at 05:12:56 today. Her elapsed time for the course was 13 days, 17 hours, 10 minutes and 56 seconds and over that time she carried her skipper 3957 miles at an average speed of 12.02 knots.
"It is beautiful, it's amazing and I'm really happy," said Jourdain on his arrival. "I won't say it was easy but it went well on balance. There was definitely a kind of winning aura with me. The little advance I had on Armel [le Cleac'h] and the others helped me finish the race really nicely. It was different from four years ago as Jean [le Cam] was not hot on my heels. All the time I was telling myself, this one I need it, I take it ; I'll let the next ones to the others. I should not have talked badly about the boat, I believe that the boat and I, we did understand each other. We tamed each other. I gained confidence in her at the start, after a bad start I was sailing behind and caught the fleet back. I realised I was at ease with the boat.
"I gave it all for 15 days of racing. When you are in a three month race you manage yourself for three months. At 45 years old you do not have the physical strength that you have at 25 so you are dealing with things differently. You are trying to be smarter in your efforts. What I still do not understand is how I could manage to do so many things in the race that are so painful when I am training. Sometimes you feel like you're Hulk. Our careers as sailors are different from other sports. We do not have a match every Saturday. As ocean racer we have an important race a year, our projects are big and our careers fragile. We're less paid that a football player but our careers last longer!"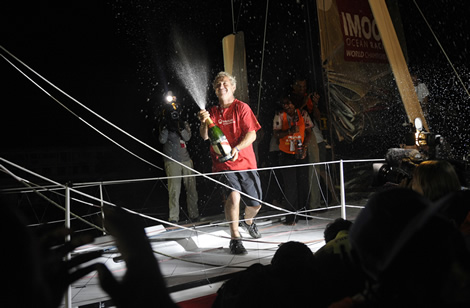 Over an ocean racing career already spanning 25 years Jourdain has felt the depths of disappointment – having to abandon in two successive Vendée Globe races and the last Barcelona World Race – but the Finistèrian skipper who grew up sailing with and against Michel Desjoyeaux, Jean Le Cam, and raced with Eric Tabarly on Cote d'Or in the 1985 Whitbread Round the World Race - matched his greatest solo success to date with a hard earned win in a race which had many meteorological twists and turns from start to finish.
Jourdain confirmed that he had a message of warm congratulations from long time sparring partner and close friend Desjoyeaux, who lies 7th with more than 350 miles to the finish.

Other than starting on the back foot in Saint Malo after making a late sail selection, he was never out of the top three throughout the 3539 miles course and took the lead on Wednesday 3rd November when he punched further north and gained as the leading pack went around the north of the Azores high.

Four different skippers lead in the early stages of the race, but Jourdain's strategy underlined his vast experience and this time, as the charismatic skipper noted on the dockside this morning, he proved to be consistently in phase with the meteo, with his boat, with his strategy and fleet management tactics.

2006 was a very different race, when he beat Le Cam by just 28 minutes at the end of a gruelling, high octane race. Jourdain sailed smartly through the transition areas and pushed hardest when he knew he could gain valuable miles. His routing through the final four days of light, unstable winds, down to Guadeloupe was an object lesson, while both of his main rivals suffered more either side of his.

Jourdain paid tribute to the winning boat, the three year old Farr-designed Véolia Environnement 2, formerly Seb Josse's BT, which has consistently proven quick in previous but never yet delivered a major race victory. Their relationship – matching a skipper whose recent big races have been ill-fated, with a boat which has been badly damaged and retired from last year's Transat Jacques Vabre and the 2008-9 Vendée Globe – may have seemed like an odd couple, but it is one which clearly bore fruit.

As Veolia Environnement crossed the finish line, second placed Armel Le Cléac'h on BritAir was at the NW corner of the island and expected this morning.

In summary Jourdain said: "I really think we all did a good job. The boat is in a very good state, nothing broke and that is because she was well prepared by the team. That's beautiful to be able to take all this to the first place. My best memory is a sum of things. At the end what stays is when you're in phase with the elements. I don't get this feeling all the time but on this race I reached this state when you understand how the small air molecules and the small water molecules work and that's what made me win."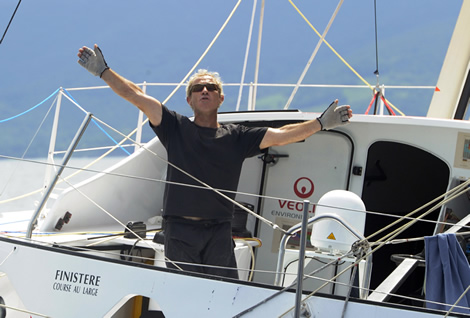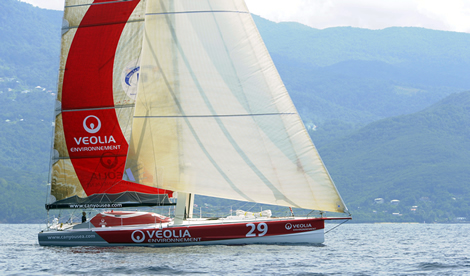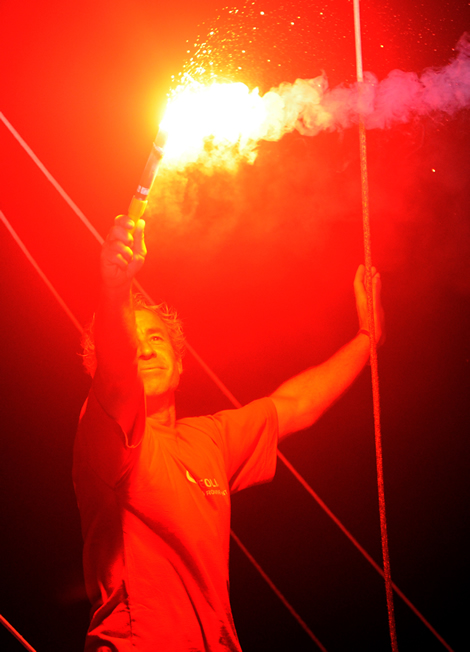 Back to top
Back to top