Snails pace continues for Route du Rhum fleet
See the latest sched at the bottom of the page and charts of the following - overall, IMOCA 60s, Multi50s and Class 40s
Images courtesy of Expedition navigation software and PredictWind.
Progress remains pitifully slow in the IMOCA 60 class. Roland Jourdain and Veolia Environnement remain a comfortable 88 miles ahead of second placed BritAir skippered by Armel le Cleac'h but over the last 24 hours the two IMOCA 60 leaders have covered just 146 and 129 miles respectively At present Veolia the next boat expected to finish in this Route du Rhum-Banque Postale is some 27 miles east of Antigua with just 95 miles to go until she reaches the finish. However her progress at present is at an all time low – having averaged just 1.8 knots over the last four hours. Her ETA into Pointe a Pitre? Who knows. Tomorrow perhaps.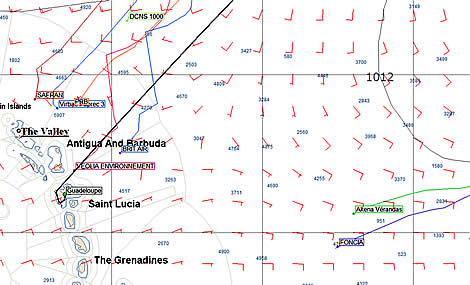 Marc Guillemot's excellent progress yesterday on Safran appears to have been short lived. From threatening le Cleac'h's second place yesterday morning, the north clearly has paid worst of all and Safran is now back down to fifth place, 38 miles away from second as she along with Vincent Riou on PRB and Jean-Pierre Dick on Virbac Paprec 3 struggle down from the north.
The real beneficiaries of the last 24 hours' weather have been the boats to the south. Michel Desjoyeaux on Foncia has recovered 70 miles from the leader and is now 500 miles behind Veolia having averaged 10.7 knots. For Desjoyeaux the wind is still slightly south of east and at present he is continuing on a course that will have him ending up in Barbados. Sadly Foncia is not in a great spot and while there may be a shift wind to the NNE on which he can gybe, more likely is that the wind will continue to veer into the SE leaving Guadeloupe dead downwind. Not fast, but faster than the leaders are experiencing at present.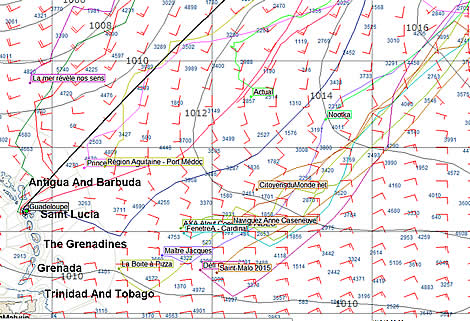 In the Multi 50s Lionel Lemonchois on Prince de Bretagne has done a truly impressive job and is now leading by 64 miles from Lalou Roucayrol on Région Aquitaine-Port Médoc – not bad for someone who early last week looked set to retire from the race. Lemonchois did well yesterday by staying on a westerly heading for longer than his rival before taking a severely losing tack south which he only bailed from after this morning's 0330 sched.
Prince de Bretagne currently has 306 miles to go to the finish has has her arriving in Guadeloupe just behind the leading group of IMOCA 60s, perhaps on Sunday night/Monday morning.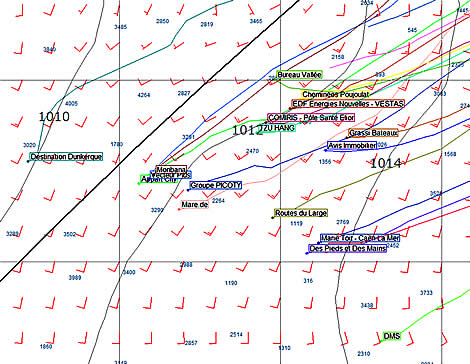 While thedailysail's pre-race form guides were a disaster in the Ultimate and IMOCA 60 classes, they are finally coming good in the Class 40s where the first two as we predicted would be 2009 Mini Transat winner Thomas Ruyant on Destination Calais and double Solitaire du Figaro winner Nicolas Troussel on Credit Mutuel de Bretagne. Troussel has pulled up to second place literally at this latest sched, and is aleady 15 miles ahead of Yvan Noblet on Appart City, as the boats to the north have suffered in light headwinds. Credit Mutuel remains some 322 miles to the southeast of Destination Calais with Appart City and a gaggle of others, including Sam Manuard on Vecteur Plus, remain between them.
Pete Goss on DMS remains alone on his equatorial route some 200 miles to the southeast of Troussel, and 340 miles behind the leader in terms of DTF. However we could see Goss regain considerable miles over the next few days as the leaders find themselves hard on the wind as he enjoys reaching conditions.
Back to top
| | | | | | | | | | | | |
| --- | --- | --- | --- | --- | --- | --- | --- | --- | --- | --- | --- |
| Pos | Boat | Lat | Long | Spd | Crs | Spd | Crs | Spd | Dist | DTF | DTL |
| | | | | Instant | | 4 hour aver | | 24 hours | | | |
| | Ultimate | | | | | | | | | | |
| 1 | Groupama 3 | 9d 3h 14m 47s | | | | | | | | 0 | |
| 2 | Idec | 9d 13h 50m 48s | | | | | | | | 0 | |
| 3 | Sodebo | 10d 3h 13m 11s | | | | | | | | 0 | |
| 4 | Gitana 11 | 11d 11h 56m 38s | | | | | | | | 0 | |
| 5 | La Boite à Pizza | 12 49.64' N | 55 51.80' W | 16.4 | 340 | 15.1 | 329 | 8.6 | 207.4 | 462.3 | 0 |
| 6 | Défi Cancale | 12 42.70' N | 50 48.56' W | 14 | 313 | 15.2 | 310 | 10.8 | 259.4 | 727.8 | 265.5 |
| 7 | Saint-Malo 2015 | 12 23.99' N | 49 44.84' W | 9 | 301 | 10.5 | 219 | 7.5 | 178.9 | 792.8 | 330.5 |
| ABD | Oman Air Majan | | | | | | | | | | |
| ABD | Côte d'Or II | | | | | | | | | | |
| | | | | | | | | | | | |
| | IMOCA | | | | | | | | | | |
| 1 | Veolia Environnement | 16 57.72' N | 61 15.28' W | 1.2 | 248 | 1.8 | 225 | 6.1 | 146.1 | 95.4 | 0 |
| 2 | Brit Air | 17 29.39' N | 59 44.43' W | 4.5 | 154 | 3.2 | 218 | 5.4 | 129.2 | 183.8 | 88.4 |
| 3 | Virbac Paprec 3 | 18 54.41' N | 61 46.65' W | 3.5 | 169 | 3.3 | 134 | 6 | 144.2 | 199.5 | 104.1 |
| 4 | PRB | 18 58.00' N | 61 19.89' W | 5 | 254 | 5.5 | 228 | 7.5 | 179.3 | 205.6 | 110.2 |
| 5 | Safran | 19 11.62' N | 62 32.79' W | 1.5 | 162 | 2.6 | 191 | 4.6 | 110.8 | 221.4 | 126 |
| 6 | DCNS 1000 | 21 35.75' N | 59 30.13' W | 7 | 216 | 6.6 | 196 | 4.2 | 100 | 387.2 | 291.8 |
| 7 | FONCIA | 14 29.51' N | 52 35.47' W | 11 | 245 | 10.7 | 244 | 9 | 216 | 595.9 | 500.5 |
| 8 | Akena Vérandas | 15 33.74' N | 52 02.33' W | 6.5 | 238 | 9 | 243 | 9.7 | 233.9 | 615.2 | 519.8 |
| ABD | Groupe Bel | | | | | | | | | | |
| | | | | | | | | | | | |
| | Multi50 | | | | | | | | | | |
| 1 | Prince de Bretagne | 18 43.64' N | 58 00.55' W | 10 | 231 | 6.4 | 222 | 8.3 | 198.3 | 306.8 | 0 |
| 2 | Région Aquitaine - Port Médoc | 18 48.98' N | 56 45.15' W | 7 | 246 | 7.6 | 242 | 5.3 | 128.3 | 371.7 | 64.8 |
| 3 | La mer révèle nos sens | 23 37.46' N | 61 21.09' W | 13 | 165 | 10.1 | 185 | 7 | 169.2 | 483.4 | 176.6 |
| 4 | Maître Jacques | 13 30.46' N | 53 10.03' W | 11 | 322 | 9.3 | 273 | 9.5 | 228.3 | 582.6 | 275.7 |
| 5 | AXA Atout Coeur pour AIDES | 15 07.82' N | 52 00.49' W | 7 | 238 | 9.4 | 244 | 8.5 | 205.2 | 621.1 | 314.3 |
| 6 | FenetreA - Cardinal | 14 53.32' N | 51 48.67' W | 11.5 | 231 | 8.4 | 303 | 8.3 | 199.2 | 635 | 328.2 |
| 7 | Naviguez Anne Caseneuve | 15 16.14' N | 48 54.84' W | 12 | 231 | 11.8 | 231 | 9.6 | 230.6 | 797 | 490.1 |
| 8 | CitoyensduMonde.net | 17 28.39' N | 47 11.02' W | 12 | 228 | 10.7 | 238 | 11 | 264.4 | 885.5 | 578.7 |
| 9 | Actual | 22 54.03' N | 47 34.72' W | 5.5 | 222 | 5.9 | 237 | -0.6 | -13.9 | 941.2 | 634.4 |
| 10 | Nootka | 21 33.53' N | 42 55.73' W | 9.5 | 221 | 8.8 | 226 | 8.7 | 209.9 | 1161.8 | 855 |
| ABD | Crêpes Whaou ! | | | | | | | | | | |
| ABD | Delirium | | | | | | | | | | |
| | | | | | | | | | | | |
| | Class 40 | | | | | | | | | | |
| 1 | Destination Dunkerque | 27 45.76' N | 52 51.26' W | 6.5 | 275 | 4.5 | 242 | 7 | 168.4 | 892.7 | 0 |
| 2 | Crédit Mutuel de Bretagne | 24 46.63' N | 47 51.99' W | 8 | 257 | 8.7 | 258 | 8.5 | 202.8 | 978.1 | 85.4 |
| 3 | Appart City | 27 08.57' N | 49 24.15' W | 6.5 | 249 | 4.3 | 218 | 6.3 | 150.6 | 992.9 | 100.2 |
| 4 | Vecteur Plus | 27 14.66' N | 49 06.70' W | 1.5 | 268 | 4.6 | 207 | 6.7 | 161.2 | 1008.7 | 116 |
| 5 | Mare.de | 26 26.12' N | 48 12.20' W | 8 | 266 | 7.7 | 256 | 7.8 | 186.3 | 1017.1 | 124.4 |
| 6 | Monbana | 27 23.62' N | 48 56.44' W | 3.5 | 206 | 4.5 | 211 | 7.1 | 170.9 | 1021.4 | 128.8 |
| 7 | Groupe PICOTY | 26 57.89' N | 47 53.83' W | 7.5 | 178 | 5.5 | 237 | 7.2 | 173.6 | 1049.1 | 156.4 |
| 8 | Routes du Large | 26 12.96' N | 45 16.52' W | 7.6 | 244 | 8 | 250 | 8.4 | 200.5 | 1140.7 | 248 |
| 9 | Des Pieds et Des Mains | 25 13.20' N | 44 14.63' W | 8 | 268 | 8.7 | 256 | 8.4 | 201.8 | 1165 | 272.4 |
| 10 | Marie Toit - Caen La Mer | 25 29.39' N | 43 52.42' W | 8.5 | 242 | 8.1 | 247 | 8.5 | 204.2 | 1190.1 | 297.4 |
| 11 | TZU HANG | 28 33.85' N | 45 47.70' W | 6.5 | 278 | 8.1 | 268 | 8 | 192.9 | 1195.9 | 303.2 |
| 12 | Partouche | 25 14.90' N | 43 37.58' W | 8 | 255 | 7.7 | 255 | 8.7 | 208.9 | 1196.2 | 303.6 |
| 13 | COMIRIS - Pôle Santé Elior | 28 50.44' N | 45 31.25' W | 9 | 269 | 8.3 | 272 | 8.1 | 193.4 | 1217.3 | 324.7 |
| 14 | DMS | 22 43.40' N | 41 55.57' W | 7.5 | 248 | 7.3 | 252 | 8.1 | 194.2 | 1233 | 340.3 |
| 15 | EDF Energies Nouvelles - VESTAS | 29 13.23' N | 44 45.50' W | 5.5 | 284 | 6.5 | 265 | 7.3 | 174.4 | 1263.1 | 370.4 |
| 16 | Bureau Vallée | 30 01.73' N | 45 13.54' W | 6.5 | 298 | 7.3 | 300 | 6.3 | 150.2 | 1272.8 | 380.2 |
| 17 | Avis Immobilier | 28 05.38' N | 43 40.08' W | 7.5 | 282 | 8.2 | 274 | 7.8 | 187.5 | 1273.6 | 380.9 |
| 18 | Cheminées Poujoulat | 29 28.21' N | 44 28.58' W | 7 | 298 | 8.3 | 264 | 8.2 | 196.9 | 1283.8 | 391.1 |
| 19 | Grassi Bateaux | 28 25.74' N | 43 00.65' W | 8.5 | 257 | 8 | 267 | 8.1 | 194.2 | 1313.8 | 421.2 |
| 20 | TALES "Villa Esperanza" | 23 36.28' N | 40 24.58' W | 6.5 | 221 | 8.1 | 241 | 8.2 | 197.2 | 1327.8 | 435.1 |
| 21 | Novedia / Initiatives | 30 23.81' N | 44 05.48' W | 7 | 261 | 8 | 275 | 7.7 | 185 | 1332.8 | 440.1 |
| 22 | Techneau | 29 41.93' N | 42 56.49' W | 8 | 266 | 7 | 277 | 7.3 | 174.3 | 1357.5 | 464.9 |
| 23 | Ville de Douarnenez | 31 04.90' N | 44 05.59' W | 7 | 198 | 5.4 | 247 | 6.3 | 151 | 1357.9 | 465.2 |
| 24 | Gonser Group - Cambio | 31 17.23' N | 43 51.34' W | 7 | 232 | 5.6 | 266 | 6.9 | 164.7 | 1371.4 | 478.8 |
| 25 | Regis Guillemot Charter | 31 29.02' N | 44 05.18' W | 4.5 | 260 | 6 | 217 | 6.7 | 160.7 | 1373.2 | 480.6 |
| 26 | Territoires Attitude | 26 20.82' N | 40 25.61' W | 9.5 | 286 | 8.9 | 261 | 8.6 | 206 | 1377.3 | 484.6 |
| 27 | GEODIS | 29 26.51' N | 41 54.16' W | 6.5 | 265 | 6.9 | 257 | 7.7 | 184.1 | 1388.1 | 495.4 |
| 28 | ICAP Orca | 30 49.75' N | 42 24.94' W | 9 | 296 | 7.3 | 256 | 7.5 | 180.9 | 1418.2 | 525.5 |
| 29 | Drekan Energie - Groupe Terrallia | 29 22.53' N | 41 09.71' W | 8.5 | 249 | 8.4 | 246 | 8.2 | 196.4 | 1426.4 | 533.7 |
| 30 | UniCredit | 34 21.49' N | 45 38.11' W | 9.5 | 216 | 10.6 | 224 | 5.4 | 129.4 | 1434.2 | 541.5 |
| 31 | Fermiers de Loué - Sarthe | 22 50.03' N | 37 29.30' W | 7 | 235 | 7.3 | 238 | 6 | 144.8 | 1470 | 577.3 |
| 32 | Les 3 caps-Respectons la terre | 32 49.39' N | 41 58.29' W | 3.5 | 178 | 4.8 | 259 | 6.4 | 153.9 | 1507.3 | 614.7 |
| 33 | Tradition Guadeloupe | 24 41.73' N | 37 20.08' W | 1 | 218 | 3.3 | 232 | 5.8 | 139.5 | 1507.5 | 614.9 |
| 34 | 40 Degrees | 33 19.84' N | 42 10.59' W | 6 | 209 | 4.3 | 214 | 3.7 | 89.9 | 1518.2 | 625.5 |
| 35 | Kogane | 23 59.83' N | 36 12.58' W | 6 | 230 | 6.9 | 219 | 5.8 | 138.3 | 1557 | 664.3 |
| 36 | Ville de Saint Grégoire | 28 33.60' N | 34 21.14' W | 3.5 | 291 | 2 | 261 | 6.2 | 147.7 | 1730.5 | 837.9 |
| 37 | Voiles 44 Région Guadeloupe | 26 41.86' N | 31 04.44' W | 2.5 | 167 | 3 | 234 | 6.4 | 153.6 | 1865.3 | 972.6 |
| 38 | CHIMIREC - EVTV | 32 07.24' N | 31 56.52' W | 7 | 302 | 7.7 | 281 | 6.2 | 149.4 | 1925.1 | 1032.5 |
| 39 | BINIC un port dans la ville | 25 45.82' N | 29 26.41' W | 4.5 | 199 | 4 | 209 | 5.2 | 124.3 | 1939.3 | 1046.7 |
| 40 | White Swallow | 38 47.45' N | 28 13.34' W | 6 | 259 | 5.7 | 252 | 3 | 71.5 | 2262.4 | 1369.8 |
| NL | Green Energy 4 seasons - Diabetics Challenges | | | | | | | | | | |
| ABD | Adriatech | | | | | | | | | | |
| ABD | Solo | | | | | | | | | | |
| ABD | Tieto Passion | | | | | | | | | | |
| | | | | | | | | | | | |
| | Rhum | | | | | | | | | | |
| 1 | Vento Di Sardegna | 26 48.89' N | 45 07.96' W | 8 | 247 | 7 | 245 | 8 | 191.6 | 1167.7 | 0 |
| 2 | Pour le Rire Médecin | 28 40.82' N | 43 38.69' W | 8.5 | 273 | 8.1 | 261 | 8.5 | 203.6 | 1290.3 | 122.6 |
| 3 | monopticien.com | 29 30.51' N | 42 59.35' W | 15 | 295 | 11.6 | 297 | 7.6 | 182.1 | 1349.9 | 182.1 |
| 4 | Acapella | 30 42.14' N | 41 55.70' W | 6.5 | 270 | 4.8 | 240 | 6.5 | 156.4 | 1435.4 | 267.7 |
| 5 | ATNinc.com | 28 58.76' N | 40 18.90' W | 9 | 272 | 8.8 | 273 | 7.2 | 171.8 | 1450.2 | 282.4 |
| 6 | Jeunes Dirigeants - Lorans | 33 22.06' N | 41 41.10' W | 7.5 | 235 | 3.9 | 232 | 5 | 119.9 | 1540.3 | 372.5 |
| 7 | Eurosanit | 30 12.35' N | 35 35.88' W | 7.5 | 284 | 6 | 274 | 6.3 | 150.7 | 1707.3 | 539.6 |
| 8 | VALE Nouvelle Calédonie | 26 38.53' N | 32 22.30' W | 6.5 | 250 | 6.7 | 240 | 6.7 | 160.6 | 1797 | 629.3 |
| ABD | GENERIK - EXP'HAIR en Beauté | | | | | | | | | | |
| ABD | Un monde bleu tout en vert | | | | | | | | | | |
| ABD | Destination CALAIS | | | | | | | | | | |
Back to top