Disappointed to be home third
Disappointed, visibly hurting but far from broken Thomas Coville secured third place in this high stakes, winner takes all ninth edition of the Route du Rhum-La Banque Postale finishing 23 hr 58 min 24 secs behind winner Franck Cammas on Groupama 3.
Coville's red 105ft trimaran Sodebo crossed the finish line at 15:15:11 GMT. On the transatlantic crossing from St Malo she covered 4275 miles in 10 days 3 hours 13 minutes and 11 seconds at an average of 14.55 knots.
More than the two first skippers, the last few days of the race were particularly cruel to Coville, losing second to Joyon only on Tuesday morning, suffering from his northerly approach and lengthy spells in light winds over the 36 hours before finishing.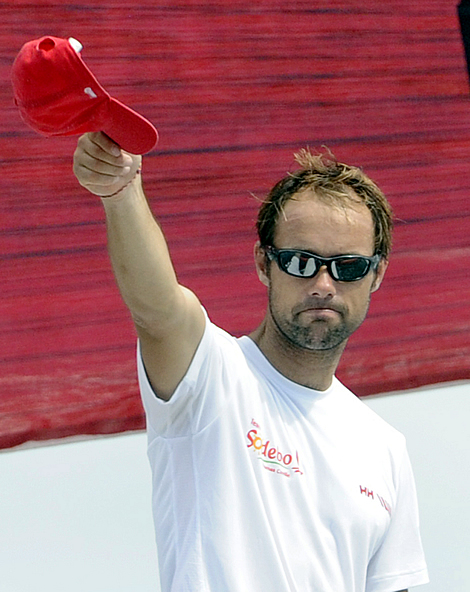 Coville commented: "There is a man who left us not so long ago who was Michel Malinovksi who wrote a book Only Victory is Beautiful. And that is why you do the Rhum each time. That is not fierce pride which makes you say that, but it is innate, it is inside the natural machine of man and victory only comes to those who look for it. It is less difficult to fight against someone who you know and who you respect. It has been a fantastic year for Franck and his boat is fantastic. I know that in our hand to hand duel I had to do something different.
"Yes I am disappointed. I'm not sure you realise how much involvement, strength and motivation is required for this project. How demanding it was to sail on the northern course and finish not being far from the goal. Obviously I'm disappointed. I wouldn't be a human if I was not. There are emotions, with joys and tears...that's sailing."
After crossing the line Coville said that once he had realised victory was out of his reach, he spent some time revisiting his choices and options through the race. His northerly routing, the opposite to that of Cammas and Joyon, was the more aggressive option and would either pay out for him or cause him to lose by a bigger margin. Coville admitted that two days ago when he and his routing team saw they still had a 200 mile deficit on Cammas, they had a small opportunity to attack again in the end they were unable even to hold on to second.
"Actually I didn't care whether I finished second or third, as I was always looking at ways to become first. A few days ago we had only one tiny chance to cut the corner and go inside the circle, to attack Franck again and we realised that there was no win there and we lost a lot. For sure trying to win cost me second, for sure. I don't care whether it is second or third. I was only interested in first."
Coville's choice of the northern routing rather than fighting head to head down the southerly routing against Cammas was directly influenced by his feeling he needed to do something different - knowing the strengths of Cammas and his tri, the most powerful boat in this year's La Route du Rhum-Banque Postale.

During his voyage he had a number of incidents some good, some not so. There was the constant sailing at 32-33 knots in the strong northeastelies once he had passed through the front. At the opposite end of the spectrum: "I broke the main halyard at the top of the mast and I could only fix it at the first reef. I climbed the mast three times, once in the dark, which was pretty scar, but I fixed it like that. For sure that was something which was not very efficient for the speed but I don't think I can say that I missed winning the race because of that damage. It took a lot of energy to fix it, but that was it."

The main halyard breakage occurred when passing the Azores. "The mainsail literally fell on the deck. In the Ultimate class when the mast is 35m tall, that usually means retirment. The first time I went up the mast I couldn't go any higher than 30 metres, but that was fine to go on sailing with one reef in the weather conditions I had at that time. I tried two other times but every time I was going further up than the top of the mainsail I was flying everywhere. In one impact I lost my headtorch, so I was in the dark – no moon – with no light, I could not see anything and ended up wondering how I would manage to go down. I would not wish to my worst enemy to be in that situation."
Back to top
Back to top