Well deserved victory for Cammas
Franck Cammas and his giant trimaran Groupama 3 claimed line honours in the 2010 Route du Rhum-La Banque Postale, entering the history books behind past winners Mike Birch, Marc Pajot, Philippe Poupon, Florence Arthaud, Laurent Bourgnon, Michel Desjoyeaux and Lionel Lemonchois.
Cammas and the 105ft trimaran, in which he and a crew of nine earlier this year established a new Jules Verne Trophy record, today completed their half lap of Guadeloupe to cross the finish line off Pointe-a-Pitre, Guadeloupe under brilliant sunshine and a light breezes at 15hrs 16mins 47secs GMT. During the race Groupama 3 sailed 4,471 miles at an average speed of 20.39 miles in a passage from St Malo that took 9 days 3 hours 14 minutes and 47 seconds – fast, but by no means as quick as Lionel Lemonchois and his ORMA 60 trimaran Gitana 11 took in 2006 when they set a new course record of 7 days 17 hrs 19 mins 6 seconds.
Cammas acknowledged that the light start in Saint Malo and ultimately the very slow, upwind finish, that forced him to put in more than 15 tacks during the last 24 hours, skirting rain clouds which sucked away the breeze and trying to find the best angles in through the chain of Caribbean islands, were the most stressful for him mentally.
Playing to the strengths of the skipper and choosing the optimum route for Groupama 3, the race's class' most powerful boat, was key to their victory in this the first time the newly dubbed 'Ultimate' class multihulls raced head to head.
The southerly route

Cammas and his shore-based routing team of Jean-Luc Nélias and Charles Caudrelier had their strategy worked out early. With the Azores high looking set to block the route south there were initially two options: going west and south early to try and get past the high before it elongated east towards the Portugese coast.
Once out of the English Channel Cammas pinned his colours to the wall early in choosing the most southerly route across the Bay of Biscay on a port gybe. This cost them and they paid some miles for their position as Sodebo and Oman Air Majan stayed further north to take the wind shift to the NW as it came.

Once across the Bay of Biscay Groupama 3, furthest from the great circle to Guadeloupe, had dropped to fourth place with a 55 mile deficit on Thomas Coville's leader Sodebo. Passing Portugal on their route south Groupama 3 was being followed by Francis Joyon on IDEC and Yann Guichard on Gitana 11 bound for the 'trade wind' route, while Sodebo and Sidney Gavignet on Oman Air Majan were following a westerly strategy which would yield more pressure, more slogging upwind or close to it, but would allow them to sail fewer miles.
Between Cammas and his routers, they had an excellent handle on the southeastern limits of the Azores high and its movement, allowing Cammas to Groupama 3 neatly skirt around it in two accurate gybes.

With Groupama 3's bows turned to the west on Tuesday and at the 0800 sched Cammas took the lead and was never seriously challenged again. The next day Groupama 3 had extended to 211 miles in front of Sodebo. Come Thursday as Sodebo slowed before passing through the front, Groupama 3's lead was at its biggest of the race - 346.5 miles. The following day saw Sodebo make a short come back as she blasted south in strong northeasterlies, but by this stage the conditions had evened up as the pair dealt with gusty, squally showers giving unstable winds of 25-40 knots.

With 800 miles to go on Saturday Groupama 3 led Sodebo by just over 200 miles as the pair gybed down the corridor of strongest northeasterlies, before the wind disappearing only to fill in with a light southerly causing Cammas' final two day long final effort, constantly manoeuvring and trimming his giant tri towards and then through the Caribbean island chain.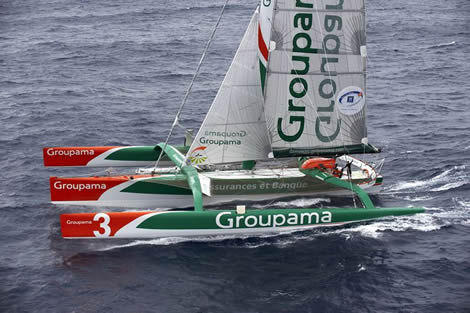 To the end, Cammas kept his rival in a loose cover. At 0800hrs Monday morning Sodebo was twice as far from the finish as he was, and the job was all but done.

In the past Cammas has won the Solitaire du Figaro but this is his first win in a singlehanded race since then. "All victories are good but I've never experienced a finish like this, either the weather on the water or the welcome here.
"This victory is was not really expected," said Cammas on his arrival. "We prepared very well, but I did not really know how it would unfold on the boat, so it is hard to know how to rank it in the list. After the first 24 hours I had settled in and felt like I knew the boat, so I knew it was not that difficult to sail the boat and be in front so it was let's go for it. Certainly I am very proud to be able to add my name to those who have won it before me."

"There were many other good sailors in this race and I was very happy to be out there competing with Francis [Joyon] and Thomas [Coville]. It goes without saying that I was happy to be in front of them.

"I left without any pressure, but it was an unknown with the boat. It really depended on having the right weather for the boat, so we picked a route which was best for the boat. We were far from the potential that we can develop fully crewed. In some ways that was a bit frustrating at times, but that is single-handing.

"I worked with the routers to sail to the optimum potential of the boat, and I was sometimes sailing with the boat at 98% of its potential in this configuration (shorter rig, etc). The course to the south was good if I was going fast. Francis and Gitana did not really make it [round the high without slowing]. After that we really had to see if the ones in the north would come back. Thomas did a good job, but I think his course was a more technical one than mine and I suppose Gitana suffered a bit dealing with the front."

"I think this is a very good boat for double handed sailing. I had a conversation with Jean (Maurel, Race Director) about singlehanding this boat, that it could be dangerous in the squalls, but I was more confident with this boat than in the ORMA 60.
"I was nervous when it was squally, but I had confidence in the boat, and much of that was developed sailing fully crewed, so I had confidence in the platform for sure. In a 45 knots squall you grab the helm and wait for it to pass, but it could become unmanageable. So you just grab the helm and pray…..but its still better than the 60s."
When he finished Cammas held a 140 mile lead over Francis Joyon and IDEC which had dramatically overhauled Thomas Coville and Sodebo to take second place. Joyon is due into Pointe a Pitre at around midnight.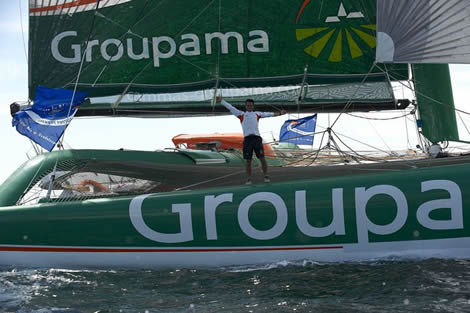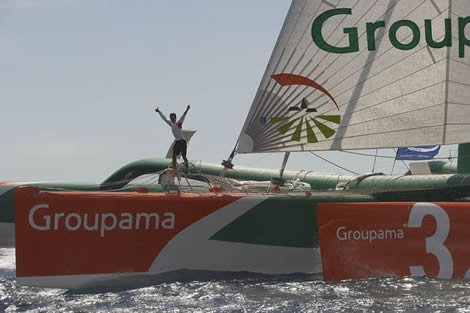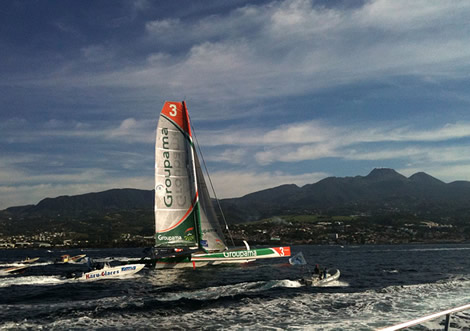 Back to top
Back to top