Both Multi50 leaders damaged
The two leaders in the Multi50 class have both sustained damage over the last 24 hours.
Yesterday afternoon at 15:30 Franck-Yves Escoffier's Crepes Whaou! 3, the Multi50 leader, suffered damage to the bow of the trimaran's centre hull including the chainplate for the Solent. At the time he was sailing under jib and main with two reefs. Escoffier is uncertain of whether the collision was with an unidentified floating object or simply the pounding of the waves. The sacrificial bow on the main hull has snapped off and Escoffier reported that it was 90degs to the hull, slowing the boat down considerably. He has been attempting to cut it off.
Escoffier is understandably concerned that with the blunt bow now exposed, wave impact could cause it to deteriorate further, potentially compromising the integrity of the hull itself.
"It is difficult to take, especially since this Route du Rhum represents such long months of preparation," Escoffier admitted. "I do not understand what happened. There was no load on the bow because I was not under gennaker. It is undoubtedly the pressure of the big waves that caused the bow to break. I have finished repairing it and I am progressing at 7 knots but with a square stem, it is not very practical. I have filled the aft ballast tank to relieve the front of the boat."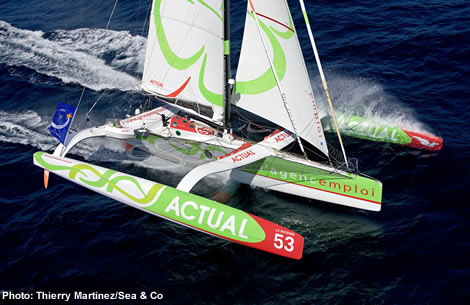 At 0100hrs (CET) this morning Yves le Blevec, skipper of second placed Actual informed his team and the Route du Rhum-La Banque Postale race director that the trimaran has sustained damage to the forward starboard cross beam. Le Blevec has lowered the mainsail of Actual and is sailing under ORC headsail in 20 knots of southeasterly wind.
Actual is located equi-distance between the West Indies and the Azores. On the advice of weather router Christian Dumard, le Blevec is making a westerly course of around eight knots to avoid the worst of the conditions.
The situation is reported to have been stabilised. The solo skipper has organised a survival cell at the back of the boat, comprising essential safety equipment including a life-raft, lifejacket, GPS, torch, knife and iridium phone.
The immediate objective of the skipper is to get Actual out of the most unsettled area of weather then looking at a solution with his team and the boat's designer.
Yves Le Blevec is still racing. The solo skipper of Actual had just taken in a third reef in his mainsail and described big waves which created enormous spumes of spray around the boat. It will be a difficult night for Le Blevec as he extricates Actual from the most unsettled seas and winds.
Back to top
Back to top