Joyon goes turbo
Saturday November 6th 2010, Author:
James Boyd
, Location: none selected
See the latest sched at the bottom of the page and charts of the following - overall, Ultimate class, IMOCA 60s, Multi50s and Class 40s

Images courtesy of Expedition navigation software and PredictWind.
No doubt spurred on by the publication of our interview with him yesterday, so the last 24 hours has seen Francis Joyon turn on IDEC's after burners. At the latest sched Joyon has the highest four hourly average of the fleet - 24.4 knots - but, more impressively, over the last 24 hours he has mananged 23.7 knots covering 568 miles, although this is still some way off the present singlehanded 24 hour record of 628.5 miles. As a result Joyon has regained second place from Thomas Coville sailing IDEC's sistership Sodebo, as the ultimate class frontrunners screetch towards Guadeloupe.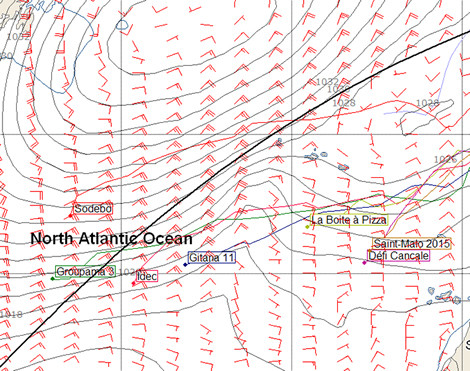 Franck Cammas and Groupama still hold a solid lead of 260 miles over Joyon, but the IDEC skipper has managed to cut 90 miles of this in the last 24 hours and Interesting the tracker now puts Joyon's ETA into Pointe a Pitre just an hour and a half after Cammas on Monday lunchtime.

Both Cammas and Joyon gybed southwest early yesterday evening (no doubt timing these manoeuvres so they happened immediately after the sched) but since then Cammas has gybed back to the west. This could be a move to cover Coville but it is more likely that Cammas wants to avoid a shallow depression that is forming to the northeast of the Caribbean over the next 24 hours. However this depression is forecast for Monday morning to be moving north. To avoid this Joyon will have to gybe to the west at some point today.
Yesterday Cammas commented: "It is very complicated, the wind is shifting a lot. It has just jumped from 18-30 kts, and so I don't really know what sails to have up. Yesterday afternoon it was pretty mean I had so much rain that I could not see the front of the boat, and the sea was flattened like Marmite. Now I have swell on the nose and it is not very comfortable. I put the gennaker up this morning, and an hour later it went up to 25-30 knots. I am a bit tired. I am not going to be able to sleep as I will have to manouvre again. I don't really feel like I have slept since the beginning. Thomas is in a good place and coming back at me. He surely has had better winds than me and will now catch up a bit after the front. The finale will be complicated for sure. The pace I stick to is not too high, because I am not near the finish line yet. I want to sail well and make the most of some of the moments. I have a low ahead that is going to start to influence me from tomorrow."
Thomas Coville added: "It is tough. I have between 28 and 30 knot and a following sea. I have enough sail up doing 33-34 knots, and you really need to be careful and totally focussed. I gulped down some food and am poised with the sheet in hand ready to dump it. Yesterday I had an incident when it was absolutely vital to ease. It is what I am up here for, but I did not expect as much wind as I got: 44 knots. In fact I have been posting high averages, but in the waves the boat slows a little. But near the end it will be complicated, and lots of things could happen. At the start Groupama stole the march and was successful, like us behind her did not have. But we say that flies can change wings, anything can happen in sailing, and so I'll be fighting to the end. And I always sail like that. Groupama is well ahead that is for sure, it would certainly need a calm to catch her, but as a solo skipper you always remember that anything can happen. But for the moment it is not going badly. There is a bad squally cloud so I need to go !"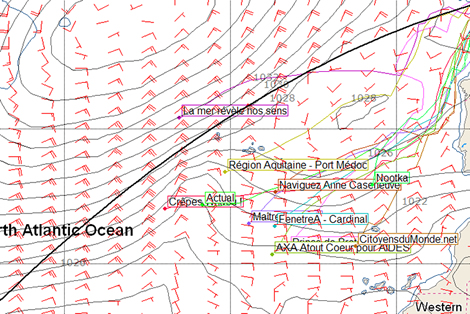 In the Multi50s, the last 24 hours has seen Franck-Yves Escoffier on Crepes Whaou! 3 speed away from his main competition Yves le Blevec on Actual, his lead now up to 160 miles compared to 78 yesterday. The reason is that Escoffier managed to cross the front and is now into the strong northeasterlies while le Blevec has yet to reach this transition. Actual may also be experiencing some problems on board - her average speed for the last four hours has been just 2.9 knots, too low to be just light winds.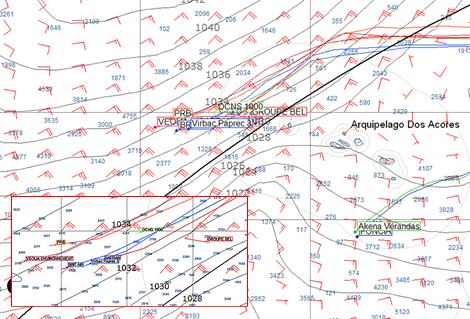 Among the IMOCA 60s little has changed since yesterday apart from the boats experiencing a yeehaa day in the strong 25-30 knots northeasterlies. Roland Jourdain on Veolia Environnement continues to lead from Armel le Cleac'h on BritAir, now 38 miles behind compared to 32 yesterday, with Vincent Riou on PRB a further nine miles astern in third.
Yesterday Jourdain reported: "I don't have any big problems. I have a collection of small ones, minor irritations, but nothing big. In the front I did not have to go far to get to the transition. And the under water situation was calmed where the wind dropped, but there are squally clouds and so it is important to be on the look out. I'll put some more sail up but less and wind and more sail can be a problem!"
On Safran, Marc Guillemot described his day: "I passed through the front. Early in the night, the transition suddenly appeared: initially, the 20 knot southerly dropped right off. In a quarter of an hour it fell to seven or eight knots. I just had time to prepare the sheets for the change of tack, the sails went around to the wrong side, the wind shifting to the northeast and we got going again slowly at first. I was then behind the line of the low-pressure area. I managed to hoist the small gennaker and was feeling rather pleased with the way things were going. I got her moving again and everything was going well. Then I had to take a reef in on the mainsail, as it was getting a bit hairy, with the wind increasing to above 30 knots with gusts of 36 knots. I was under autopilot and suddenly I heard a huge noise from the daggerboard and then the rudder. I had definitely hit something. The rudder kick-up system functioned correctly, but I found myself without any leeward steering and the boat bore away. It took me around three-quarters of an hour to get Safran back on track… I had a real battle on my hands. And as this was going on, I lost my big gennaker, which had been attached at the stern with the genoa. I was crouching over the winch pedestal in the middle of hauling in the runner and the boat went right over on her side and under the pressure the straps broke. I saw the sail disappearing, but couldn't do anything about it… The situation is not as comfortable as it was before the incident: losing this sail has really upset me. Now I'm going to get some rest; change and make repairs. I'm a bit disappointed, but there's still a long way to go, and I'm ready to go on the attack."
Unfortunately Kito de Pavant on Groupe Bel has had to retire after the head of his IMOCA 60's keel broke at around 2300 last night. De Pavant is now limping back to the Azores some 270 miles from where the breakage occurred.
Meanwhile to the south Michel Desjoyeaux on Foncia and Arnaud Boissieres on Akena Verandas are suffering in relatively light winds compared to the westerly group. Foncia is now 326 miles off the leader, having lost 120 miles in the last 24 hours, although he has the small consolation that he is on the verge of overtaking Boissieres and will no longer be DLF in the IMOCA class. The southerly boats should be into better conditions tomorrow.
The Class 40 leader Thomas Ruyant on Destination Dunkerque has also benefitted from being first into the strong northeasterlies and has extended his lead from 18 miles over Sam Manuard on Vecteur Plus up to 32 miles this morning. This group is similar conditions to the westerly group of IMOCA 60s with 25-30 knots from the northeast. Also like the IMOCA 60s the southerly group led by Nicolas Troussel on Credit Mutuel de Bretagne has suffered, Troussel losing 90 miles on the Class 40 leader in the last 24 hours, now 179 miles behind in terms of DTF. Read the latest from the Class 40 race course in Marco Nannini's blogs here.
Yesterday Thomas Ruyant reported: "Everything is alright. I am trying to push on a bit now and everything is set to do that. I passed the front now and just emerging. The passage was quite rough but now I have 17-18 knots, but now the shift will come and there will be strong downwind conditions and so I am going to helm for four hours to maximise my speed, making the most to try and increase my lead. But at the same time I want to be prudent, to manage things to keep the boat together."
Bernard Stamm on Cheminées Poujoulat meanwhile has had a few problems: "The repair I made has broken, but not entirely. I had to repair it to be able to steer the boat. Now I hope to reach the Azores because it is just not possible to race on. I think I will reach there on the evening of the 7th November, but after I will have a zone of no winds to go through. I am starting to see the wind drop. If we can find the right part and have it there, then the stop would take half an hour. If we don't manage to do that and have to make a repair it there then that could take a lot of time. I repaired all that I could at sea. I finished this morning, and if I chose to do it this way then, to come down here, then it 's because I knew that I had two days of upwind sailing. But to come here I have been able to try and repair the boat as we go, the steering system was locked off and I was steering the boat with the sails. The course I am taking is certainly not a good one, because in front of us there is no wind."
Back to top
| | | | | | | | | | | | |
| --- | --- | --- | --- | --- | --- | --- | --- | --- | --- | --- | --- |
| Pos | Boat | Lat | Long | Spd | Crs | Spd2 | Crs3 | Spd4 | Dist | DTF | DTL |
| | | | | Aver | | 4 hr aver | | 24 hours | | | |
| | Ultimate | | | | | | | | | | |
| 1 | Groupama 3 | 29 31.16' N | 51 14.66' W | 24 | 267 | 22.4 | 269 | 19.4 | 466.4 | 1026.3 | 0 |
| 2 | Idec | 28 59.56' N | 43 59.54' W | 25 | 215 | 24.4 | 204 | 23.7 | 568.1 | 1286.5 | 260.1 |
| 3 | Sodebo | 34 05.45' N | 49 31.61' W | 20.5 | 196 | 22.4 | 199 | 20.2 | 485.3 | 1298.7 | 272.4 |
| 4 | Gitana 11 | 30 33.56' N | 39 29.53' W | 16 | 257 | 16.8 | 250 | 13 | 312.5 | 1535.1 | 508.8 |
| 5 | La Boite à Pizza | 33 25.52' N | 28 36.27' W | 13.5 | 205 | 12 | 226 | 9.1 | 217.6 | 2103.1 | 1076.8 |
| 6 | Défi Cancale | 30 39.61' N | 23 42.88' W | 12 | 225 | 14 | 224 | 10.2 | 244.7 | 2296 | 1269.6 |
| 7 | Saint-Malo 2015 | 31 36.05' N | 23 13.97' W | 15 | 226 | 11.9 | 226 | 10.9 | 261.8 | 2333.7 | 1307.3 |
| ABD | Oman Air Majan | | | | | | | | | | |
| ABD | Côte d'Or II | | | | | | | | | | |
| | | | | | | | | | | | |
| | IMOCA | | | | | | | | | | |
| 1 | Veolia Environnement | 39 15.48' N | 39 17.08' W | 11 | 267 | 16.5 | 258 | 17.2 | 412.8 | 1855.9 | 0 |
| 2 | Brit Air | 39 06.28' N | 37 59.67' W | 22.5 | 244 | 16.3 | 253 | 17 | 407.1 | 1894.4 | 38.5 |
| 3 | PRB | 39 39.23' N | 38 21.95' W | 15.5 | 280 | 17.7 | 262 | 16.9 | 405.6 | 1903.4 | 47.4 |
| 4 | Virbac Paprec 3 | 39 11.09' N | 37 16.96' W | 25.5 | 261 | 15.5 | 251 | 16.3 | 390.7 | 1922.8 | 66.8 |
| 5 | Safran | 39 16.16' N | 36 53.84' W | 14.5 | 238 | 17.1 | 254 | 16.6 | 398 | 1939.8 | 83.8 |
| 6 | DCNS 1000 | 39 56.25' N | 35 44.70' W | 12 | 256 | 15.3 | 257 | 15.4 | 369.6 | 2006.4 | 150.5 |
| 7 | Groupe Bel | 39 43.99' N | 33 29.70' W | 9.5 | 131 | 8.8 | 99 | 11.3 | 270.4 | 2081.7 | 225.8 |
| 8 | Akena Vérandas | 34 17.63' N | 27 25.79' W | 12.5 | 227 | 12.7 | 225 | 11.9 | 284.8 | 2182.3 | 326.3 |
| 9 | FONCIA | 34 03.01' N | 27 18.76' W | 13.5 | 223 | 12.7 | 222 | 12.1 | 291.4 | 2182.4 | 326.4 |
| | | | | | | | | | | | |
| | Multi50 | | | | | | | | | | |
| 1 | Crêpes Whaou ! | 34 08.50' N | 36 01.10' W | 19 | 258 | 16.6 | 252 | 12.3 | 294.6 | 1795.7 | 0 |
| 2 | Actual | 34 26.88' N | 32 32.48' W | 6 | 258 | 2.9 | 276 | 8.9 | 212.6 | 1955.5 | 159.7 |
| 3 | La mer révèle nos sens | 40 40.25' N | 34 44.56' W | 10.5 | 251 | 12.4 | 249 | 13.8 | 330.8 | 2069.7 | 273.9 |
| 4 | Région Aquitaine - Port Médoc | 36 48.76' N | 30 35.61' W | 20.5 | 244 | 15.4 | 247 | 12.8 | 307.2 | 2105.6 | 309.9 |
| 5 | Maître Jacques | 32 58.37' N | 28 25.71' W | 19.5 | 213 | 15.5 | 224 | 11 | 263.6 | 2107.1 | 311.4 |
| 6 | AXA Atout Coeur pour AIDES | 30 37.61' N | 26 15.23' W | 15 | 268 | 9.4 | 218 | 10.2 | 245.7 | 2168.6 | 372.9 |
| 7 | FenetreA - Cardinal | 32 48.19' N | 26 04.51' W | 18.5 | 227 | 12.2 | 225 | 11.4 | 272.4 | 2215.5 | 419.7 |
| 8 | Prince de Bretagne | 30 55.68' N | 24 49.90' W | 20 | 218 | 20.6 | 208 | 14.7 | 352.5 | 2244.1 | 448.4 |
| 9 | Naviguez Anne Caseneuve | 35 21.25' N | 25 59.10' W | 12.5 | 198 | 13.1 | 222 | 10.7 | 255.7 | 2271.8 | 476.1 |
| 10 | CitoyensduMonde.net | 31 12.66' N | 18 43.22' W | 20 | 208 | 12.7 | 208 | 6.8 | 162 | 2554.2 | 758.5 |
| 11 | Nootka | 35 55.78' N | 17 11.10' W | 9 | 267 | 8.2 | 192 | 4 | 95.7 | 2686.2 | 890.5 |
| 12 | Delirium | 47 43.52' N | 3 21.11' W | 0 | 0 | 0 | 287 | 0 | 0 | 3459.6 | 1663.9 |
| | | | | | | | | | | | |
| | Class 40 | | | | | | | | | | |
| 1 | Destination Dunkerque | 43 35.03' N | 28 34.10' W | 12 | 241 | 12.7 | 243 | 11.3 | 272 | 2394.6 | 0 |
| 2 | Vecteur Plus | 43 39.61' N | 27 45.19' W | 15 | 247 | 12.5 | 243 | 10.7 | 257.6 | 2426.7 | 32.1 |
| 3 | Appart City | 43 47.80' N | 27 51.40' W | 11 | 243 | 13.1 | 243 | 11.2 | 269.7 | 2427.4 | 32.8 |
| 4 | Monbana | 43 45.78' N | 27 07.36' W | 14 | 244 | 12.5 | 242 | 10.4 | 250.6 | 2453.1 | 58.5 |
| 5 | Mare.de | 44 16.13' N | 27 12.56' W | 16.5 | 224 | 12 | 242 | 9.9 | 236.8 | 2466.2 | 71.6 |
| 6 | Drekan Energie - Groupe Terrallia | 44 03.52' N | 26 33.55' W | 9 | 235 | 8.8 | 249 | 9.4 | 226.5 | 2483.2 | 88.6 |
| 7 | Groupe PICOTY | 44 20.92' N | 26 29.54' W | 14.5 | 222 | 12.3 | 238 | 9.9 | 238.2 | 2494.8 | 100.2 |
| 8 | Routes du Large | 44 11.96' N | 25 56.40' W | 8.4 | 228 | 11.6 | 234 | 9.5 | 229.2 | 2503.8 | 109.2 |
| 9 | Bureau Vallée | 44 41.59' N | 26 25.22' W | 19 | 238 | 12.4 | 243 | 10.8 | 259.9 | 2508.4 | 113.8 |
| 10 | 40 Degrees | 45 04.21' N | 26 33.23' W | 6.5 | 198 | 9.6 | 235 | 10 | 239.4 | 2515.7 | 121.2 |
| 11 | TZU HANG | 44 09.84' N | 25 27.80' W | 15 | 239 | 12.9 | 240 | 9.6 | 229.8 | 2520.8 | 126.2 |
| 12 | COMIRIS - Pôle Santé Elior | 44 57.63' N | 26 08.28' W | 9.5 | 219 | 10.1 | 247 | 8.9 | 214.5 | 2527.1 | 132.5 |
| 13 | EDF Energies Nouvelles - VESTAS | 44 15.07' N | 25 15.14' W | 11.5 | 230 | 12.1 | 236 | 9.3 | 222.8 | 2531.3 | 136.7 |
| 14 | Novedia / Initiatives | 43 11.07' N | 24 15.97' W | 11 | 265 | 8.2 | 265 | 8 | 191.6 | 2543.1 | 148.5 |
| 15 | Techneau | 44 12.31' N | 25 00.01' W | 14 | 239 | 13.6 | 240 | 9.4 | 226 | 2545.3 | 150.7 |
| 16 | Grassi Bateaux | 44 25.73' N | 25 02.59' W | 12 | 255 | 12.5 | 239 | 9.3 | 222.1 | 2550.2 | 155.7 |
| 17 | Avis Immobilier | 44 17.90' N | 24 54.53' W | 11.5 | 236 | 12.5 | 238 | 9.2 | 219.7 | 2551.5 | 156.9 |
| 18 | UniCredit | 44 45.25' N | 25 16.25' W | 10.5 | 250 | 11.4 | 236 | 9.1 | 217.8 | 2552 | 157.5 |
| 19 | Crédit Mutuel de Bretagne | 34 27.77' N | 19 10.13' W | 10 | 208 | 9.8 | 212 | 7.6 | 181.8 | 2574.5 | 179.9 |
| 20 | Ville de Douarnenez | 44 49.56' N | 23 58.59' W | 11 | 236 | 11.8 | 234 | 8.5 | 205 | 2601.8 | 207.2 |
| 21 | GEODIS | 43 20.32' N | 22 36.77' W | 7 | 275 | 7.8 | 268 | 6.8 | 163.3 | 2611.4 | 216.9 |
| 22 | Gonser Group - Cambio | 45 59.21' N | 24 39.11' W | 9 | 246 | 9.1 | 247 | 9 | 216.2 | 2612.7 | 218.1 |
| 23 | ICAP Orca | 44 48.95' N | 23 08.28' W | 13.5 | 237 | 10.9 | 240 | 8.1 | 193.6 | 2632.7 | 238.1 |
| 24 | Des Pieds et Des Mains | 35 55.58' N | 18 18.27' W | 8 | 215 | 9.8 | 258 | 6.9 | 166.1 | 2638 | 243.4 |
| 25 | DMS | 35 57.89' N | 18 16.55' W | 12 | 282 | 9.3 | 254 | 6.5 | 155.7 | 2639.9 | 245.4 |
| 26 | Les 3 caps-Respectons la terre | 45 26.14' N | 23 15.55' W | 10 | 240 | 12.8 | 245 | 7.2 | 173.2 | 2646.2 | 251.7 |
| 27 | Regis Guillemot Charter | 46 14.98' N | 23 17.29' W | 10 | 233 | 8.6 | 221 | 6.3 | 150.3 | 2669.5 | 274.9 |
| 28 | Marie Toit - Caen La Mer | 36 42.52' N | 17 49.77' W | 9.5 | 276 | 9.6 | 262 | 6 | 143 | 2672.7 | 278.1 |
| 29 | Cheminées Poujoulat | 40 23.32' N | 18 43.70' W | 4 | 196 | 2.1 | 193 | 4.2 | 101.2 | 2700.4 | 305.8 |
| 30 | Partouche | 36 41.92' N | 17 11.03' W | 7 | 223 | 7.8 | 242 | 6.7 | 161.2 | 2702.4 | 307.9 |
| 31 | TALES "Villa Esperanza" | 37 45.13' N | 17 10.69' W | 7 | 251 | 7.9 | 265 | 5.9 | 142.5 | 2719.8 | 325.2 |
| 32 | Fermiers de Loué - Sarthe | 37 02.63' N | 15 55.05' W | 9 | 184 | 8.5 | 204 | 4.9 | 118.3 | 2766.5 | 371.9 |
| 33 | Territoires Attitude | 37 38.36' N | 15 56.14' W | 8.5 | 260 | 9.2 | 271 | 6.6 | 158.9 | 2774.8 | 380.2 |
| 34 | Green Energy 4 seasons - Diabetics Challenges | 46 26.73' N | 20 04.21' W | 6 | 247 | 7.9 | 248 | 6.9 | 165.9 | 2792.1 | 397.5 |
| 35 | Tieto Passion | 39 00.50' N | 15 34.86' W | 6 | 184 | 6.2 | 198 | 3.4 | 81.2 | 2812.9 | 418.3 |
| 36 | Tradition Guadeloupe | 35 52.31' N | 14 13.62' W | 9.5 | 213 | 8.5 | 208 | 6.5 | 156.6 | 2829.8 | 435.2 |
| 37 | Kogane | 37 21.88' N | 14 35.69' W | 8 | 199 | 8.4 | 197 | 4.3 | 103 | 2832.5 | 437.9 |
| 38 | BINIC un port dans la ville | 41 20.09' N | 14 25.04' W | 6 | 254 | 5.9 | 266 | 6.1 | 146.3 | 2903.9 | 509.3 |
| 39 | Ville de Saint Grégoire | 40 32.80' N | 12 58.58' W | 3 | 231 | 3.4 | 199 | 4.3 | 102.4 | 2953.4 | 558.9 |
| 40 | Voiles 44 Région Guadeloupe | 40 52.24' N | 12 13.29' W | 1 | 298 | 3.5 | 266 | 3.6 | 85.6 | 2991.1 | 596.5 |
| 41 | CHIMIREC - EVTV | 41 42.43' N | 12 02.13' W | 6.5 | 182 | 5.8 | 182 | 2.8 | 66.6 | 3012.9 | 618.3 |
| 42 | White Swallow | 48 32.83' N | 15 03.44' W | 6.5 | 226 | 8.5 | 226 | 6.4 | 154.7 | 3029.7 | 635.1 |
| ABD | Adriatech | | | | | | | | | | |
| ABD | Solo | | | | | | | | | | |
| | | | | | | | | | | | |
| | Rhum | | | | | | | | | | |
| 1 | Destination CALAIS | 44 17.12' N | 23 05.57' W | 9.5 | 240 | 7.6 | 261 | 7.7 | 183.6 | 2619.2 | 0 |
| 2 | Acapella | 44 26.71' N | 23 10.50' W | 15.5 | 235 | 9.1 | 262 | 8.1 | 195.3 | 2620.6 | 1.4 |
| 3 | Vento Di Sardegna | 38 34.48' N | 18 50.68' W | 7.5 | 246 | 5.2 | 214 | 5 | 120.3 | 2659.4 | 40.2 |
| 4 | Jeunes Dirigeants - Lorans | 45 40.11' N | 22 09.74' W | 9.5 | 219 | 8.8 | 230 | 7.3 | 174.5 | 2693.3 | 74.1 |
| 5 | monopticien.com | 38 27.24' N | 16 35.89' W | 8 | 257 | 8 | 275 | 6.9 | 164.8 | 2757.9 | 138.7 |
| 6 | Pour le Rire Médecin | 40 01.22' N | 17 02.59' W | 3.5 | 203 | 3.1 | 195 | 3.7 | 89.5 | 2766.1 | 146.9 |
| 7 | ATNinc.com | 39 47.57' N | 15 15.17' W | 2.5 | 243 | 4.3 | 245 | 4.8 | 114.1 | 2840.7 | 221.5 |
| 8 | Eurosanit | 37 38.57' N | 13 46.88' W | 7.5 | 169 | 7.7 | 188 | 3.5 | 82.8 | 2874 | 254.9 |
| 9 | VALE Nouvelle Calédonie | 39 19.00' N | 13 00.72' W | 5.5 | 166 | 4 | 169 | 2.4 | 57.6 | 2933 | 313.8 |
| ABD | GENERIK - EXP'HAIR en Beauté | | | | | | | | | | |
| ABD | Un monde bleu tout en vert | | | | | | | | | | |
Back to top