Groupe Picoty prepares for the Route du Rhum
In mid-June this year, the Class40 Association President, Jacques Fournier and his Global Ocean Race 2011-12 co-skipper, Jean-Edouard Criquioche, took delivery of a new Finot-Conq Design Class40, Groupe Picoty. While the French duo are fully focused on the GOR circumnavigation, the forthcoming, single-handed Route du Rhum from St. Malo to Guadaloupe provides 40 year-old Criquioche with an opportunity to fully test and develop new systems on Groupe Picoty and move ahead of the game.
Since taking delivery of their new Pogo S² Class40 at the Structures yard in Bénodet, Brittany, Fournier and Criquioche have been occupied familiarising themselves with the boat: "You can never sail enough," confirms Criquioche. "We've spent more time tuning and adjusting the boat than actually sailing her," he admits. However, some pre-Route du Rhum offshore tuition was achieved: "Despite everything, we had a good session of race training in Lorient with Tanguy Leglatin, so everything's good."
For Criquioche the transition from an older generation Class40 to a third generation boat has been a massive leap in terms of performance: "The first impressions that come to mind are the boat is very strong, aggressive to sail and very fast," he reports. "I'm really, really super-happy with the boat, especially compared to the older generation. The new boats are much stiffer and each slam into a wave reverberates over the entire length of the boat. So, sailing the boat is fairly violent and very physical." Criquioche is also astonished by the boat's re-acceleration capability: "As soon as you slam into a wave there's an immediate impact which slows down the boat. But before the wave disappears behind the transom, we're off again picking up speed rapidly."
There are 46 Class40s entered in the Route du Rhum representing 50 percent of the entire race fleet with numerous third generation Class40s on the start line. In addition to Groupe Picoty, there are three other Pogo S² entries, all launched this year: Nicolas Troussel's Crédit Mutuel de Bretagne; Régis Guillemot's Regis Guillemot Charter and Damien Grimont's Monbana. Meanwhile, Akilaria are fielding three, third generation Akilaria RC2 boats: Thierry Bouchard with Comiris - Pôle Santé Elior launched last year; Pete Goss on DMS (Tony Lawson's Concise 2 chartered for the Route du Rhum) and Philippe Fiston's Territoires Attitude. Fellow GOR entry, Conrad Colman from New Zealand, has also chartered Peter Harding's 2009 generation Owen Clarke design Jaz40 Mk2 40 Degrees for the Route du Rhum.
For Criquioche, the new generation boats will have an obvious impact on the Route du Rhum rankings: "I think that there will be two fleets really," he confirms. "But for me, there aren't ten, but 16 to 20 ultra-powerful boats which will be on an equal footing at the start line."
Within the French skipper's hot selection are likely to be Eric Defert's Verdier-designed Tyker 40 Drekan Energie - Groupe Terrallia new this year and the more recent Class40 launches: Pierre-Yves Lautrou's 2009 Pogo 40S L'express- Sapmer; Finnish sailor Jouni Rompannen's Akilaria Tieto Passion launched last year; Sam Manuard's Vecteur Plus Manuard Design also launched in 2009 and German Mini sailor, Jörg Reichers, with his Owen Clarke 2009 FS40 Mare.de.
Criquioche believes the separation within the Class40 fleet may be abrupt: "Depending on the weather conditions, the older generation boats could fall behind quite quickly," he predicts. Indeed, it will be interesting to see the extent of any performance disparity as the Class40 fleet reaches the northeast trades. It should also be noted that there is some prodigious offshore talent sailing on the older boats, including Bernard Stamm on Cheminées Poujoulat and Tanguy de Lamotte on Novedia Initiatives – both 2007 Rogers designs – and Yvan Noblet's 2007 Verdier-designed Tyker 40, Appart City.
Meanwhile, with two weeks until the start, Jean-Edouard Criquioche has a busy schedule balancing boat preparation and sponsor commitments: "Primarily, it's all public relations and a little fine tuning," he says. "There will be no major changes to the boat as we simply don't have time to check and test them. So, it is really applying the finishing touches." His sponsors, Groupe Picoty, have a major presence in the Route du Rhum race village with a 60m² tented stand and both Criquioche and his GOR co-skipper, Jacques Fournier, will be fully occupied in the pre-start build-up. "The work of PR communications and sponsor commitments all takes place St Malo," reports Criquioche. "The official baptême and naming ceremony of Groupe Picoty is scheduled for Friday, just two days before the start, and we have a special surprise for our guests!" he adds mysteriously.
The 3,600 mile, single-handed, transatlantic race is clearly a milestone for Criquioche: "We have taken the preparation for the Route du Rhum really seriously," he explains. "But the overall objective for Groupe Picoty above everything else is the Global Ocean Race 2011-12. We're very hungry for a good result in the Route du Rhum, but this race is all part of our ongoing development plan for the GOR."
One system that Criquioche will trial during the Route du Rhum - and could potentially be a huge performance gain during the GOR - is a transom-mounted, retractable hydrogenerator developed by French yachtsman, Yannick Bestaven, and manufactured by the La Rochelle-based company, Watt & Sea. Launched earlier this year and already fitted to Marc Guillemot's IMOCA Open 60, Safran, the Watt & Sea system can supply 100 per cent of a racing yacht's power supply even at relatively low boatspeeds with minimum drag when deployed. The product is also a good fit with Criquioche's sponsors who are experts in energy consumption, limiting CO2 emissions and distributing renewable energies. "We will use the Route du Rhum to test the hydrogenerator which will allow us to save a lot of weight in diesel during the GOR circumnavigation," says the French skipper.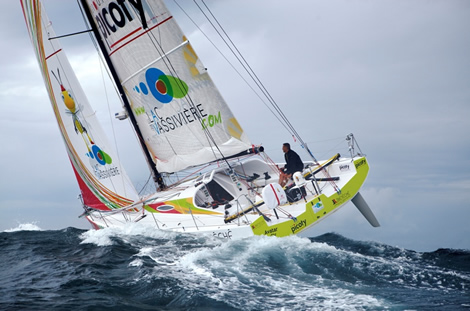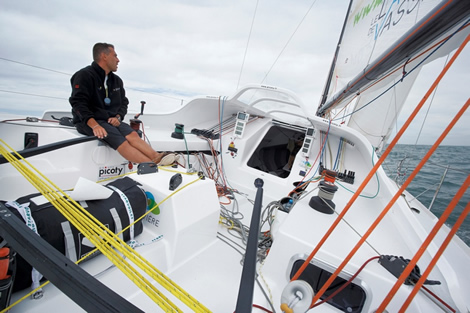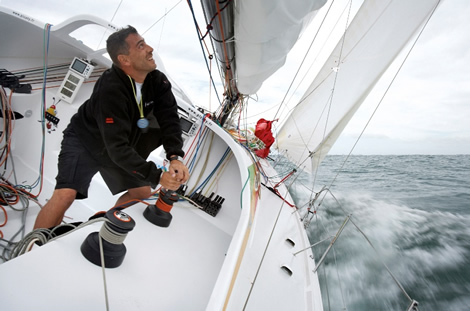 Back to top
Back to top