Brad van Liew returns to the solo round the world race track
Making a welcome return to singlehanded round the world racing is all-American Brad van Liew, who is set to be on the start line of the Velux 5 Oceans this October.
Van Liew is the product of a mis-spent youth when he sailed extensively out of Newport, Rhode Island on crewed keelboats, before decamping to Los Angeles where he worked as pilot, running jets for many Hollywood executives, his best dining out story being how he taught actor Kurt Russell how to fly a stunt plane.
Van Liew returned to sailing in a major way competing in the 1998-99 Around Alone singlehanded around the world race with stops (the successor to the BOC Challenge) aboard the Open 50 Balance Bar and returned four years later with a fully fledged Open 50 campaign, Tommy Hilfiger Freedom America, in which we scored a decisive win in Class 2.
Since the 2002-3 race, van Liew and his wife Meaghan have stood down from their solo round the world lifestyle and set up shop in Charleston, South Carolina, where they have been running the Charleston Maritime Foundation, but have also been instrumental in putting Charleston Race Week on the map.
"Meaghan and I started making babies, then we got recruited to run the Charleston Maritime Foundation build the tall ship and get that all up and running - so it was a nice opportunity for us to spend a few years driving a desk here at home," van Liew told thedailysail. "But I've maxed out on that and we were looking for something new and different to do and include the family in an adventure and it was just nice that the Eco 60 concept rolled out of the door so that we could try and sink our teeth into something." Offspring are Tate, 8 and Wyatt, 5.
Van Liew adds that the race returning to its more historic route and number of stopovers was also a factor – the Velux 5 Oceans this time starts and finishes in La Rochelle, visiting Cape Town, Wellington, Salvador de Bahia and van Liew's homeport of Charleston.
But perhaps the most significant development to get van Liew back into shorthanded racing was the advent of the Eco 60, introduced by the Velux 5 Oceans organisers, Clipper Ventures for this event. An Eco 60 is an Open 60, built before 1 January 2003. So in theory the hot boat (ie the last Open 60 to be built before this date) is the former Graham Dalton owned Hexagon, subsequently Emma Richards' Pindar and then Artemis 1. This has been sold and sadly won't be taking part in the Velux 5 Oceans, so the most competitive boats entered in this year's solo round the world race with stops are typically those built for the 2000 Vendee Globe.
For van Liew, the Eco 60 has allowed him a way back into the sport for fiscal reasons. A fully fledged IMOCA 60 campaign is something he would of course like to do, but as he puts it "it is ridiculous money and you aren't going to find a sponsor for that here in the US. We are still plugging along looking for sponsors for the Velux, let alone the Vendee Globe which doesn't touch the United States and costs three times as much... You could buy one of these boats and do an IMOCA race, but you aren't going to be competitive, so it is nice that there is a class that we can fit in and as you know I love what used to be the BOC and Around Alone and what has become the Velux 5 Oceans."
So van Liew has acquired the Marc Lombard designed former Whirlpool, originally built for Catherine Chabaud, subsequently raced by the late Simone Bianchetti in the 2002-3 Around Alone and then by Marc Thiercelin as ProForm in the 2004-5 Vendee Globe.
"The foundation of the boat was great – structurally it is beautiful," says van Liew who picked up the boat in France this spring. "The Tiscali guys did a huge refit on it and then Marc Thiercelin did a big refit as well. So it has been updated a couple of times - it has later generation everything from keel system to daggerboards, to rig and rudder and all that. She has been well taken care of, but in saying that the last refit was in 2004 for the Vendee Globe, so we have had to do a pretty major refit, but the good news is that we haven't had to buy any super major parts: The rig and the keel are in great shape and the keel system is the latest generation titanium rams, and we had those redone before we brought it to the US. So the basics were all there and we are doing a complete new deck layout, new electronics package, going through the whole boat, repairing the minor stuff and making it the way I like a boat."
Work is being carried out in a warehouse on the naval base in North Charleston and back working with van Liew is Geoffrey Wargo, who ran his shore team with Tommy Hilfiger and French long term offshore sailor shore crew and Velux 5 Oceans fan, JC Caso.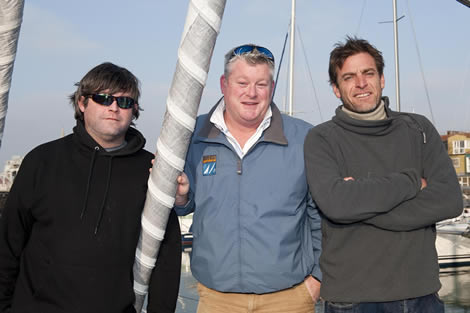 So if someone buys a pre-2003 Open 60, can you rip everything out and just replace it with the latest contemporary gear? Not totally. "You can completely refit, but you just can't make it a much different configuration," explains van Liew. "You can put in a new keel, new rig or new daggerboards, if you wanted to but you couldn't go from a fixed rig to a rotating wingmast or you couldn't go from a fixed keel to a canting keel. Basically you buy the configuration you like and then you can do as much as you like.
"We're doing a complete keel off, rig out full refit - a full new electronics package from B&G, a full new Harken deck layout. We are changing everything to do with the deck layout, so it is more like the way I sail.
"The Eco 60 rules limit how many sails you can buy, but the amount we are allowed to carry is an optimal, so it doesn't short change you. We are building a whole suit of new sail inventory - eight sails plus a storm jib, which they consider a basic piece of safety equipment. So you can have the full spinnaker, Code 5, A3, etc the full package. Then the way the rules work is that if you have to repair sails more than 50%, then you lose points. You are not allowed to replace your main without taking a hit."
Another attraction for van Liew is also the presence of sponsor Velux, the Danish manufacturer that is to the window market what Bic became to biros. Their spend on the solo round the world race is significant. "Velux is putting a ton of money into the media side, which will be really nice," says van Liew. "I hope the fleet turns out at the end of the day to be good, but as you know it is all in flux until start day."
Confirmed entries at the moment include the young Brit Oscar Mead, French Mini/Class 40 sailor Louis Duc, Pole Zbigniew Gutkowski, Australian Garry Golding (yes, another Golding...), Canadian ex-Mountie Derek Hatfield (who like van Liew is a past competitor), Belgium sailor Christophe Bullens. Hatfield is racing the former Solidaire, previously campaigned in the race by Thierry Dubois while Garry Golding has his namesake's former Team Group 4.
"If there are 8-11 boats - that will be great," says van Liew. "I think that the idea of the Eco 60 concept is something that a lot of people are talking about, which is neat. You could really include that Eco 60 in any of the IMOCA races as a secondary class. I don't know if that is going to get any legs or not, but it is a great idea. It makes it possible for people out of the Franco-Anglo Open 60 scene to get into the game."
In terms of time frame, van Liew's boat will be emerging from the shed at the end of this month, will be relaunched in early-mid August, will spend a couple of week training and tuning up and corporate sailing before leaving for France where they expect to arrive in La Rochelle mid-September, a month out from the 17 October start.
In the meanwhile capable wife Meaghan is sponsor hunting, which in the US, where there is little culture for sponsoring yachting, is no mean feat. "It is a bitch," agrees van Liew of this process. "Thank God we have the support we've got. We have had really good support from the industry which has reduced the cost of the refit a whole lot in terms of having to buy stuff. The marine industry has been keen on me coming back which has been pretty cool, because it has saved us a few hundred grand. We have also had some support here in Charleston financially, from people who are fired up to see me go do it again. So it is okay, we are here. I have also borrowed money to do this, so it could end being a catastrophe, but at the moment we are okay and we are not compromising anything on the refit or getting ready, so hopefully we'll get a title sponsor before the race. In the meantime, we are on track and happy with the way we have been able to handle the refit."
The return of the charismatic van Liew to solo offshore racing is excellent news for both the race and the sport. Aside from being a top sailor he is also an expert communicator. If we were putting money on a Velux 5 Oceans winner....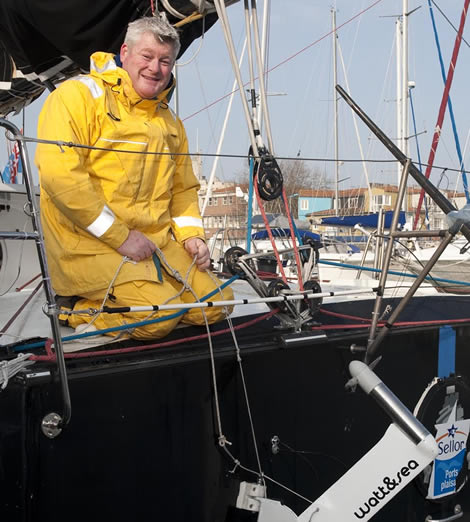 Back to top
Back to top