Breton rock stars Seychelles regatta holiday
Local boat Hyundai, skippered by Vendee Globe star Yann Eliès, did just enough in Saturday's seventh and final race to clinch the Seychelles Regatta revolving trophy sponsored by the Seychelles Tourism Board (STB) and Eden Island – succeeding Michel Desjoyeaux's Champagne Nicolas Feuillatte as champions. The line-up for this regatta, sailed in cruising catamarans, included Sam Davies and many French sailing stars such as Romain Attanasio, Micehl Desjoyeaux, Armel le Cleac'h, Servane Escoffier and Jérémie Beyou.
Hyundai's crew members received their prizes during Saturday night's prize-giving ceremony at the Eden Island in the presence of Education minister Bernard Shamlaye, French Ambassador to Seychelles Philippe Delacroix, STB director for tourism marketing Alain St Ange, Eden Island representative Peter Smith and other guests.
Alongside Eliès, the other Hyundai crew members were Paul Hodoul, Mervyn Cafrine, André Hoareau, Neville Humphrey, Cedric D'Offay, André D'Offay, Dianne D'Offay, Yann D'Offay Mancienne and Perry Mancienne. They finished second behind Armel Le Cléac'h and his Château Perenne Grand Vin de Bordeaux boat in the seventh race to accumulate 10 points – the least in the nine-boat flotilla – to win, on top of the trophy, a week for four or six persons at the Villa de Charme du Domaine de l'Orangerie, a jeroboam of Champagne Nicolas Feuillatte, a magnum Château Perenne Grand Vin de Bordeaux and a magnum of chablis.

"When Hyundai wins, it's a win for Seychelles," said skipper Eliès, who described the week at sea as "memorable and full of discovery", before spraying champagne on the guests and drinking from the bottle, Eliès thanked his crew members for do a superb job.

Michel Desjoyeaux's Champagne Nicolas Feuillatte boat settled for second position overall with 13 points and won six nights stay for eight persons at the Constance Ephelia Resort in the junior suite, a trophy, a jeroboam Champagne Nicolas Feuillatte and a magnum Château Perenne Grand Vin de Bordeaux.
After moving from fourth to third position in Friday's sixth race, this year's Transat AG2R La Mondiale winner onboard the Figaro Brit' Air, Armel Le Cléac'h and his Château Perenne Grand Vin de Bordeaux boat consolidated their place on the podium with victory in Saturday's seventh race to win a week for two persons at the Acajou Hotel, a trophy, a jeroboam Champagne Nicolas Feuillatte and a magnum Château Perenne Grand Vin de Bordeaux.

The Neil Delcy Memorial Fair Play trophy sponsored by Sunsail Seychelles was won by the all-female crew on board Bastide Du Laval, skippered by Servane Escoffier. They also got a week-long sailing charter on a Sunsail 40-feet catamaran for eight persons and a magnum Château Perenne Grand Vin de Bordeaux.

Results
1st - Yann Eliès – Hyundai - 10 points
2nd - Michel Desjoyeaux - Champagne Nicolas Feuillatte - 13 points
3rd - Armel Le Cléac'h - Château Perenne Grand Vin de Bordeaux - 16 points
4th - Samantha Davies - C'est la Vie - 21 points
5th - Yvon Bénéteau - Air Seychelles -26 points
6th - Romain Attanasio – Fondéole - 32 points
7th - Jérémie Beyou - Seychelles Breweries - 40 points
8 th - Servane Escoffier - Bastide Du Laval - 44 points
9th - Jean-Claude Dupuys - Mason's Travel – 48 points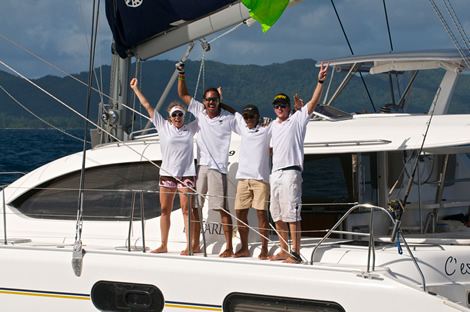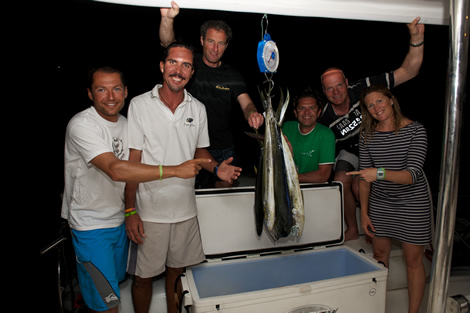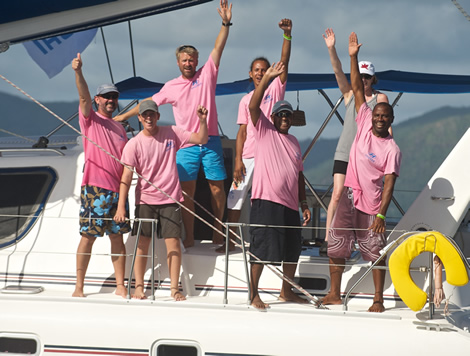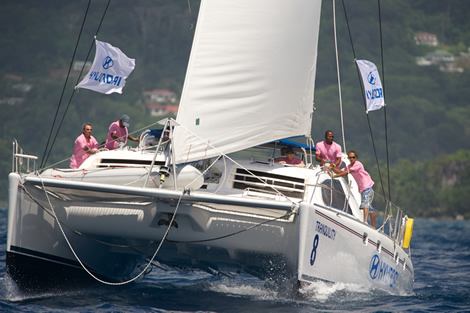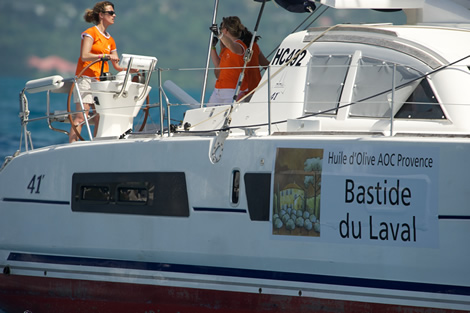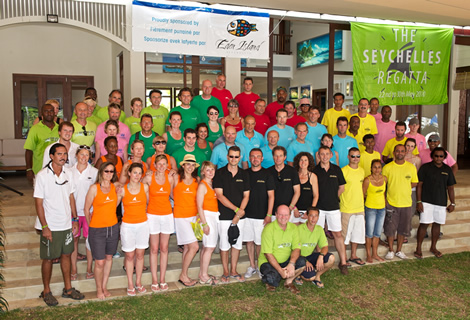 Back to top
Back to top