75 seconds apart after 1900 miles
Monday May 24th 2010, Author:
James Boyd
, Location: none selected
This morning, after seven a half days at sea the two frontrunners in the Vendee-St Petersburg race crossed the finish line separated by just 1 minute 15 seconds!
Having swapped the lead throughout the race, at 0531 GMT this morning, it was Crêpes Whaou! 3 sailed by skipper Franck-Yves Escoffier skipper and his crew, Loïc Escoffier and Antoine Koch, that claimed first place in a time to sail from St Gilles Croix de Vie to St Petersburg, Russia of 7 days 19 hours 31minutes and 49 seconds.
75 seconds, or around 400 metres - that is even less time than it takes to change tack on these boats. When you are beaten, ending up so close to the winner, you obviously think back at a particular moment in the race, when you could have gained those extra 400 metres that changed everything for you at the finish. But when you win by such a margin, you cannot help feeling that it was ever so close…
So victory has gone to Franck-Yves Escoffier and the sailor from Saint Malo's crew - , his son Loic, who is built like a rugby player, and can withstand anything after working as a fisherman around the Channel Islands and Cape Fréhel. Loïc is a gentle giant, who always finds something witty to say, just what you need to restore calm on board even when the going gets tough. As for Antoine Koch, a discreet young man, he brought along all his skill and talent as a navigator, after training as an engineer and shows a tactical intelligence that is rare. Koch was previously skipper of the Sopra Group ORMA 60. Combined with Franck-Yves Escoffier's experience, these two backgrounds surely had their part to play too in the final result in favour of Crêpes Whaou ! 3.
"I was lucky to be sailing with a very talented crew," commented Escoffier. "We had a little problem on the first night: seven hours into the race, we broke our mainsail clew. We had to sail for the first night with a reef in the main. Then, we carried out some repairs, but the edge of our sail didn't really look right. 75 seconds after 1900 miles is minuscule, nothing at all. When we remember that there was not a single day when we weren't sailing in sight of each other, it gives you an idea of the pace we had to keep up. Now we need to get some rest and get out of here… "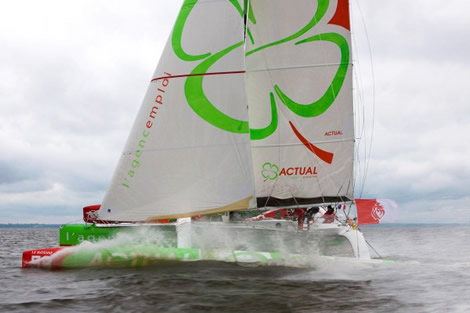 Behind them, the crew of Yves le Blevec's Actual fought right up to the end to try to change their fate. They even went as far as to hoist the code zero to try to bring about a change, while the wind strength suggested they should be more cautious. Right up until the finishing line, they thought they could close that narrow gap.
Le Blévec also had a top crew with him including Eric Loizeau, on board for the outward leg. Loizeau was once a skipper in the Whitbread Round the World Race but is best known in France for campaigning a series of Roger & Gallet sponsored multihulls during the 1980s. Ronan Deshayes is a talented racer and meticulous assistant, who works hard to ensure that sailors get the most out of their boats.
Further back, the gap is continuing to narrow. Pushed along by strong westerlies, the chasing boats are clocking up average speeds of more than 15 knots. The Baltic has changed its appearance and the smooth waters resembling a lake have now been transformed into choppy seas, with spray hitting the faces and the temperature rarely above eight degrees. We have perhaps tended to forget that we are looking at a latitude of more than 55°N, the same latitude as the Shetlands…
While Crêpes Whaou ! 2 is looking safe in third place, further back the battle is raging between Anne Caseneuve on Croisières Anne Caseneuve, Lalou Roucayrol on Région Aquitaine Port-Médoc, Pierre Hingant on La mer révèle nos sens and Erwan Le Roux's FenêtréA Cardinal. Between these four, the slightest mistake or poor strategic decision could cost them dearly.
Crêpes Whaou ! 2 is expected to finish some time tonight. The rest of the fleet is due to reach St-Petersburg between Wednesday and Thursday.
Hervé Cléris on CLM reports: "We're struggling in a calm under a cloud. The wind has just gone from seven to zero knots. This was not at all forecast, but it should freshen again. We passed through the straits between Copenhagen and Sweden, which was a magical moment. You have to think of a Sunday with all the yachts out, a huge amount of shipping with ferries, cargo vessels, lanes that have to be kept to if you don't want to end up on the sand banks and our trimaran zooming along in the middle of all this at twenty knots, which was incredible. As soon as you pass the Europe Bridge, you tell yourself, that you're in the Baltic. We were thinking about this with Christophe (Dietsch), and it's quite similar in many ways to the mouth of the Saint Lawrence. In these cold seas, where the difference in temperature means you don't necessarily have the same winds down on the floats, as you have at the top of the mast."
1400 sched
1 Crêpes Whaou ! 3 (FY Escoffier) finished at 05h 31mn 49s GMT on 24th May
2 Actual (Y Le Blévec) finished at 05h 33mn 04s GMT on 24th May
3 Crêpes Whaou ! 2 (L Féquet) 118 miles from the finish
4 Naviguez Anne Caseneuve (A Caseneuve) 247.2 miles from 3rd
5 Région Aquitaine Port-Médoc (L Roucayrol) 267 miles from 3rd
6 FenêtréA-Cardinal (E Le Roux) 278.9 miles from third
7 La mer révèle nos sens (P Hingant) 281.4 miles from third
8 CLM (H Cléris) 301.7 miles from third
9 π R2 (E Hochédé) 378.1 miles from third
Back to top
Back to top