The future of big offshore multihulls
Perhaps it is no coincidence, but attention over Groupama 3's Jules Verne Trophy attempt has seen Bruno Peyron re-emerge into the limelight with the announcement of his plans to stage 'The Race 2'.
Readers will remember that after The Race was run in 2001, Peyron tried to forge ahead with a repeat event, only for his plans to be scuppered when it went head to head with Tracy Edwards' Oryx Quest. Now with the 'G-Class' of giant boats, which he conceived more than a decade ago, still as buoyant as ever, with Groupama 3's success round the world and Banque Populaire's phenomenal transatlantic record last year, so Peyron hopes this time he will have a more successful follow up to his non-stop race around the world for his 'giants'.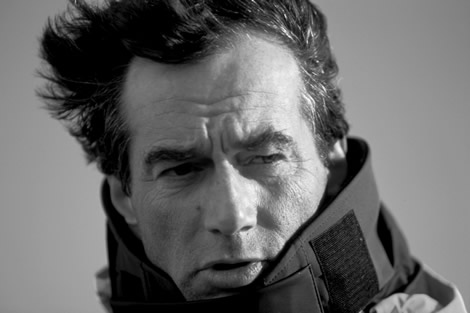 Jules Verne
As the man who was the first to win the Jules Verne Trophy for sailing non-stop around the world in less than 80 days aboard Commodore Explorer back in 1993, and who has regained that record twice since, Peyron says he is happy for his record to have been broken. He hoped that Groupama would break his record "not by 10 days, but this is perfect for everyone. I was surprised. I thought it would happen before." He is also pleased that this sets up Banque Populaire to make an attempt on the Jules Verne next winter, when the Groupama team will be focussing on the Volvo Ocean Race.
So does he think big catamarans are still the way to go? "I have never been sure about it. The reason I chose the cat was because we had 25-30 years of experience in them and secondly because in tricky, dangerous situations in the Southern Ocean, I know that a big cat is a lot safer than a tri, and stronger. I like speed and I like winning, but I don't want to play Russian roulette. But now it is different from a few years ago because the speed is so different that we can play with the weather systems a lot better than before, so maybe now the next choice will be different. When we did the studies for Orange 2 we were working in two directions – a big cat and a smaller tri like Groupama and we chose the big cat, but the future could be different. So I would like first to wait and see what Banque Pop does. It is a beautiful boat and they are very very fast, but are they strong enough?"
There seems no doubt that the VPLP-designed Groupama 3 and Banque Populaire are faster than Orange 2 – on a short course, Peyron agrees they would undoubtedly win, but even across the Atlantic he feels it is not so obvious. "They did a fantastic job last year, but as you remember, we broke one rudder after the first day, so we did more than half of the Atlantic record with only one rudder and the other acting like a break! But it was okay, because we didn't cancel and we did it."
Around the world any speed differences would level out even more. "How much do you have to slow them down in very dangerous conditions?" Peyron says of the tris in the Southern Ocean. "This I don't know that yet. The Groupama team did a very good job, because they knew their boat was a little bit fragile, and they chose a good route with no big seas except two days out from the Horn. So I am still not sure, but equally we haven't been that wrong!"
Just before Cape Horn when a depression forced Groupama 3 north – on Orange 2, Peyron says, they might not have had to take that strategy. Equally he acknowledges that as Groupama 3 had to claw her way back up the south Atlantic past Brazil in light headwinds, she would certainly have been the quicker boat. "We will be trying to aim for stronger winds - 30-35 knots - and they will be avoiding those all the time. But both of them can win."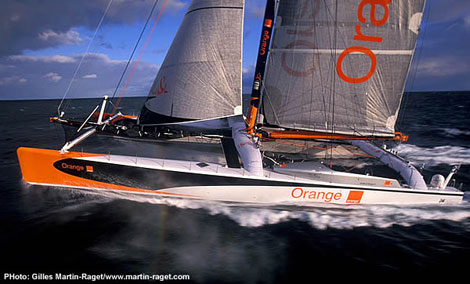 America's Cup
Big multihulls are of course in the public mind as well at the moment, following the recent America's Cup in Valencia. Peyron's younger brother was Ernesto Bertarelli's shot gun helm on Alinghi 5. Of course the idea of future America's Cup being held in multihulls, now that Pandora's Box has been opened, is something Bruno would love. "Loick and I have spoken together a lot and also about the America's Cup, because if it goes multi, that is a different game for us French guys. I am talking with potential partners who are interested to support us in two fields – the G Class and the America's Cup – so this is something we have to consider very seriously."
The Race 2
As to why he has decided to launch The Race 2 now, Peyron says "I took a long time to make a decision, because it was not that easy and I have been waiting for more people to share the same vision. But I think the timing is good now, because 12 boats have been built and we have just lost one [Team Philips]. And a few others want to join us soon from the Volvo and the America's Cup."
It has to be said though that many of what Peyron refers to as the 'G-Class' or 'No Limits', the new generation of giant sailing yachts, many of the 12 are not exactly in a sailing state. Of the three original Ollier-designed cats built for The Race 1, Club Med was bought by Tracy Edwards, won the Oryx Quest and is still attached to the dock (and the bottom probably) somewhere in Qatar, while Cam Lewis' Team Adventure is in the US still with a broken hull. Innovation Explorer is the only one up and running, now under Gitana's ownership. The late Steve Fossett's Playstation/Cheyenne hasn't been re-rigged since losing her mast in the Oryx Quest. (If anyone knows more about the whereabouts of these, please comment at the bottom of this article). Groupama 3, Banque Populaire and, with a little work, Orange 2 are ready to go, but Peyron also includes in this list the singlehanded Irens-Cabaret 100 or so foot tris Sodebo and IDEC and their Omani sistership Majan.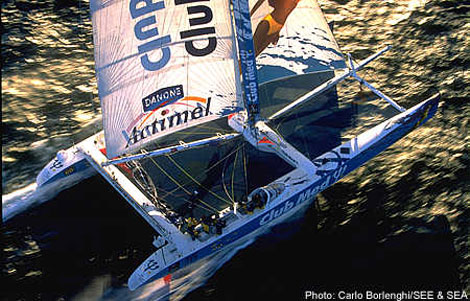 For any of these boats still being actively campaigned, The Race 2 has to be a good thing, for a sailing project solely to undertake record attempts, is becoming increasingly bad value for sponsors. Take Thomas Coville, for example, who spent most of last summer with his maxi-trimaran Sodebo on stand by in New York awaiting a weather window to make a bid on the singlehanded west to east transatlantic record that never materialised. "I think it is getting more and more difficult to propose programmes just based on records," agrees Peyron. "I think these boats are fantastic, but they need some other events to compliment their record campaigns.
As to The Race 2 specifics, at present there isn't anything concrete, although having run the event previously Peyron has may well conceived ideas for it. Slightly exasperating to the Anglo-Saxon contingent, who expect a more dictatorial approach, with a black and white Notice of Race with 'when, where and what' laid out fully from the outset, Peyron has always been highly democratic in the planning of his events. But this does have its benefits.
Take the date for example – Peyron wants The Race 2 to take place between the two Volvo Ocean Races (2011 and 2014), but equally he wants to wait to find out when the 34th America's Cup will take place (don't we all). "I also want to be sure to make the right decision considering that a few additional new boats will be under construction – whether it is worth waiting another winter to get a couple more boats. So it could be 2013-14, but we will wait a little bit and make the decision in the next couple of months. There is no urgency on this decision. The first decision was simply 'to go or not' and we decided to 'go'."
Classes
This appears to be developing on two fronts. On the one hand Peyron is of course keen to preserve the 'G-Class', but at the same time there is a potentially competitive fleet of 100 or so footers now in existence that are wouldn't be able to match the speed of the latest, bigger boats.
Peyron outlines his thoughts on this: "We have two different directions: one is the 'No Limit', built for records, etc – which is exactly the philosophy of The Race, a challenge to the imagination, etc. And the other is a class, able to be sailed with less crew, even singlehanded, with half of the budget and investment and even less than one third of the running costs. They are very fast, spectacular, safe for newcomers, which is important because, as you know, my obsession is for The Race not to be French, but global.
"So do we have to kill one of these? The answer is 'no'. We just have to work together to try and make the right decisions to protect both. I think the 'No Limits', complete freedom, has to be protected because one day, 20-30 years from now, someone will be flying around the world in 30-40 days. So we might only have one giant for each edition, but we don't need more. The other direction, the big fight, should be there are well. If we have The Race 2 - and The Race 3 in 2016, if everything goes well – eight to ten 100 footers each fighting a few miles from one another would be a real 'race'."
So among the 100 footer there are potentially the three 2000 generation Ollier cats, the three new Irens-Cabaret designed tris and Peyron doesn't think it is unreasonable to expect two to four new boats to be built to compete in this class.
The question is how to get the 100ft class, of both cats and tri and of varying ages, to race competitively. Peyron says he isn't keen on box rules and equally he doesn't like pure one designs – the three Ollier cats built for The Race for example came from the same moulds but were all slightly different. What he prefers, and he says the yacht designers he has spoken to agree with him, is a rule that limits power - specifically a maximum right moment of 110 tonne metres for example.
MOD70
While on the one hand the ORMA class of 60 footers has died, the announcement of The Race 2 is potentially not great for the MOD 70.
Peyron says the concept of the new Swiss-backed one design trimaran class isn't a million miles from the 80ft one design catamaran he was proposing when he was previously trying to get The Race 2 off the ground. But there is one fundament difference: the MOD70s are not designed to be raced in the Southern Ocean, their proposed round the world race taking them through the Suez and Panama canals.
"When we worked on the 80 footer, the idea was to try and create a one design that was international, fast, safe etc but able to sail everywhere in the world, especially in the mythical Southern Ocean for the very simple reason we all know in marketing - that each time you come back to pure sport, then your audience is only sailors. So the only way to reach a global audience, which is very important for the partners, is when you are talking about things other than sport: adventure, unknown, imagination, dreams, etc. - the Jules Verne, the Vendee Globe or the Race. So I respect their choice, even if I disagree on their strategy. The result is that they won't be with us and so maybe the 100 footers will take their place."
Yes, being able to exploit the Asian market is a good idea, but while the MOD70s are negotiating Suez and Panama, and the boats in The Race are passing the Capes, it is not hard to see which will get the more interest. "I am a little bit sad that we aren't able to sit around a table and share together a global vision for the ten coming years, but I am not taking any decisions against them. They have the same idea - multihull, fast, spectacular and fun boats. I hope they will succeed."
One wonders whether the MOD70s will stick with their concept, for, as Peyron points out, there is no reason a 70 footer couldn't take on the Southern Ocean – this was more or less the size of Ellen MacArthur's B&Q Castorama.
Part two of this article follows tomorrow
Back to top
Back to top