Solo Racing Festival 2010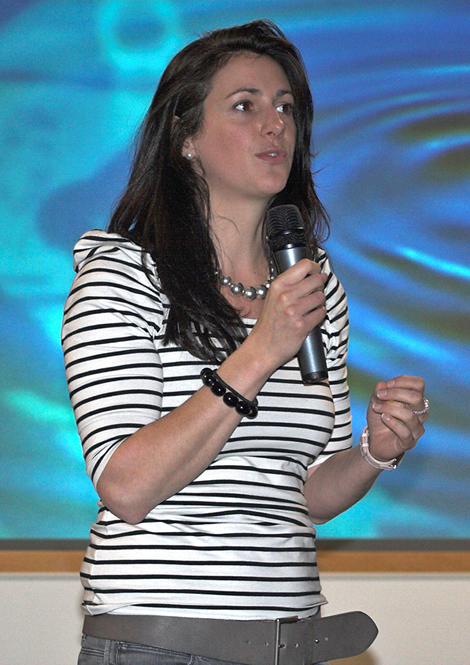 The great and the good from the world of solo and shorthanded offshore racing attended the Solo Racing Festival on Saturday, this year held at the bigger venue of the Southampton Solent University Conference Centre rather than at the Royal Southampton YC.
The event this year was sponsored by financial management software developer bluQube, who back Katie Miller's singlehanded campaign and capably compere-ed by solo sailor Hannah White (above). Now in its 4th year, the Solo Racing Festival attracted a broad range of sailors from the UK, Norway, Sweden, Germany, Holland, Belgium, Ireland and France.
Proceedings set off with round the world veteran Mike Golding sharing his wisdom and providing a bit of background to why solo offshore racing has developed differently in France and the UK. He also answered questions from the floor including one about how he dealt with the 74 knots he and Javier Sanso experienced in the north Atlantic during last autumn's Transat Jacques Vabre.
Meterologist/navigator Mike Broughton bravely attempted to shoehorn a day-long presentation on 'advanced weather routing' into one hour and provided some excellent insight into this subject. His talk included the pros and cons of various GRIB file formats – 85% of the world's airlines use the UK model - and the places to get them; standard weather charts – they are measured at 2000ft, and so many mods have to be made to them to get an accurate picture of the wind. Broughton gave some good case studies, comparing forecasts with what happened and shared some useful weblinks where the best weather data can be found.
Following this Mini sailors Keith Willis and Ollie Bond described their experiences in last year's Charente Maritime-Bahia Transat 6.50 (Mini Transat).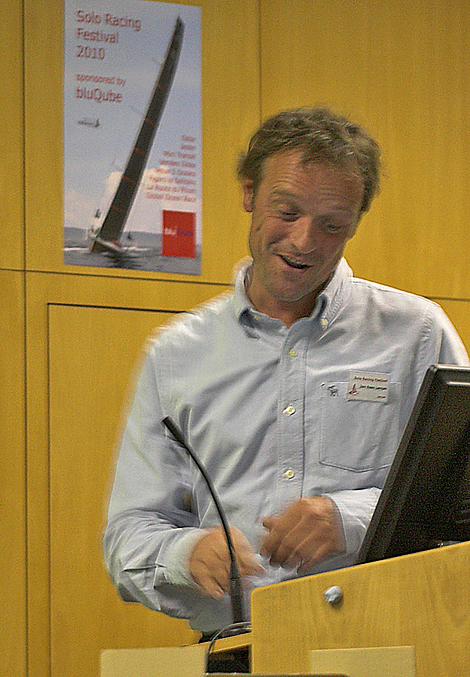 Closer to the heart of the Solo Offshore Racing Club was the presentation made by 2009 OSTAR winner Jan Kees Lampe (above) who shared detailed information about his boat, his routine, his equipment, and how he tackled the race and how after such a prestigious lineage of winners, his victory came as a surprise.
Following lunch, OSTAR competitor Marco Nannini showed a trailer from excellent film of the OSTAR – available on DVD shortly.
Belgium singlehanded round the world sailor Michel Kleinjans then talked over a video of his part in the Portimao Global Ocean Race. He would like to sail the Route du Rhum, but is already looking to enter Josh Hall's next Global Ocean Race. Details of this event was then provided by Ollie Dewar – next time only doublehanded and only open to Cat 0 Class 40s with a total six crew for the whole race (crews can change in stopovers to spread cost), 20 entries maximum with already 13 boats registered. The race will start a month earlier, on 11 September 2011, from France. The organisers have also come up with typical costs of campaigns - 249,000 Euros with a secondhand boat or 364,000 Euros with a new one (including the sale of the yacht after the race, but including Cat0 mods).
Phil Sharp provided an entertaining presentation about how he won the Class 40 class in the 2006 Route du Rhum – poignant with the French singlehanded transatlantic race happening again later this year. Sharp said that before going through the front (that would earn him a 120 mile lead and win him the race), his Slovenian meteorologist Jure Jerman had warned him to expect "30 knots with some VAT..." "All I can say is VAT in Slovenia must be incredibly high..."
Designer Simon Rogers talked about his Class 40 design for Tanguy de laMotte which last year won both the Rolex Fastnet Race and the Solidaire du Chocolat and his new Mk2 version of it.
Race Director of the Solo Offshore Racing Club, Peter Olden took the opportunity to outline the SORC race programme for 2010, with 14 races spread kicking off with the Isle of Wight solo, RIOW, on Saturday 24 April for which they are expecting 40 boats. There will be various coastal races this year down to Weymouth and Poole and back, the season culminating in the singlehanded channel week series starting on 31 July from Lymington and heading to Alderney, St Peter Port, St Malo, Brixham, Weymouth before returning to Lymington. The circuit is designed to test the established skippers and attract those wishing to try solo racing in home waters.
For us the most informative of the day's presentations was from former Pindar/Bahrain Open 60 Vendee Globe skipper Brian Thompson who went into the nuts and bolts of Open 60s, from explanation of inceptors and trim tabs and the relative weights of the sail wardrobes – on Pindar it weighed 700kg, on Aviva (which he sailed last year with Dee Caffari in the Transat Jacques Vabre) it was 500kg, the mainsail on Pindar 15sqm bigger than a Volvo 70. He looked at the typical sail combinations and the options – the latest trend is to ditch kites in favour of A3s – and how having outriggers/deck spreaders affects the sail wardrobe. He also looked at the electrics, the power demands, the different types of batteries typically used and charging mechanisms – Pindar's alternator on the engine plus solar panels and wind generator, compared to Aviva's separate generator – plus future gear such as hydrogenerators and fuel cells. There was also discussion of his habits on board: "my sleeping bag – I never got in it, I only put it over my head!"
The day concluded with Nigel King gives a presentation on the Figaro and his plans for the year.
Following the event Festival Director and another OSTAR competitor, Jerry Freeman commented: "Delegates enjoyed being part of a gathering of many of the top names in solo racing from the various classes, all experiencing a very rare opportunity to meet and socialise in a non-competitive setting and exchange ideas and plans. Those present were privileged to gain an insight into the motivations and fears of this rare breed and perhaps the most determined in the audience will aspire to follow in their wakes in the future. Our thanks must go to all the excellent speakers, many of who travelled long distances to appear at the festival, to the SORC team for their hard work and enthusiasm and to our sponsor bluQube for their generous support."
CEO of sponsor bluQube, Simon Kearsley said, "It was wonderful to be in a room of such like-minded individuals whose passion for the sport was borne out in the dramatic and exciting stories of their adventures in races such as the OSTAR, Mini Transat, La Route du Rhum and of course the Vendee Globe. Listening to how winners such as Mike Golding, Jan Kees Lampe and Phil Sharp won their respective races was particularly fascinating."
The Solo Racing Festival is an annual event, unique of its kind and we hope it continues to go from strength to strength

Back to top
Back to top