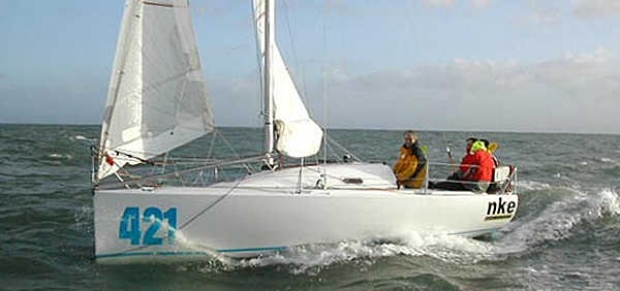 New Mini one design
While the Mini class is becoming well known in the UK, with the current interest being kick started when Mark Turner and Ellen MacArthur took part in the race in 1997, what is less well publicised is the one-design (Series) class which runs alongside the 'Protos' or one-offs.

Over the history of the class there have been a number of these starting with the ancient Cocos. Recently a number of one design Minis have emerged the most significant of these being the latest incarnation of the Pogo - the most popular and performance orientated of the one-designs - the Pogo 2.

Although Jean-Marie Finot and his business partner Pascal Conq have become slightly eclipsed in the Mini class by the likes of Pierre Rolland and Seb Magnen, they are without doubt the most experienced Open class designers with a number of boats including the last three winners of the Vendee Globe to their credit. They have used this experience to come up with a new Mini one design, that is not as extreme as some of the one-offs, but should equally be highly competitive.

The Pogo 2, as is usual, has a large form stability and according to French class B regulations (and class rules) is unsinkable. The hull is built out of glass-polyester laminate stiffened by stringers and with foam core in the deck. The boat has a cast iron fin and a lead bulb. As is conventional on the wedge-shaped Minis, she carries two rudders.

Down below the level of fit-out is up to the buyer - but unlike the highly stripped out one-offs, the Pogo 2 can be fitted with gallery and chart table modules (like the original Pogo). An aluminium mast is sold for Mini class competition (carbon is currently banned under class rules), although a carbon version is also available.

Compared to the one-offs, the protos are somewhat detuned with shorter rigs and no movable ballast. Despite this they still often get into the top 10 in races.

The boat is being built by Chantier Structures near Quimper in Brittany who are also the builder of the original Pogo and the larger Pogo 8.50.

Vital statistics

Length 6,50 m
Width 2,99 m
Draft 1,60 m
Displacement 1,005 t
Water ballast 430 kg

Sails
Mainsail 26 m²
Genoa 18 m²
Spi 70 m²

Price:
The builders sell the boat less deck gear and electronics for a basic price of 29,950€

For more information contact:
CHANTIER NAVAL STRUCTURES, ZA de Kerbénoën, 29120 Combrit - Ste-Marine
Tél : 02 98 51 94 73 Fax : 02 98 56 47 74. Email: structures@wanadoo.fr

For more images of the new boat see page 2...
Back to top
Back to top