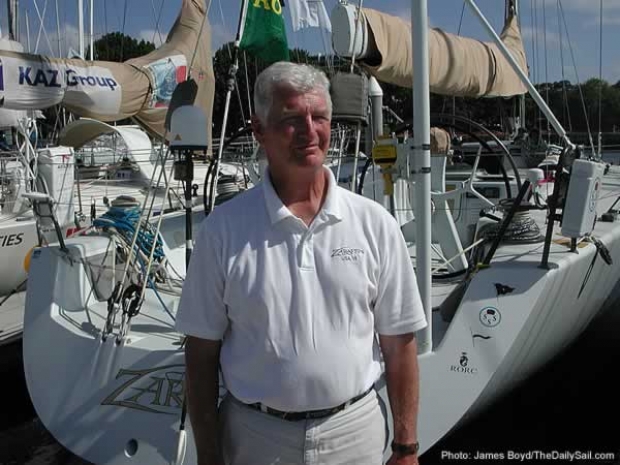 Rolex Sydney-Hobart profile
Outside of the supermaxis one of the most formidable teams currently taking on the Rolex Sydney-Hobart is on American Skip Sheldon's Reichel Rugh-design
Zaraffa
.
A 73-year-old former pathology and cell biology professor whose work took him from Hopkins and Harvard Universities ultimately to the McGill University in Montreal, Dr Sheldon has sailed all his life. While he was brought up sailing one design keelboats such as Stars and Dragons in Long Island Sound, his real passion is for offshore racing and the adventure associated with that form of the sport.
Upon his retirement in 1990 Dr Sheldon had the Bill Tripp-designed IMS 55 footer
Aurora
built. "It won the Fastnet by 9 hours on IMS and CHS but we were disqualified in a committee hearing by a boat that said they had to duck our stern. We had helicopter footage from two different countries and there was no ducking of the stern and it was a put up job - they were mad because they were beaten," he says, our interview kicking off with one of the low points in his sailing career.
2000 saw the launch of his present boat,
Zaraffa
, a Reichel-Pugh designed 65 footer again optimised for IMS, that Sheldon says will be his swan song in ocean racing. This was designed before the current spate of super-maxis from the San Diego-based design house.
Zaraffa
in comparison has no movable ballast - be it water or a canting keel. "It is a classic old fashioned boat where we have happened to have got the keel right, we have got the righting moment right, got the upwind right and the reaching polars right," maintains Dr Sheldon. "It was built as an IMS boat, and when we sailed IRC we were happy to find it worked very well as well. IRC recognises boats for what they are whereas IMS is a bit of a contortion. I'm very pleased because we had the decision to make - whether we should just sail just IMS or boat - and I said we should sail both classes."
While
Zaraffa
is optimised for IMS, it is very much more offshore-orientated than, for example, Geoff Ross' new
Yendys
, which prior to it being refitted was optimised for the Spanish inshore IMS circuit.
Aboard
Zaraffa
Dr Sheldon has experienced considerable success. "The purpose of the boat was to have one more go at ocean racing in a contemporary way, so we changed designers and changed construction and instead of sailing with a group of amateurs and now we have recruited a group of professionals," he explains.
In
Zaraffa
they won Class Zero and were second overall in the 2001 Rolex Fastnet Race. Last year they won under IMS at Block Island Race Week and the cruiser-racer division of the Bermuda Race while this year they demolished the opposition in the DaimlerChrysler Transatlantic Race.
"The next boat arrived two days later and at one point we had a 700 mile lead on the nearest boat and there was a group of guys in the second start who knew they weren't going to win and they quit," says Dr Sheldon guns blazing. "We were the scratch boat on the first start. We made a very clear decision before the start that we weren't going to go down to the Gulf Stream where everyone else was because we felt that the shortest distance between two points is a straight line even though we were going to be bucking 40 knot winds and it was going to be very uncomfortable - that was a better choice than adding another 120 miles to your course."
Following their incredible victory in the transat Sheldon took his family cruising aboard Zaraffa in Sweden. The boat was then delivered to Malta for the Rolex Middle Sea finishing third under both IRC and IMS before being shipped from La Spezia to Australia for the "cost of several jibs" as he puts it.
With wins in the Bermuda Race, the Fastnet and their current participation in the Rolex Sydney-Hobart Dr Sheldon's clear aim is to get the hat-trick of classic ocean races: "There is no one boat which has won all three races."
To achieve this he had loaded with the boat with one of the most impressive crew lines-up in the race. In addition to crew boss Roger Erker, on board are Prada two timer and former
EF Language
crewman Steve Erickson plus many of the
Assa Abloy
crew from navigator supremo Mark Rudiger to Magnus Olssen, Mickey Joubert and Richard Mason. Former illbruck crewman Richard Clarke, who normally sails on board has stood down for this race.
When we spoke to Dr Sheldon the day before the start he was still puzzling over his IMS rating. "I don't understand how the handicap has been derived because the numbers they are using are time-on-time but I am told they are going to include a weather factor so that confuses the issue." His initial impression was that
Zaraffa
was giving too much time to the Farr 50s and 52s.
For the Hobart race he was hoping for as much upwind sailing as possible. "The first six or eight hours should be upwind and if we're lucky it'll be forward of the beam down the coast and if we're really lucky we'll get it on the nose on the way into Hobart. With a powerful boat that is what you want.
"I think we have got the right kind of boat for these waters. We were out yesterday. It was only blowing 17 knots but the sea is tumbled and difficult and awkward and criss-crossed and it feels like you are sailing pretty hard. I don't think it is because the air is heavy, because it isn't - it's warm. Normally in 17 knots you don't reef the main and carry the four."
Post-Hobart race Dr Sheldon isn't certain of the program for his boat. She may be available for purchase to the right buyer. "It is not up for sale, but if someone wants a proven boat in this dimension, I can't think of many places to have so much opportunity to sail it as Australia. If this boat does what I hope it will do it will be a mark to race it against. If you look at what Geoff Ross has done - he has tried to put his programme together in a big hurry and found out what his boat might have been... A guy like that who wants to win a second time might be interested."
The chances are if he sells the boat he won't get a replacement. "I have two young daughters and I am spending too much doing what I like to do and not enough time doing what they like to do. They have had a wonderful time - six weeks in Sweden with lots of boys around and rubber dinghies and they got to see what yachting parties are like, but being a boat groupie is not the way to bring up a young lady," he comments dryly. "Maybe if they and I go sailing on a smaller boat they'll do more work and have a better time. Sailing a boat like this is not for teenagers. They get cabin fever and I'm not sure they are learning all the things they might."
Aside from
Zaraffa
Dr Sheldon owns a pencil thin 30sqm class classic yacht which he keeps in Sweden. "I go to Sweden or Germany every year to sail the 30sqm which is really good because I have a great boat. It is a great class. It is like the Dragons it is not as strong as it needs to be." He is also contemplating a small club near Vermont where they have a growing Etchells fleet. "I like one design because you don't have to figure out the results. It isn't so extreme and you're not subject to the whims of interpretations. I am still not certain how they are going to apply the IMS rule here and I am having a hard time finding out what they are going to do with the weather factor," he cites as an example.
Zaraffa
is due to arrive in Hobart late on Monday.
Back to top
Back to top