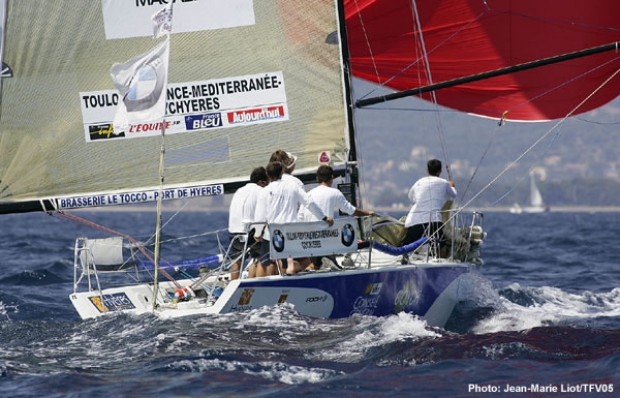 Local knowledge pays
With a steady wind blowing today over Hyères, the Race Committee managed to start three races instead of two in order to catch up the race cancelled earlier on the Atlantic coast. And so, there were three winners:
Defi Partage-Marseille
,
Toulon Provence Mediterranean Coychyères
and
Alpes-Maritimes Mandelieu Theoule
, by coincidence all boats from the Mediterranean .
With four days to go before the last regatta in Menton, all the competitors are getting excited. The name of the overall winner will soon be known, and everything is still up for grabs. In an ESEerly wind of around 15 knots,
Defi Partage-Marseille
won the first leg after a tough fight with the local team
Toulon Provence Mediterranean Coychyères
.
"This race was a bit like a rooster fight between Toulon and us," admitted skipper Dimitri Deruelle. "In all modesty, I think we had the best speed. This was a tight victory, but we managed to take the advantage over the other boats. In the two other races, we had an electronic failure, so we couldn't race 100%".
In the second leg, Fabien Henry and his men came back into the match to win in front of their home crowd. "We won some more points over
Bouygues
in the overall ranking, said Tugdual Becquemie. "We are very happy but we have to be careful and keep concentrating until the end".
With the help of a steady wind, the Race Committee decided to start a third race in the Bay of Hyères. This made another Mediterranean team happy -
Alpes Maritimes Mandelieu Theoule
today's third winner, Sylvain Chtounder and his crew scoring their first win in this year's Tour de France à la Voile. "When the Race Committee said there would be another race, we were not that keen, because we were a bit tired. But to win now, when we are about to sail to our region, is a very good news. I think the podium is still accessible. Anything can happen."
Overall
Toulon Provence Mediterranean Coychyères
is still increasing the gap over their main rival
Bouygues Telecom
, 74 points now separating the two boats. Behind,
Defi Partage-Marseille
is now third and is not far off second place. Following their victory today, the team of
Alpes-Maritimes Mandelieu Theoule
is now fourth ahead of
Region Ile de France
, who had three good results (9th, 7th, and 2nd).
In the Amateur class, the big surprise of the day came from
Ville du Port Bred la Reunion
. Despite a retirement on the first leg due to a crash with
Brest Randes Ecoles Ensieta Enst-Bretagne
, the team from Reunion Island is now leading its class, equal with CSC ESSEC, and only 1.5 points ahead
Espoir Ile de France
.
In the Student class there is no change with
Alfa Laval
still leading, but
Port de Commerce la Rochelle
is making a come back now just 10 points behind.
Tomorrow, the 11th offshore leg will start at 9.00. This 35 mile race, the shortest, will take the Mumm 30 fleet to Sainte-Maxime on the Golfe du St Tropez.
Overall results:
| | | | |
| --- | --- | --- | --- |
| Pos | Boat | Skipper | Tot |
| 1 | TOULON PROVENCE MEDITERRANEE COYCHyères | Fabien HENRY | 1083 |
| 2 | BOUYGUES TELECOM | Pierre Loïc BERTHET | 1009 |
| 3 | DEFI PARTAGE – MARSEILLE | Thierry BOUCHARD / Dimitri DERUELLE | 979 |
| 4 | ALPES-MARITIMES MANDELIEU THEOULE | Sylvain CHTOUNDER | 954 |
| 5 | REGION ILE DE FRANCE | Jimmy PAHUN / Nicolas PAUCHET | 945 |
| 6 | DIEPPE SEINE-MARITIME | Romain GIBON | 941 |
| 7 | VILLE DE GENEVE CARREFOUR PREVENTION | Julien DI BIASE/Denis GIRARDET/Bastien CLEMENT | 929 |
| 8 | COURRIER DUNKERQUE | Gery TRENTESAUX | 928 |
| 9 | ESPOIR ILE DE FRANCE | Jean-Pierre NICOL / Victor LANIER | 883 |
| 10 | CSC – ESSEC | Hervé GAUTIER | 872 |
| 11 | VILLE DU PORT BRED LA REUNION | Marc GUESSARD / Gabriel JEAN-ALBERT | 853 |
| 12 | ALFA LAVAL | Yoann RICHOMME | 794 |
| 13 | BELVEDERE – EDC – EBSCO | Tanguy FOURNIER LE RAY | 791 |
| 14 | PERPIGNAN MEDITERRANEE | Paul McKENZIE | 781 |
| 15 | PORT DE COMMERCE LA ROCHELLE | Alexandre MERCIER | 777 |
| 16 | NANTES SAINT-NAZAIRE | Sebastien PETITHUGUENIN / Gaëtan AULNETTE | 771 |
| 17 | BIENNE – VOILE | R. HARTMANN / N. BERGER / C. KNOLL | 752 |
| 18 | COTES D'ARMOR | Michaël AVELINE | 695 |
| 19 | DEFI SCLEROSE EN PLAQUES | Stéphane VENEL | 685 |
| 20 | ESPOIRS AQUITAINS | J.P.ALLILIAIRE/X.CANTEGREL/J.FALXA | 673 |
| 21 | DEFI GRANDES ECOLES TOTAL INSA | Anne Claire LE BERRE | 635 |
| 22 | VAN UDEN TUDELFT | Gert VAN DER HEIJDEN | 631 |
| 23 | EMINENCE – MARSEILLE | Kiny PARADE | 625 |
| 24 | DEFI AMI – AVAYA - X - ENSAM | Olivier HONTANX | 603 |
| 25 | BREST GRANDES ECOLES ENSIETA ENST-BRETAGNE | Gildas MAHE | 593 |
| 26 27 | STAD GENT / VILLE DE GAND | Philippe BERGMANS / Bernard WILMET | 581 |
| 28 | AMEC SPIE | Eric BASSET | 538 |
| 29 | EIGSI – CHARENTE MARITIME | Antoine ALBARET | 522 |
| 30 | T SERVICE INTERIM REGION DE BRUXELLES-CAPITALE | Laurent DECLERCQ / Jean-Marc FOBERT | 511 |
| | HEC GAMELIN MECENAT CHIRURGIE CARDIAQUE | Ryan PARKIN | 487 |
Back to top
Back to top