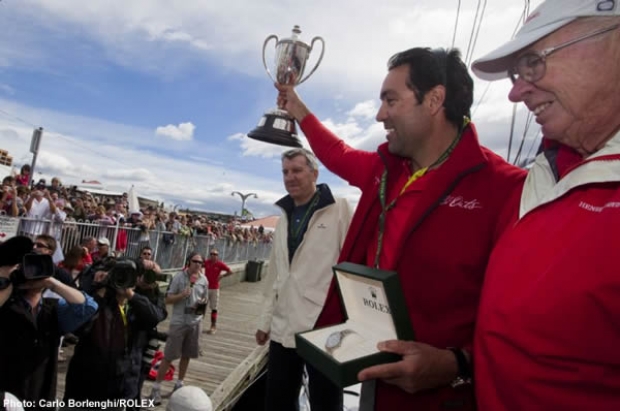 Record, but no record
Wild Oats XI
has lived up to its pre-race expectations and at 09:34:14 local time this
morning sailed into the Rolex Sydney Hobart Yacht Race history books. This makes her elapsed time for the 628 mile course 1 day, 20 hours, 34 minutes and 14 seconds.
In 15 knots of NNE breeze and with a sizeable spectator fleet escort, the mighty Sydney-based 30m maxi owned by Bob Oatley and skippered by Mark Richards achieved something no other boat has in the race's 64 year history - four consecutive line honours wins in the Southern hemisphere most revered offshore race.
Wild Oats
XI overcame a number of setbacks including a torn spinnaker soon after the 1pm start on Sydney Harbour on Friday, a too-close encounter with a shark last night that could have caused serious damage to their rudders and yesterday's valiant fight back by
Skandia
to lead the high tech
Wild Oats XI
for most of the day.
The record for the most line honours wins in the Rolex Sydney Hobart Yacht Race is held by
Morna
/
Kurrewa
IV, the same boat which sailed to seven line honours victories under two different owners and two different names, the last time in 1960 as
Kurrewa IV
.
Last year Wild Oats XI equalled
Morna
's record three-in-a-row, set in the 1940s, and this year she has taken her own slice of history with her fourth back to back win.
Wild Oats XI
is also the current record holder with a time of 1 day 18 hours 40 minutes 10 seconds set in 2005 when she took her first line honours win having only been on the water a matter of weeks.
Wild Oats XI's finish times
2005 (record) 1:18:40:10
2006 2:08:52:33
2007 1:21:24:32
2008 1:20:34:14
Looking back on the race it seems a two metre shark may have played a critical role in the line honours outcome of the 64th Rolex Sydney Hobart Yacht Race.
When Wild Oats XI crossed the finish line, she was 1 hour and 54 minutes outside the record she set in 2005. But that didn't worry an elated
Wild Oats XI
skipper Mark Richards: "When it's your own record it doesn't matter at all. We had one goal and that
was to get here first. If you want to beat that record you want to smash it."
In the end it seemed that everything had gone to plan. Before the race
Wild Oats XI
had been at unbackable odds to win line honours. The bar room drum was that all she had to do was show up to win. In reality, though,
Wild Oats XI
had to fight a determined
Skandia
from behind, and may owe her victory to a very battered and bruised shark.
"We had a really tough race, and the first three quarters of it we were behind
Skandia
," Richards said.
"There's no question this was the toughest race by a country mile. It doesn't seem to get any easier," tactician and helmsman Iain Murray conceded. "This race was particularly hard on the crew. A lot of variable winds and a lot of changing sails and a lot of decisions whether to go in or out."
Richards added: "We must have done 60 sail changes in the last 24 hours."
Expected to clear out from the fleet from the outset,
Wild Oats XI
instead appeared slow. "There were times when
Skandia
was just sailing away from us, which we
hadn't seen before," said Richards. "We didn't think we were sailing as fast as usual. We didn't achieve our target speeds and
Skandia
was sailing very well. He (Grant
Wharington,
Skandia
's skipper) was sailing the shifts nicely and getting into the
weather. When we left Sydney Heads we were pretty confident we got something
wrapped around the keel. We couldn't see it but the boat was sailing like an absolute dog for 24 hours. We couldn't get out of our own way. Then around 4pm on Saturday we wrapped a shark around our rudder. We couldn't get rid of it so we ended up backing off and going backwards to clear the shark. All of a sudden
Wild Oats XI
was back to her old self and we took off. We were going faster and within a half hour we were ahead of
Skandia
."
Richards says that this single incident was the most instrumental factor in
Wild Oats XI
finishing first. "Getting the thing off the keel. It was as simple as that. Yesterday before the shark they were eight miles in front of us and within two hours we were five miles in front of them."
As the boats sailed down the Tasmanian coast the conditions also started to better suit
Wild Oats XI
. The strong 20 to 30 knot northerly winds of the first day began to lighten and become more variable. Both yachts sailed into holes and were totally becalmed.
"We couldn't steer the boat. We did loop the loops, headed back to Sydney for a
while. We had every sail up 40 times," Iain Murray joked. "If the breeze had stayed 25 knots from the north we were struggling to catch them. But we always knew that it was going to get tricky down here and in light winds we were always comfortable with the boat's performance. We have bigger light air sails."
"It's Bob Oatley and the whole Wild Oats team," Richards declared. "Without Bob none of us would be here and without all of us Bob wouldn't be here."
The proud owner Oatley said of his crew's win, "winning an America's Cup would be
no greater than today's win".
"In hindsight we should have backed back earlier," added Richards. "It's very hard. When you're travelling at high speed what do you do? You keep second guessing yourself. Thank god the Lord looked after us and put the shark in front of us and we backed down anyway."
More photos on the following pages....
Back to top
Back to top