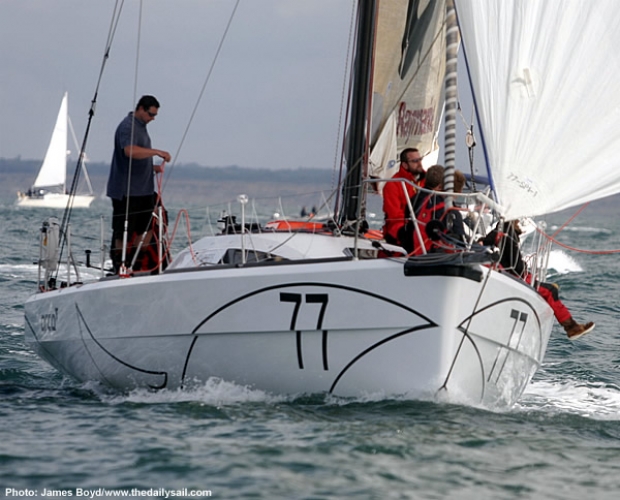 First bout
The Class 40's first major outing of 2009 kicks off this weekend with the two handed Les Sables-Horta-Les Sables. Among the handful of new boats joining the Class 40 for the first time in this race is the new Humphreys-designed
Orca
, belonging to 1998 doublehanded Round Britain & Ireland Race winner, Richard Tolkien.
The boat was built by Ocean Tec in Slovenia, a company set up by the former head of production at Elan, for whom the Humphreys office carry out all the design work.
With design work carried out mostly by Humphreys son and heir, Tom,
Orca
was originally intended for Mini sailor Kristian Hajnsek, but the project went into hiatus when last summer Hajnsek's sponsor pulled the plug. It was then that Richard Tolkien stepped in to take over the reins of the project. The boat was launched in a rush at the beginning of October and with a team comprising Tolkien, Neal Brewer, Tom Hayhoe and Tolkien's Round Britain co-skipper Robert Wingate, competed in the Rolex Middle Sea Race although they were forced to retire.
Orca
was then sailed to the south of France and trucked up to Marc Lefevre's VID2 yard in Caen to be finished off, the boat eventually reaching the UK in April. She has since competed in three RORC races and the JPMorgan Asset Management Round the Island, but the Les Sables-Horta-Les Sables event will be her first where she will be up against other Class 40s in anger.
Proud owner
A first glance at
Orca
and it is immediately evident that she is a close relation to the Humphreys-designed VO70
Team Russia,
with a significant chine that merges into a knuckle/spray rail forward.
"The design work was all done at the same sort of time, so I suppose some of the ideas we were looking at for the
Team Russia
boat merged a little bit with some of the Class 40 thinking we had," admits Tom Humphreys. "We used a similar team of people. Juri, the weather router for the Volvo race, we used for the Class 40 stuff and some of the other team we brought in for the VO70 worked on the Class 40 as well. And there is a spray rail on both, which is the obviously similarity, but other than that they are quite different boats."
So, again - why the spray rails? "We saw a lot of pluses in the tank of using them, particularly high speed reaching that made it look like it was worth using for the Class 40," says Humphreys. "You are picking up dynamic lift off the rail, so it helps keep the bow out high speed reaching where with a bit of heel there is a tendency to go bow down with these beamy boats. So it helps in that regard and you are picking up a little bit of reverse buoyancy there as well, which helps to keep the bow out.
However he points out that the spray rails are less extreme than on the Volvo boat and are clear of the water when heeled at lower speed.
Beamy
Orca
certainly is. At 4.5m she is on the BOA limit allowed by the class rule.
So what is the thinking? "There is a still a fair amount of sail area available to these boats, so it is still a power game just to manage that," continues Humphreys. "With big Code 0s, they are powering up pretty low down the wind range. So all the boats now are on maximum beam and we have carried that beam all the way back to the transom for better sheeting angle and to stack gear as far outboard as possible. Looking at the some of the latest boats that is a common trend."
He also points out that another reason for this was that the original aim of the boat was to compete in the Artemis Transat and so she was optimised for a slightly higher wind range than the competition. With her big beam, she should prove a formidable reaching machine, but the downside is likely to be her light airs performance.
"We have raced against an Express 40 and we were pleased to find that we finished about an hour ahead of them in a light airs downwind race," says Tolkien. "In 6-7 knots we have to work very hard to keep the boat going. She is fat at the back with a lot of wetted area."
Light weather performance will also not be helped by her being around 200kg over minimum weight. According to Humphreys hitting this while also achieving maximum righting moment (there is a 90deg inclination test) is still hard to achieve in the class. "It seems to vary massively between the boats. There are a few close to minimum weight and maximum righting moment, but a lot of boats are on minimum weight but you look and they are way under on max righting moment. We were over righting moment to begin with so we had to take some lead out and there are a few more creature comforts on Richard's boat we wouldn't have gone for but they were his requests of his which his why we've crept over."
This includes an extra crash bulkhead, although
Orca
would need one of the middle bulkheads made watertight if she were to comply with Category 0 (under their rule, Class 40s only have to be Cat1) and there is also a Fleet 33 satcom unit fitted.
Having a wander around on deck, the boat has a substantial fixed maximum length bowsprit, from which the code 0, genniker and two A-sails are flown. According to Tolkien they had considered the possibility of fitting a bowsprit that can be canted up to weather, to allow deeper angles to be sailed downwind, but he points that while Giovanni Soldini has this arrangement on
Telecom Italia
, to date no one else has managed to make it work.
Class 40s are limited to an eight sail inventory when racing and two of these are storm sails. So at present considerable thought is going in how to make the sail wardrobe as flexible to cope with this limitation. For example on
Orca
they have a main, Solent on a Karver furler, reefable staysail on the inner forestay, fractional and masthead A-sails and reacher/Code 0. But they and many others in the class are looking at ways to combine their staysail and trysail in order to have another kite. "Certainly with the Route du Chocolate the idea is to get another light downwind sail in there, particularly for a boat like ours where you have to work harder in the light stuff, being so powerful. And we are probably looking to go with a hanked on reefing solent for the Route du Chocolate," says Humphreys, who will be joining
Orca
on leg two back from the Azores imminently.
While carbon is not allowed in the construction of the hull, it is in the mast and
Orca
is fitted with an example from Z-Spars in La Rochelle with two sets of swept back spreaders. Shrouds are in stainless rod but class rules allow composite forestay and runners and on
Orca
these are in Kevlar. The rig is positioned further aft in the boat than older designs, as this allows a more even sail plan between the main and foretriangle, as seems to be the present trend.
Humphreys explains: "It is unlimited downwind sail area, so the further back you can stick the rig, the more spinnaker area you can manage efficiently. So you end up with a smaller, more manageable main for shorthanded racing, putting reefs in, etc and it seems to offer better balance going through the different sail combinations. That was a trend started by the Verdier boats and a lot of people have gone that way."
There are athwartships tracks for the headsail sheets and Tolkien reckons that they may shed these on future Orca 40s as they are not so necessary offshore. His boat also seems to be fitted with a serious number of clutches for this size of boat – 14 in total, seven either side of the hatchway each set culminating in a pit winch.
While the trends in Class 40s is to go for Open 60/Volvo 70 style twin companionways, on the
Orca 40
, there is the conventional arrangement of one central one; a requirement of Tolkien's. "Dual hatches are fine except if you want to cruise the boat or you want to sell the boat," he says. "If someone is paying all the bills then you don't have to worry, but one of the things I like about the class is that people are trying to take a hull life view. So it is capable of being used for other things afterwards."
On the second
Orca
we understand it may have twin companionways allowing for a central pit area and the shedding of one winch.
Thanks to the large beam of the boat, the cockpit is phenomenally wide and it features a full width main sheet track running at cockpit seat height, beneath which are the tillers, attached to the top of each of the twin rudders. There is a runner/kite winch and a primary on each side with a central main sheet winch on an island directly in front of the main sheet track. The jammers for the traveller are mounted on the forward side of the track.
The boat has a fixed keel, as canting keels are banned by the Class 40 rules. Tom Humphreys says the appendages were born of the work they did on the
Team Russia
foils.
Down below the main feature is the central navigation console with a seat and a plumbed in computer. The forward end of the water ballast tanks (each the maximum capacity allowed by the rule – 750lt) is level with the nav station, so quite far forwards. Tom Humphreys explains their movable ballast policy: "Our view was to use waterballast more to aid upwind trim. The idea is to stay as light as possible for the downwind stuff and to stack aggressively. So that is the reason why the aft berths are set inboard so we have a nice area for stacking outboard."
Forward of the nav area is some of the safety gear such as the mandatory anchor and chain, stipulated by the class rule. Then on
ORCA
is a bulkhead with a zip-up vinyl door leading forward into the forward compartment where there is the head and sails are stowed. Aft down each tunnel either side of the cockpit well is a single bunk with a pipecot for stacking outboard of this.
So will the new Orca be competitive against the likes of Giovanni Soldini's Verdier-designed
Telecom Italia
, the benchmark boat of the last couple of seasons and the other new 40s? Tolkien reckons it will come down to the ability to be able to carry sail and with
Orca
's giant hull they can certainly achieve this. "You pay the price in light airs and obviously round the cans you can't escape from that but out on the ocean oyu try and follow the wind. It is a very powerful boat. We have had two or three bits of heavy airs running and the bow comes up and the directional stability is very good, which in turn means that you should be able to push the boat hard." As to the knuckles around the bow: "She is quite a dry boat. One of the things that the knuckle produces is a very particular and target stream of water. Just like Team Russia…"
To buy an Orca 40 costs around 270,000 Euros ex sails and electronics, substantially less than the fully custom one-off Class 40s. The boat is being pitched so that it price point is more comparable to production boats like the new Pogo and Akilaria while still allowing some areas such as the deck layout to be customisable.
More photos on the following pages...
Back to top
Back to top