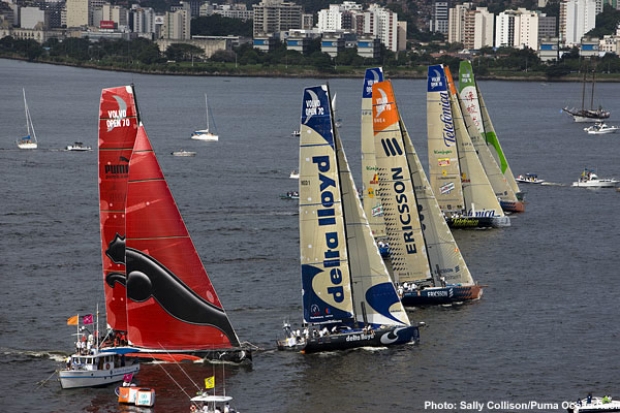 Back from the brink
It was a great win in the 'Light In-Port Race' for Bouwe Bekking's
Telefónica Blue
after a long postponement in Rio de Janeiro today.
Puma
put in a solid performance to take second, but the surprise result was the outstanding performance by the rejuvenated
Delta Lloyd
with Spaniard, Roberto Bérmudez in charge, who took the third podium position.
Only one race was run due to the two hour postponement, but once the sea breeze filled in, there was a solid seven to 10 knot southerly breeze on the Guanabara Bay. Ian Walker and
Green Dragon
led the fleet off the pin end of the start line, with Torben Grael's
Ericsson 4
, sailing with HRH the Crown Princess Victoria of Sweden onboard, and
Delta Lloyd
looking good at the windward end.
Ken Read elected to start on port tack, and out in the clear air on the right hand side of the course, the choice paid off. At the first mark
Puma
led the field, followed closely by
Ericsson 3
, the winner of leg five, with Magnus Olsson as skipper.
On the first down wind leg,
Telefónica Blue
and
Delta Lloyd
, who were mid-fleet at the top mark, both benefitted from a big puff of wind on the left hand side of the course and shot into first and second place.
Telefónica Blue
was never again challenged for the lead, but
Puma
managed to slip past
Delta Lloyd
to steal second place.
The main action today was towards the middle of the fleet, an unusual position for the multiple Olympic medallist and local lad Torben Grael, when he found himself in a race between
Green Dragon
and
Telefónica Black
.
Both
Ericsson 4
and
Telefónica Black
managed to beat back
Green Dragon
to post fourth and fifth at the finish, pushing Ian Walker and his men into sixth place. After their superb start,
Green Dragon
was never really in contention and Ian Walker will no doubt be disappointed with his result today.
Ericsson 3
's day was effectively over when she had to take a penalty for a port/starboard infringement with
Telefónica Black
.
Today's results do not change the order on the overall leaderboard, but do close the margin between
Ericsson 4
at the top and
Puma
and
Telefónica Blue
in second and third place.
Puma skipper Ken Read commented: "Today's race was fluky, there was a lot of current, it was a hard, hard, hard day. Rob Greenhalgh did a really great job on tactics. He made a couple of key calls and was spot on with what he said. He had a great day.
"We pre-planned our start on port tack, different to everyone else, and our duck to the right hand side of the first beat. We were comfortable with that decision and we were first at the weather mark. Today was the type of day in which you could easily come in last. It was hard. The runs were very long because there was a lot of current going against the boats. The current was filling the breeze upwind because we were going with it and was dropping the breeze on the downwind legs, so that's why you saw a lot of passing downwind. In the end, it took one little breeze line that
Telefonica Blue
had, that we didn't, to make all the difference. We'll take second; but one day, we won't be the bridesmaids, we'll be wearing the white dress!"
Freshly back from their severe boat repairs, the Delta Lloyd crew were understandably pleased with scoring a third place in the race's only old generation boat (the former race winner
ABN AMRO One
). They no doubt benefitted from the local knowledge of André Fonseca and Marcelo Ferreira. Skipper Bermúdez de Castro praised the great team work of his sailors and the people onshore: "This is one step, but it is still not the finish line. However, it is very important to everybody. They all worked hard. It was a good call of Tom Touber (NED) to ship the boat to Rio and get it repaired properly. Killian Bushe (IRL) and his men did an incredible job and so did Mike Danks (NZL) and his shore crew, logistics and marketing. The coaches Maurice Paardenkooper and local Walter Böddener were a big help. North Sails New-Zealand delivered fast sails, so yes I am happy."
André Fonseca added: "This is a team result. Everybody pushed hard to get the boat ready. We have had some tough legs before, but we gained new power. Now we know we can battle the fleet. Chuny made a good start and we tried to avoid fights. We sailed our own race." He smiles and looks up to the famous Christ statue on the Corcovado mountain: "We asked the big guy up there for some help and we got it. For sure our team sailed better than the others today, but we need to improve on keeping the boat speed up. Once we have achieved that, we might be able to win a race."
The start of leg six, 4,500 nm from Rio to Boston begins next Saturday, 11 April.
In-Port Race Rio de Janeiro Results (Provisional)
1. Telefónica Blue 4.0 points
2. Puma 3.5 points
3. Delta Lloyd 3.0 points
4. Ericsson 4: 2.5 points
5. Telefónica Black 2.0 points
6. Green Dragon 1.5 points
7. Ericsson 3: 1 points
8. Team Russia DNS
Overall Leaderboard
1. Ericsson 4 (Torben Grael/BRA): 66 points
2. Puma (Ken Read/USA): 56.5 points
3. Telefónica Blue (Bouwe Bekking/NED): 54.5 points
4. Ericsson 3 (Magnus Olsson/SWE): 44.5 points
5. Green Dragon (Ian Walker/GBR): 41 points
6. Telefónica Black (Fernando Echávarri/ESP): 23 points
7. Delta Lloyd (Roberto Bermudez/ESP): 15 points
8. Team Russia (Andreas Hanakamp/AUT): 10.5 points
More photos on the following pages...
Back to top
Back to top