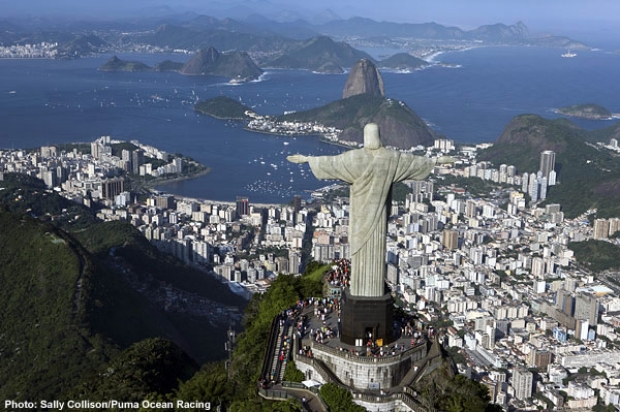 Under way again
After a short stopover of just two weeks in Rio de Janeiro - less for some teams - it was back out on the race track again today at the start of the 4,900 nautical mile leg six to Boston, USA, another new port introduced for this, the 10th edition of the Volvo Ocean Race.
In 30 degrees of heat, a marching band playing bagpipes heralded the departure of the seven teams who were accompanied by Samba dancers as they made their way down the dock and onboard their race boats which will be their home for another two weeks.
A light southwesterly sea breeze of 5-10 knots allowed the fleet to make a clean start on time in the Guanabara Bay at 1500 local.
Puma
(Ken Read/USA) and
Green Dragon
(Ian Walker/GBR) chose the committee boat end of the line, with
Telefónica Black
(Fernando Echávarri/ESP) closest to the pin.
Ericsson 4
made a very late and slow start, but skipper Torben Grael was determined to 'own' the right hand side of the course, which was where there was more breeze and less current. Practically rock-hopping so close in to the shore they went, and, at one point heading towards a rather alarmed spectator fleet, Torben Grael displayed his expert local knowledge, and
Ericsson 4
started to make steady gains up through the fleet.
Telefónica Black
(Fernando Echávarri/ESP) led the fleet to the first mark, set off the famous Copacabana beach and continued to hold that position to lead the fleet past the famous Sugar Loaf mountain and out into open waters.
Puma
rounded the mark in second place, but, under huge pressure from
Ericsson 4
, made a mistake and Torben Grael quickly swiped back second place.
Telefónica Blue
(Bouwe Bekking/NED) was fourth followed by
Ericsson 3
(Magnus Olsson/SWE),
Green Dragon
and
Delta Lloyd
.
Heading back in a loop towards the start line,
Telefónica Black
continued to sail impressively and opened up a big lead on the rest of the fleet.
At the second mark
Ericsson 3
came from nowhere to arrive at almost the same time as
Ericsson 4
, looking to take an easy second place until the crew had a problem and could not drop their spinnaker, requiring one member of the crew to climb the mast to free the sail. Almost all the fleet passed them, leaving them only ahead of
Delta Lloyd
.
On the second upwind leg, Torben Grael repeated his first leg tactics and once again headed towards the Rio shore.
Fernando Echávarri made some good decisions early on in today's race which enabled
Telefónica Black
to get clear air and build on a substantial lead. As the fleet headed out to sea,
Telefónica Black
was the clear leader.
Ericsson 4
was safely in second place from
Puma
in third who, in turn was just ahead of
Telefónica Blue
, fourth, with
Green Dragon
fifth.
Ericsson 3
was not far behind, but
Delta Lloyd
was trailing.
There is one mid-leg scoring gate opportunity on this leg, set at Fernando de Noronha, before the fleet arrives in Boston on or around 27 April.
Overall leaderboard
1. Ericsson 4 (Torben Grael/BRA): 66 points
2. PUMA (Ken Read/USA): 56.5 points
3. Telefónica Blue (Bouwe Bekking/NED): 54.5 points
4. Ericsson 3 (Magnus Olsson/SWE): 44.5 points
5. Green Dragon (Ian Walker/GBR): 41 points
6. Telefónica Black (Fernando Echávarri/ESP): 23 points
7. Delta Lloyd (Roberto Bermudez/ESP): 15 points
8. Team Russia (Andreas Hanakamp/AUT): 10.5 points
More photos on the following pages...
Back to top
Back to top