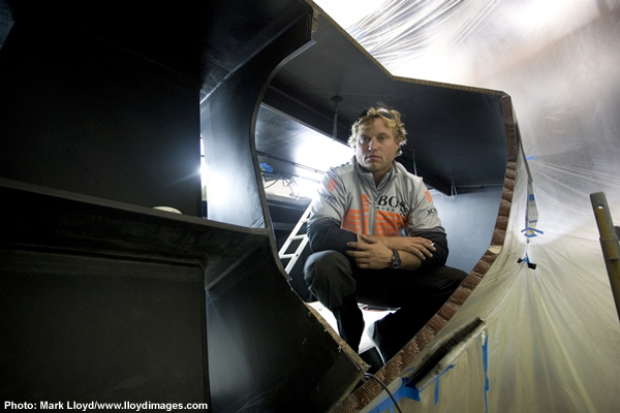 The big repair job
Alex Thomson – poor bastard. A week ago, with just over three to go until the start of the Vendee Globe, we awoke to the news that his immaculately prepared Open 60
Hugo Boss
had been struck down by a fishing trawler just off the entrance to the start port of Les Sables d'Olonne on the west coast of France.
This was no mere glancing blow. It was a full broadside from a 60ft long 58 tonne French fishing trawler doing 8.5 knots that had Thomson and the two other crew on board not been extremely fortunate, would have otherwise have sliced through their lightweight racing yacht like a knife through butter.
"It was hard to comprehend what was happening. That noise of carbon splitting is just horrendous..." recalls Thomson. "I was sleeping on the mid-ballast tank at the time, so if it had been two metres further back there would have been nothing to stop it. The only thing that stopped it were the bulkheads. Without the bulkheads….. it would have been game over. It shows how strong these boats are, I have to say."
The trawler rammed
Hugo Boss
midships just forward of the mast bulkhead pushing the Open 60 violently sideways and causing the mast to break at the first spreader. What it might have done to them personally had the trawler struck a metre or so further aft does not bear thinking about…
The carnage was hideous. After the shock had subsided suddenly the prospects of Alex Thomson taking part in the solo round the world race, an event he had been gearing up to for four years evaporated.
"The first couple of minutes were horrendous when it happened," Thomson recalls with a tremor in his voice that suggests that this moment will be one that sticks with him for the rest of his life. "Then you go through the stage of 'you're out, there's nothing you can do'. Then somehow you get this ridiculous idea that you might be able to repair it. Then suddenly the whole team are thinking the same thing: 'this is ridiculous, but let's do it, let's fix it'. And then you look at every single avenue and slowly it becomes a possibility and then once you get all your ducks in a row you make a decision to spend the money and you do it, because you are basically going to spend as much money as you can possibly spend in 10 days. We are looking at probably £250,000 to put it into a condition to start the race…"
And so a monstrous logistical plan has been rapidly put into place to fix up
Hugo Boss
ready for the 9 November Vendee Globe start date. A team of 25 people have come on board to take on his Herculean task. "We have 25 because you need a team to make the new piece, a team to repair the boat, a team to do the electronics, a team to do the boat building, a team to do the rigging and a team to do all the preparation work we were going to do anyway…"
With Thomson's connection with Sir Keith Mills (Sir Keith sailed part of the Clipper round the world race that Thomson won a decade ago and has since taken on the role of his patron/business partner) so several TeamOrigin personnel have come on board. "He [Sir Keith] said to me right at the beginning 'you have to do whatever you have to do and let me know if I can help'. So I phoned him up and said 'can we have Moose?!' Moose [Mike Sanderson] had already phoned me and said 'let me know how you are doing'. So it was good to get someone in from outside, because there is so much emotion involved with what we are doing with having spend so many years…..our team has been together for a long time and to have someone up here who has got less emotion and more experience has been really helpful."
TeamOrigin boatbuilder Paul Quinn is also on board leading the charge in his field and has been joined by
Hugo Boss
' original builder, Lymington's Neville Hutton. Also on the scene soon will be Jason Carrington. "They are in the process of cutting out the hole which is pretty enormous when you look at it - 5m long on the starboard side."
As the moulds for
Hugo Boss
no longer exist, the 5m long section of hull and deck that has to be replaced is being taken from the moulds of
Hugo Boss
' Finot-Conq designed sistership, Yann Elies'
Generali
has been made up at Multiplast in Vannes. The only problem is that
Generali
does not have the same hull (it has slightly less beam) so getting the sections to fit exactly could well prove a problem.
"They are making up a single skin section with a bit of core in it. It is not the same hull, so it has to be flexible enough to be able to move if it is a bit different, otherwise it isn't going to work. They say it is fairly similar in that area. Quinny is confident that he can get it done. You or me would look at it and we'd go 'you don't know what you are talking about! This is ridiculous, don't even bother trying!' But these people know what they are talking about and they say it is possible."
Generali
was built using a female tool so the outer skin has been laid up, with foam rather than Nomex as a core (for speed and simplicity's sake), and this will be stuck in place and the inner skin laminated in situ.
But this is the easy bit. Both of the full bulkheads enclosing the box for the canting keel, where the collision happened, must be replaced and the amount of solid carbon fibre laminate that must be carved up to remove them represents an unimaginable amount of work to undertake in the time.
Fortunately with the trawler hitting the boat at bulkhead, the impact did not occur below the waterline. "We were quite lucky because the boat had a fuel bulb on it so it hit us in the right place," says Thomson. "It hit us on a bulkhead and moved us. So we were lucky that the boat is as light as it is and it hit us in the right place."
In fact according to Thomson the repair has only been contemplated thanks to a fortunate piece of news that came the night after the incident when the team managed to fish up the rig (that had been cut away) from the seabed off Les Sables d'Olonne. While the mast was broken it was repairable and surprisingly there was little damage to the mainsail.
"There was the mast, but I had three headsails up at the time – the staysail, Solent and a big rolled up genniker. So we had $150,000 worth of sails hanging off the front, plus all the Karver swivels, etc. So recovering the mast was a big plus. We couldn't have done this without it. People have offered us spare masts, but all the geometry is different: all the masts are custom, different height of the sails, different reinforcing, different righting moments, etc And also lots of people have offered, but I've said 'listen guys, the reason you have a spare mast is that if you get dismasted you can carry on. As much as I want to get ready I don't want to affect somebody else's race. Marc Guillemot, his reaction to that was 'don't worry, just stay close to me and if I get dismasted I'll have it back!'
Aside from scarfing in a new piece of carbon spar (the section is on its way up from Southern Spars in New Zealand at present) a complete new set of Future Fibres PBO rigging will have to be installed too.
Hugo Boss
is currently out of the water at Alliaura Marine (once upon a time Vendee Globe organiser Philippe Jeantot's boatbuilding company Jeantot Marine, right next door to the Vendee Globe Race Village). "They saved our bacon – definitely," says Thomson of the support he has received from Alliaura. "It feels like we are still in the village."
In terms of timing the team are aiming to get
Hugo Boss
back in the water the week before the start. Exactly when remains to be seen. "All we can do is focus our efforts on trying to put it right and make sure we make the start," says Thomson.
Meanwhile the insurance issue with the French trawler's owners is set to roll on for months and months. Thomson claims that on
Hugo Boss
they had everything on by way of indicating their presence - masthead strobe, nav lights, deck lights, ActivEcho, radar, AIS - everything. The incident is currently undergoing an investigation by the French Affaires Maritimes.
"The important thing is that we get to the start of the race," concludes Thomson. "I've waited four years of my life for this. We were in really good condition. I think we had a good chance in this race. It has been really important now to make a clear decision to change our goal. Our goal was to win the race, so you have to get rid of that - our goal is to make the start line and that is achievable. So if we can achieve that we are winners really."
More photos on the following pages...
Back to top
Back to top