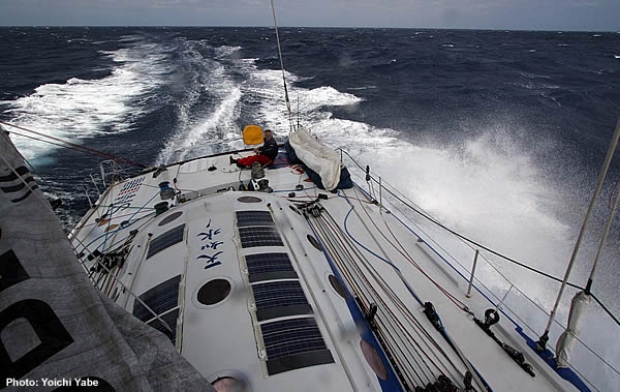 A Strange Thing Happened On the Way To The Velux
Thursday November 2nd 2006, Author:
Josh Hall
, Location: none selected
Lightyears ago, back in February, my loyal colleague, Laurent and I were approached by Japanese solo skipper Koji Shiraishi to manage and prepare his new steed
Spirit of Yukoh
( the ex-
Temenos
of Dominique Wavre) for the Velux 5 Oceans race.
I have known Koji for some 20 years and we quickly agreed that this would be a nice, calm, organised project to get involved with. Of course, like most sailors, we are overly blessed with memory loss and were soon delving deep into the heart of a tired Open 60 that was in need of much TLC. The team expanded at a corresponding rate to the issues we discovered as, of course, did Koji's overdraft but we stayed on our projected target path of refit, qualifier, modify and get the hell down to Bilbao in time for the off.
Throughout the refit of the boat at JMV in Cherbourg, Koji was omnipresent, keen as Japanese mustard to know his boat inside out and be a party to all the mods and tweaks that too many years on the circuit led us to make. One of the big issues he had in physically sailing his new machine was that it was built for 6ft 6" Dominique and so the cockpit depth meant he could not reach the outboard rope clutches nor get his shoulder into the winchs. Now Koji is an admirable height ( same as myself) but clearly did not fit his boat. The choice was he ordered Dubarry's with high heels or we raised the cockpit floor. We would have gone for the former but Dubarry would'nt play ball, so new cockpit floor it was.
In reality however, the biggest single issue was getting Koji sensible miles on his boat as he has stepped onto an Open 60 direct from an Open 40 and that, in terms of sheer horsepower and grunt is a huge leap.
He also needed to complete a 2000 mile solo qualifier for the Velux Race, so we decided we would sail as a crew to train from Cherbourg down to the Cape Verde Islands from where he would return alone. Our downhill crew was Koji, Laurent, myself and Yo (Yoichi Yabe) - close friend of Koji's and top Japanese yachting photographer.
The plan was perfect, we thought, as we could show him Open 60 downhill techniques down through the trades (big rags up, pilot on and set to hot, hide under chart table with a bottle of Jamesons) and then he could experience the true misery of dragging a wide-butted monster upwind for 12 days or so, while we languished in a beachfront hotel in the sun just in case he popped back.
After motoring halfway across a benign Biscay we found the conditions we were looking for and by Finisterre had 30kts true at 150 true ……Open 60 heaven and were rocketing south.
Koji has numerous great qualities but above all he has a zen about him that is a product of his disciplined Japanese background and his spiritual beliefs which are deep-rooted within him. Nothing fazes him and as we whooped and hollered at the speedo hovering in the mid-high 20's, he would sit in the cockpit, iPod on calmly observing the scene.
Back in Cherbourg we had witnessed him early morning and late evening, in the garden of the crew house, dressed in his black kimono, slicing the air with his ceremonial sword as he went through an amazingly precise series of exercises that would be worthy of any chapter in
Kill Bill
.
This routine continued aboard the boat albeit with his hardwood practise sword - the razor edge of his proper weapon deemed a tad dangerous on the lurching deck, especially with so much PBO rigging around.
10 days after departure we arrived safely in a not-so sheltered harbour on the Island of Sal. We dropped the hook, set the anchor alarm on the GPS and observed that we may have made a nav error as the nature of our surroundings was more Africa than glamorous Atlantic Island. Numerous radio and even telephone calls to customs and the police station prompted no response to our desire to clear in and get ashore for a cold beer and decent meal so we decided to cook up some spaghetti, get our heads down and sort things out in the morning.
Spirit of Yukoh
's bunk arrangements are meagre even by Open 60 standards so while Koji and Yo crashed in the cabin, Laurent and I headed for spinnaker mattresses in the sail locker. We were all fairly pooped so sleep came quick for us all - that feeling of arrival and knowing that we would not be woken for a watch that night creating a stress-free mental state for us all.
At around 0200hrs I was awoken by a loud alarm going off and plenty of shouting . II recognised the engine start alarm and in my half awakeness assumed the anchor had dragged and there was a problem with the engine. Stumbling through into the cabin area I was confronted by a scene that completely blew me away. Two ginormous black guys, one with a large knife and one with what looked like a handgun had Koji and Yo pinned in their bunks. They had clearly assumed there was no-one else aboard and my arrival got them even more agitated. As I was in boxer shorts only I had few weapons upon me but they forced me to sit down and continued their demands for money in the little English they had. One was clearly the boss but his eyes were crazed. In an effort to appease and be rid of them I opened my kitbag that was handy and gave them the cash in it - 300 euros or so. Unfortunately, they had already clocked the two laptops sat on the chart-table. To guys like this an Open 60 chart table at night with all the screens on must have looked like a space ship - full of valuable kit even though they would not have known what any of it was.
The Boss started to lift one of the laptops but, fortunately, they were both velcroed down with that 3M stuff that you could pull a car with. Frustrated, there was even more shouting and screaming until he managed to prise up one of them.
I was already feeling extremely nervous for our safety by now and images of a Peter Blake-style ending felt scarily close to hand. My fears increased 100 fold when he realised that he needed the power cord that led through to the back of the chart table and with his knife at my throat dragged me back there to get it for him.
This was in fact their error and our chance. Divided and out of sight of each other, Yo felt for Koji's practise wooden sword that was under his bunk, leapt out and started beating the intruder that was left in the cabin. I could hear a huge curfuffle and shouting and screaming and the Boss guy took his eye off me to look around the chart table. Just as he could see his conspirator struggling out of the cabin into the cockpit he also got my elbow in his face.
With his partner fleeing he decided to get out of there as well and scrambled through the cabin with Yo beating the hell out of him with the sword. He made it out into the cockpit only to be greeted by Laurent wielding a double winch handle that made a not too soft impact on his head. Regaining his feet he scrambled over the side into the water and in the blackness of the night we could see the two of them swimming towards a small boat of some sort that shone a small torch.
With our ire risen we grabbed the flare kit and fired two red para flares directly at them. They must have thought that World War 3 had begun. Both flares hit the water then skimmed bouncing-bomb style, landing on the beach 300 metres away where they lit up half the town in a red glow.
Interestingly, the only reaction from land that these two distress flares brought was the sound of two dogs barking!
Nervous that may could well return later with reinforcements we stood a deck watch for the remainder of the night with an array of flares, knives and the extremely effective wooden sword at the ready.
Next morning we decided that rather than brave another night at anchor , Koji should leave immediately regardless of our lack of customs clearance. Once he was away, the three of us booked into the nearest 4 star hotel and did not leave the site till we flew out!!
There is no doubt in our minds that this ending could have been very, very different in a place where life is cheap and poverty drives young guys like this to desperate measures. We remain grateful that we are all here in one piece.
Morals of the story: Piracy exists in the Cape Verde Islands; single-handed sailing remains less dangerous than many situations we can get into; keep a deck watch in strange harbours; have your guard wires fed with electricity ( just remember that when you have a midnight pee!); always take a Samurai Warrior with you!
Copyright Josh Hall 29.10.06
Back to top
Back to top