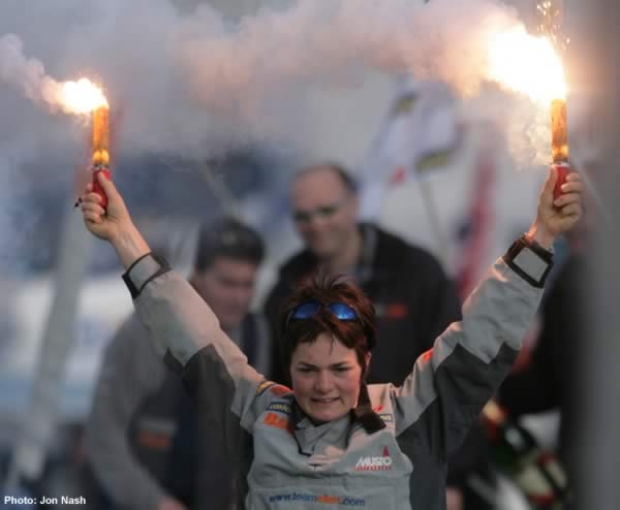 Empire building
When it comes to movers and shakers in our sport, few people move and shake to quite the same degree, particularly in the offshore world, as Mark Turner. From his early days running the marketing for Spinlock in tandem with a two boat campaign for the 1997 Mini Transat with a very young Ellen MacArthur, Turner has constantly grown Offshore Challenges. Fuelled by Ellen's incredible success on the water and in the media, the last year has seen the company he set up with the girl wonder blossom into OC Group of which the 'sailing team' is now just a part.
OC Group now comprises four principle businesses:
Offshore Challenges Sailing Team - at present manages the programs of Ellen and Nick Moloney
OC Events - organises the Transat (to be held next in 2008) and the Barcelona World Race next year
OC Vision - run by Dan Griffey this effectively specialises in IT and marketing, such as websites, mobile phone technology, graphics, etc. Clients include ABN AMRO.
OC Technology - run by Charles Darbyshire this is involved with on board communications such as sat com, camera and microphone systems, webcams, antennae, etc. Clients include the Oryx Quest, Volvo Ocean Race.
"We had enough projects going on and we wanted to try and do as much of this ourselves just because of the quality of we can output," says Turner. "You are getting close to what you really want, when you want, for a price that is acceptable which is always hard through sub-contractors. Having the opportunity to have that and to learn and build our own in-house businesses so that they could support themselves made sense."
Contrary to this is the argument - why should they be giving away all their hard learned lessons? This is the equivalent of a team selling its design data in the America's Cup world. Turner takes the view that in turning this side of his company into individual businesses any profits can be ploughed back to invest in new technology ensuring they stay at the forefront of their game.
Take the example of the large domes for the Fleet 77 sat com antennae essential for transmitting video back from on board while mid-ocean: having broken one on the
Kingfisher II
during the Jules Verne Trophy attempt, they custom-built a new one for
Skandia
in the last Vendee Globe and two for Ellen's B
&Q Castorama
trimaran. These stayed intact and as a result the Volvo Ocean Race are using same spec domes on all the VO70s. "Each project you learn from and with the systems for the singlehanded stuff you have to be very good at making them very power efficient and very simple to use for people who are absolutely exhausted. So that helps you design very good systems," says Turner.
While sailing remains the primary business focus for the company, Turner is also trying to incorporate one of his other loves into the business - adventure. When he is not travelling the world, Turner divides his time between a penthouse apartment on Cowes Parade (known locally as Turner Towers) and Argentiere in the French alps. In France climbing and skiing have taken over from sailing as his primary outdoor activiity and, despite the rumour, it is not true he is about to set off on another Mini Transat campaign - at least within the next decade.
"If I could work out how to do it without a sponsor I would go back and do a Mini or a Figaro," he says. "Right now I don't sail at all. I get my kicks from altitude rather than latitude. I love sailing but it is hard to exist as a semi-professional sailor. You are either professional or you're not."
Alongside the Offshore Challenges Sailing Team Turner is now trying to get the Adventure Team off the ground and recently helped support adventurer Mike Horn on his successful attempt to walk to the North Pole....during the Arctic winter. "It is very similar kind of people doing equally extraordinary things with a lot of similar problems - how to communicate where you can't take any weight or power," he says. "You are doing something which is humanly impossible for most of us to do. We are equally passionate about those things as ones on the water and it made sense to import what we do across to that area. But it takes time to build those things and we are at the beginning of that curve with the adventure team."
Talking of performance on land, one of Ellen's most exceptional feats in recent months has been off the water when she scored the fastest lap time in the popular motoring program, Top Gear. "I've had more people say 'did you see Ellen on that?', more comment ever than any round the world achievement," muses Turner, shaking his head. "I'm sure a majority of the population who see Top Gear think that is a bigger achievement than sailing around the world - which is pretty harsh. But Ellen is quite proud of it as well. She is an absolutely useless driver normally! In fact half the team refuse to get in a car with her. She hasn't had much time to drive over the last few years. I think she surprised herself - she certainly surprised a lot of us."
Back to sailing business and the most significant piece of news recently from the Offshore Challenges Sailing Team has been Ellen's decision to step back temporarily from competitive - particularly singlehanded - offshore racing. "I think they are perfect - for her, and for the team, and for the eventual sponsor," says Turner of Ellen's plans. "She is as excited as ever about ocean racing, but at the same time after ten years full on, didn't want that last 10% of commitment that the Vendee Globe race adds to a fully-charged programme of racing in the IMOCA circuit. This way Ellen does the sailing she wants. It would not surprise me at all to see Ellen on Vendee startline in 2012, but for now its time for a slightly modified programme without the heavy 'cross' of the Vendee to bear. I'm 100% in agreement. For me as well!!"
Ellen's course of action is understandable. The last ten years she has spent relentlessly mastering singlehanded oceanic and round the world racing - one of the most dangerous pastimes in our sport. Despite her incredible CV Ellen is still only 29. If she entered the Vendee Globe in 2012 or even 2016 she would still be one of the younger competitors.
Last year's singlehanded non-stop round the world record particularly took it out of her. "I don't think there is any secret that sailing a multihull singlehanded is one of the most extreme things in sailing," says Turner. "In terms of stress or pressure level you are sailing so close to the edge virtually all the time. In a monohull for sure you have those moments as well but you also have a large amount of time where the consequence of a wipe-out are bad but not anywhere near as bad but not anywhere near as bad… and that weighs on you."
Turner says that he wasn't involved in Ellen's decision about her future in the svengali-like way people might imagine. In fact he wasn't involved at all. "That was the same five years ago. I wasn't part of the discussion about what she wanted to take on next. She just came to me after she'd considered what she wanted to do and to say whether I felt I agreed. And there was a reason for that - people who race around the world, whether it is singlehanded or two-handed - that is a huge engagement to make and that is not one I ever want to feel more responsible than I already do for. It is very easy even subconsciously for me to influence Ellen or any one of our sailor's thoughts and I don't believe that is the way forwards and I'm sure that is contrary to what people imagine is the case. At the end of the Mini Transat I remember Ellen saying she wanted to do the Around Alone and I convinced her at the time that the right stepping stone was the Route du Rhum. That was the last time I had any influence. Even in that case, that was about lowering risk."
In part two tomorrow Mark Turner gives his views about the Open 60 and 60ft trimaran classes
Back to top
Back to top