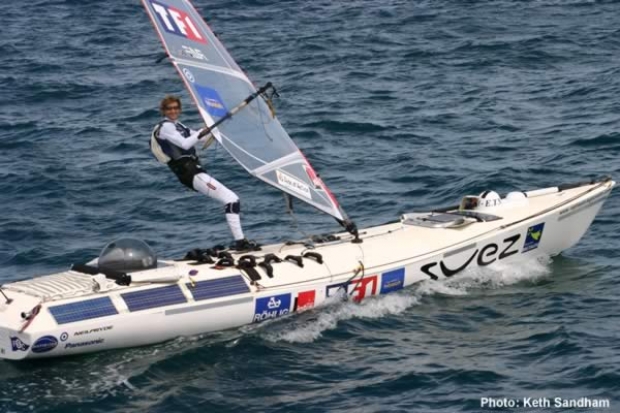 Another extraordinary voyage
French transoceanic windsurfer Raphaela Le Gouvello has outlined the extraordinary Indian Ocean voyage upon which she is about to embark, from Exmouth on the coast of Western Australia to the island of Reunion, 3,400 nautical miles to the west, on a sailboard, solo and unaccompanied.
At night, when she is resting, her craft will have all the characteristics of a corked bottle, bobbing along on the surface of the ocean. She will be entombed inside.
Le Gouvello leaves on 5 April, atop her 7.8 m long sailboard, harnessed to the boom like any other windsurfer but below her feet is her accommodation for the next 11 weeks, a white cocoon of safety when the going gets rough, as it surely will.
She has chosen the low latitudes of the Indian Ocean for this crossing so that she will be sailing above the westerlies of the Roaring Forties. Rather, she expects to be sailing by day in the favourable south-easterly trade winds and drifting in the west-flowing south equatorial current by night, when she is sleeping.
Image courtesy of Expedition Navigation Systems
However, unlike the Roaring Forties, she will be sailing in commercial shipping lanes. That's a benefit if she needs to be rescued, but a nightmare if she becomes hard to detect.
The only time she will be accompanied will be on the first night as she clears the WA coast. An escort boat will be with her.
"There could be fishing boats around," she says, "so we have to be careful. The following morning we say goodbye and I shall be alone."
Her daily routine is to sail for six to eight hours each day and then enter her sleeping/living compartment via a hatch on deck. "It is too dangerous for me to sail at night," she says. "I am not sitting on a boat. I am standing up windsurfing and I have to pay attention to the waves and the gusts. I need some visibility to do that. Plus this takes a lot of effort so I need my sleep at night so I can windsurf the following day."
This is the routine she has adopted in the past. Le Gouvello has previously windsurfed the Atlantic (Dakar to Guadeloupe in 2000), the Pacific (Lima to Tahiti in 2003) and the Mediterranean (Marseille to Tunis in 2002).
The sailboard has a 1.3m beam, 1.05m draught and weighs about 550 kg fully laden (see diagram below). Within the sailboard are two watertight compartments: one in which she sleeps, eats, charts her course, communicates via satellite phone and the internet; the other in which she carries her spare sails and rig. "With normal conditions, I can average five knots during the day, when I am sailing," she says. "At night I expect to drift at one or two knots."
All being well, both of those methods of propulsion will drive her in the right direction, towards Africa and Mauritius' neighbouring island of Reunion. "I feel very comfortable if I cover 60 to 70 nautical miles in 24 hours, more than half of that caused by my own sailing," she says. "I feel very happy. By leaving from Exmouth in the far northwest of Western Australia I should pick up the trade winds quite rapidly, but the Indian Ocean is far more unpredictable than the others I have sailed, so I may run into a storm or whatever. But as long as I am inside my board I feel very safe. I feel very comfortable, but sometimes I am capsizing as well."
Le Gouvello has an inflatable air bag installed on the back of the board. If she is inside the board and it capsizes she can inflate the bag and it will right her.
When she is sailing the board, it is like any conventional sailboard. She has a harness that transfers the weight of the sail to her body. The only extra accessory she has is a rope from her harness to the board, her lifeline. "I must stay attached to the board," she says.
Though the board could point as high as 45 degrees, the course to Reunion, given the prevailing trade winds, should dictate that she does most of her sailing broadreaching, with the wind between 90 degree and 150 degrees.
She says her biggest danger is a lack of vigilance: "That would put me in danger and the biggest danger would not to be tied to my board. This sailboard is life to me. We have to be together. As long as I am with my board I think I will be quite safe. As I said, the board is divided into two watertight compartments so should I lose the front section, I will still have buoyancy."
Le Gouvello is acutely aware that Australians have a certain sensitivity about Frenchwomen venturing solo into the oceans off their coast. In the 1994-5 BOC Challenge Isabelle Autissier was rescued by the Royal Australian Navy after being dismasted south-west of Tasmania. In the subsequently Around Alone race four years later, she was rescued west of Cape Horn by Italian fellow solo sailor Giovanni Soldini after capsizing her Open 60.
"Yes, of course I am aware of these things, but I and my team have made preparations and we have procedures in train," Le Gouvello continues. "We try to be as autonomous as we can. We are also very happy in this venture because the French Navy is a partner and they will look after me. We have provided information to the Australian Navy so that any time in my crossing they will know where I am and what is happening. I shall be sailing in commercial routes, which is a good thing in terms of my rescue but a bad thing in terms of my daily life. Also my boat is equipped with more safety equipment than many cruising boats that are sailing around."
That includes an active radar transponder that emits an amplified signal to give the sailboard the same target profile as a ship. "So it means they should see me on their radar as if I were a big vessel. Plus I am very small compared with a big vessel so that if we do come together, its bow wave will probably push me away.
"When we embark on a venture like this we know the risks and of course we don't want to make any trouble, but zero risk does not exist," she continues. "I say let me go and I will make my best to avoid for asking for any assistance. This is not the first time I have done this."
More images on page 2...
Back to top
Back to top