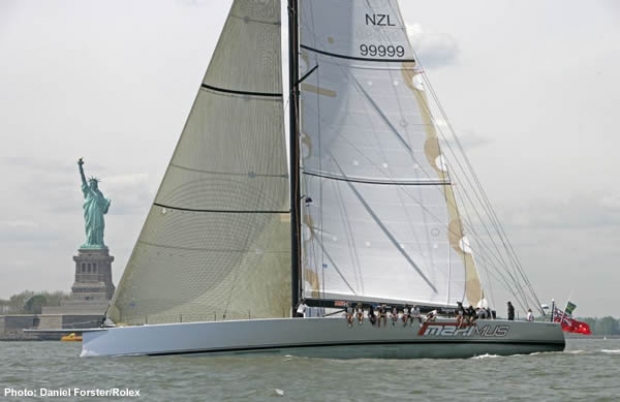 On board Maximus
If the TP52 class is showing the highest growth rate in the large keelboat arena in terms of numbers, matching it in terms of dollars spent is the 85-100ft maxi class. This class continues to grow at a fantastic rate: Following on from
Bols
,
Alfa Romeo
,
Skandia
and
Konica Minolta
(ex-
Zana
),
Genuine Risk
and the maxZ86s
Zephyrus
,
Morning Glory
and
Pyewacket
, Neville Crichton has a new Reichel Pugh boat under construction at MacConaghys as, it is believed, has
Wild Oats
owner Bob Oatley. A new Farr boat of this size is also rumoured to be on the cards and owner Mike Slade also tells us he is considering a new 100 footer to replace
Leopard of London
at some point in the future.
The 100ft maxi-class is unusual in that there is no class and are no real rules for it. Apart from
Mari-Cha IV
and Frank Pong's
Maiden Hong Kong
, the boats are all less than 100ft long in order that they can compete in the Rolex Fastnet and Sydney-Hobart races. Aside from this pretty much anything goes and one wonders if it isn't this complete open-ness that is enticing more owners into the maxi boat game.
The latest maxi launch is of Charles Brown and Bill Buckley's
Maximus
, currently nipping at the heels of
Mari-Cha IV
in the Rolex Transatlantic Challenge. We featured
Maximus
back in December, but in New York last week, designer Greg Elliott showed us around his new beast.
Among the 100ft race boat community
Maximus
is unique in having a keel that not only cants but lifts too and for having an Open 60/ORMA multihull-style rotating wingmast rig.
Her maximum beam appears to be in between the skinny maxZ86s and wider boats like
Bols
. Greg Elliott describes the hull shape: "We are carrying a little more flair than some of the others for a couple of reasons: to widen the shroud base to support this particular rig and it gives us a reserve safety-wise which I think is quite a good thing to have. A little more flair is a little more drag, but there is always a trade off. I think safety is quite a big issue. We are talking about crossing oceans here. This is not a harbour race boat. Personally I believe that a lot of the boats I have seen to date of this size are more angled to round the buoys and maybe a bit of coastal. Across the Atlantic in strong weather - I'm not to sure. I notice they are not entered [in the Rolex Transatlantic Challenge]".
The canting/lifting system for the keel involves the foil extending down a sleeve which is canted by two hydraulic rams. The rams are speced with a safety factor of four times maximum load and are capable of individually canting the keel in the case of one failing. While Elliott says that lifting the keel when it is centred and has no load on it, is to be recommended, they can sail with the keel in its 'up' position. During training in New York harbour they did this to avoid grounding in the shallows. Elliott says there is no performance advantage to be gained from sailing with the keel lifted usually as the boat isn't designed to be sailed dead downwind and it almost always requires maximum righting moment.
With the keel canted an appendage of some form is obviously required to keep the boat from making excessive leeway and just forward of the mast
Maximus
is fitted with a single daggerboard with a trim tab. This arrangement, now de rigeur on the 60ft trimarans, many people we speak to reckon is the optimum configuration for canting keel set-ups, the single-board set-up saving considerable weight over the twin asymmetric board arrangement found on most Open 60s and Volvo Open 70 (the singleboard and trim tab is currently prohibited under VO70 rules but we hope this will be changed in the future).
Elliott says he doesn't buy into the forward-rudder CBTF arrangement as advocated by Reichel-Pugh. "I am definitely not interested in that. We did a lot of study in a lot of areas. We've done a lot of boats over many years and done a lot of testing and got a lot of good results and I don't think that having a rudder or a fixed blade on the front of the boat is really the way I want to go. There is nothing wrong with it, it is proven to be quite effective, but for this boat and what it is going to do,I don't think it is applicable. This boat is sailable without it. I struggle to imagine how they [CBFT boats] are if they lost that rudder on the front there. I would think they'd have quite a lot of balance issues".
Wandering around deck,
Maximus
' cockpit seems exceptionally shallow to our eyes. Her twin wheels are located well forward. This not only centralises weight in the boat, (although this is less of an issue for a boat this long) but makes it easier for the helmsman to communicate with the trimmers and those working the pit.
Like the
Skandia
maxi,
Maximus
is fitted with electric winches in an attempt to reduce crew numbers. However the powered drives have been removed for the Rolex Transatlantic Race as to qualify for breaking the west to east Atlantic passage record powered winches are prohibited under WSSRC rules. In all other races
Maximus
will sail with powered winches, used primarily to save man power when working the halyards and allowing them to sail with 16 or 18 rather than 20 crew. The problem with specing powered winches for this sort of application is the line speed says Elliott. "You can get line speed on them, but then the power goes down. You can only have line speed on low load. So it is a little bit of a debate".
In the cockpit they have three coffee grinders and a central pit winch, although they haven't gone for the
SEB
-style central winch mounted between twin companionways. Instead the pit winch is mounted on its own island.
On the foredeck the boat has a 3.5m long fixed bowsprit/prodder for the larger downwind headsails, making her overall length 33.5m. The prod is removable for berthing or shipping. A fully-asymmetric kite boat,
Maximus
doesn't have spinnaker poles. Running aft along the foredeck her inner forestay can be cranked up using a Navtec hydraulic ram mounted below decks, while her babystay uses a block and tackle system. Usually the boat will sail with a staysail or jibtop flown on the inner forestay.
But the most impressive piece of deck hardware is her rotating wingmast. Readers of thedailysail will compare her rig set-up with that of Mike Golding's
Ecover
where the shrouds are effectively fixed and the mast is able to rotate through the use of hinged spreaders. However Elliott says this arrangement he first used in the late 1990s aboard his 45 footer
Maverick
, now racing in Germany as
Outsider
.
Built by Southern Spars,
Maximus
' monolithic carbon fibre wingmast has a cord of around 800mm. As with any sort of rig a compromise always has to be made between the amount of standing rigging and the width of the shroud base versus the weight of spar. For example it is possible to have a heavy freestanding rig or a lightweight spar with diamonds, etc a la
Ecover
or with deck spreaders like the Finot and Lombard Open 60s.
Elliott says they took the middle road. "We did a lot of study on that side of things. You can have no spreaders and be free standing if you want. But if you do the analysis on it you find putting a couple of stays on it cuts half the weight out of the mast. The staying base also determines the total weight of the rig and this is close to what we think is the optimum. I looked at deck spreaders but it is certainly heavier and not really convenient either. With this sort of boat you have to be a bit careful about berthing - you'd be walking along them to get on board. So you have got to be a bit practical about it". The mast is held in place by Future Fibres PBO standing rigging .
Down below there is little remarkable with a large open space immediately you come down the companionway, with a large full width box hiding the keel canting arrangement, a large sail stowage area forward of the main bulkhead, pipecots on either side heading aft with the nav station in between, liar of the great Mike Quilter for the Rolex Transatlantic Race. The only nod towards creature comforts on board is her galley, which is fitted with a proper gas stove and the fridge, freezer and even a drinks cabinet - all of course made in carbon fibre. While the galley is on the port side at the front of the 'saloon' area there is a full-sized head compartment and separate shower opposite to starboard.
While
Maximus
may be state of the art compared with
Mari-Cha IV
, Elliott, who was also part of Robert Miller's design team says he is under no illusion that the giant maxi-schooner is the faster boat. "The answer is in the length.
Mari-Cha IV
is built of this technology and is a full carbon fibre/Nomex boat with carbon fibre rigs and all the latest gear and plenty of professional sailors on board to make sure it goes properly. And it is 45ft longer… I've had a look at the VPPs and the answer is that they will beat us. Having said that we are not too far behind them - not days or weeks, but hours".
Regarding the class Elliott says: "The amazing thing is that the whole thing is being done on a gentleman's agreement. There is no rule." However he is adamant there should be no rule for this type of boat other than length. "There will eventually be quite a split between an offshore boat of this length and an inshore boat. The rig will go up and up and you wouldn't have to have any accommodation at all on an inshore boat. That is where it is always going to be a bit tricky. Maybe a handicap is a way of making offshore boats more competitive inshore. Offshore it shouldn't be on handicap. The handicap is dictated by the humans. Inshore is where you need the handicap."
As the new generation of maxi boats moves into double figures, it would just be nice to see them all racing together at some point...
More photos on the following pages...
Back to top
Back to top