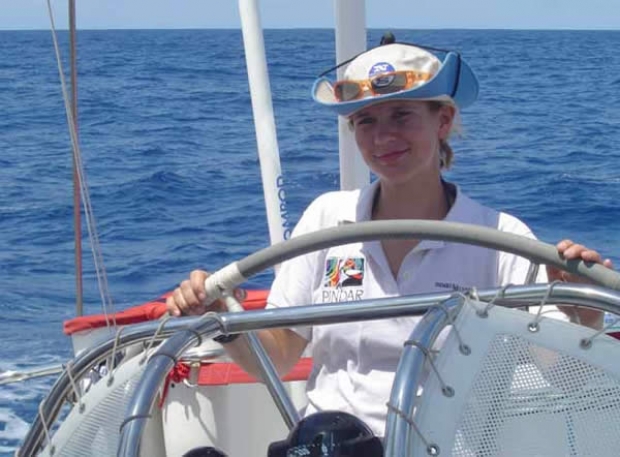 Cold, damp, smelly with severely matted hair
Saturday November 6th 2004, Author:
Sophie Luther
, Location: none selected
It's day 33 of my Global Challenge first leg and I'm sitting at the computer station of a 72ft yacht and I am cold, damp, smelly and have severely matted hair wondering what on earth possessed me to be here!!!
There have been a few moments like this along the way but there have also been moments where I've turned round to myself and realised this is why I love the sport and get such an adrenaline rush from it. These moments tend to be defined by action packed pace, high winds and lots of water but they have also been the simple things - like seeing a whale and a pod of dolphins or a lunar eclipse.
We now only have a matter of days left so this seemed a very apt time to reflect on our time on board before the inevitable circus which will ensue as soon as we hit the dock. We are all getting excited about finally reaching our goal - Buenos Aires, some are looking forward to a steak and a shower, others (and I would be lying if I said I wasn't in
the latter group) can't wait for a well deserved beer. I am also in need of a lot of cosmetics due to my severe dreadlock situation and the funny odour I seem to have acquired.
This is not to say I'm the only one that needs this but unfortunately as I have the longest and finest mop out of all of us I am in need more than most!! ( I have realised why Ellen shaved all of hers off!!)
When I was asked to write this article about my experiences out here, I realised there must be two pretty distinct groups that will read it. Some I thought would have been here, done this, understand the jargon and my feelings about being on a long offshore race but the majority of people would not really know what it was like out here - I wouldn't have had a clue a few months back. I think some of the perceptions of this race is that the boats potter along, sailing down south not pushing that hard, but they would be very much mistaken. Yes, those that signed up for this aren't professional yachts people but they are professional people from every walk of life with drive and ambition. I can't say there haven't been moments when I've just wanted to walk to the back of the boat get hold of one off the liferafts and evict myself out of this Big Brother house but then again that goes for any yacht racing!!!
Don't get me wrong though I have learned lots from this experience and would have to say it has been well worth it for me. I obviously wanted to get different things from this leg than most of the rest of the crew and the other 'leggers'. Some of them maybe having mid-life crisis's, some want the challenge, others just like sailing and some just
want to get away from life. I, on the other hand have thrown myself into this pot of personalities with the hope to get more racing experience and offshore miles. Well, I have achieved my goal and more. I have improved dramatically on upwind trim as well as doing lots of helming which I normally would never get to do at the higher end of yachting.
Exactly who gets to helm a 72ft beast at least three times a day every day for over a month? If I didn't improve I would be worried!! Also the mental mindset of offshore sailing has been really interesting. I've always known I am a driven person but I have really had to pull some reserves from below to get through. This has obviously then brought up
even more admiration for my mentors like Emma, the guys who sail fully crewed ocean racers and the solo guys. For example the other night we were ploughing along through an oil field off Brazil - this field was like nothing I had seen before, at one point we could see 29 rigs and the horizon was lit all the way across by the burning vapours of hundreds of wells. We were dodging shipping in-between these massive monstrosities only a few miles apart. But the first thing I thought was - my God, Emma did this on her own, no wonder she said she didn't sleep for two days while she was amongst this. How on earth would I cope with that?
Fortunately (or unfortunately) for me I have had lots of time to think things through and sort a few plans for next years campaigns out in my own mind. I definitely want to do more offshore sailing and this leg has just confirmed this in my mind.
With regards to our skipper, Loz Marriott, I have found in him one of the most tolerant role models and his wealth of sailing experience as well as constant drive to achieve has been a real eye opener - As well as skipper making the final call on everything with all the responsibility that brings he is a rock for, not only me but the whole team.
Feelings on board are understandably a little flat at the moment as we are in 11th with no chance of really making any more places up. We have had a race full of ups and downs emotionally with sailing successes, failures, sickness, injury, shredded spinnakers, swarms of pink locusts, flying fish attacking crew members, random fishing boats with no lights, crossing the equator, giant oil rigs, a huge whale and lots and lots of laughs. Oh and the best bit was my birthday with the cake, prezzies, emails and cards. My favourite present being a clean razor for obvious arm pit issues and my Chameau welly boots that I got for the leg - both invaluable!
But even though we are all disappointed there are another six legs to go for the Pindar Team and you have to just learn from these experiences and keep battling on. I will be sad to leave the boat and all my new found friends. I have especially loved the time I have spent with my watch in the off watch time when we are all winding down. They are a great group of people with such a mix of cultures and views that have somehow mixed in a such a lovely way. With everyone getting their little nicknames for each other and the jokes that keep us going (and of course there is the Black Market in Yorkie bars).
Personalities have developed throughout this leg and here is a little synopsis - I am officially the grumpiest person alive at breakfast, Shnough's ever evolving spiky hair do, Cathy's cure for everything 'salt water', Paul's smelly socks, Nick's (a.k.a. D.O.G. = Deaf old git) selective hearing, Tony's bunk full of banned substances, CT's amazing lack of tact and Andy's brilliant tea making skills - there is something about living big brother style with 17 virtual strangers that ensures you cant hide anything. It either brings you together or you really find personality clashes a problem. Luckily, there hasn't been many clashes and I have to admit I am surprised at that. Maybe on a professional team it is slightly different as everyone is there to win and will do their job to the best of their ability otherwise they would be sacked at the end of the leg or race. Here, however, this is not that attitude. That's probably the fundamental difference with this team to the others I have joined. But this doesn't make this race any less an achievement - this team will travel around the globe the wrong way because they really really want to despite knowing what lies ahead... Some of them are going into the Southern Ocean knowing they will spend most of it throwing up, now that takes balls I think! So on Christmas Day maybe spare a thought for all these sailors out in the Southern Ocean bouncing around wildly away from their family and friends and definately spare a thought for the solo sailors on the Vendee Globe, because I will be!
So I would like to say thanks Challenge for delivering on your promise of a tough race, thanks to Andrew and Pindar for making my dreams come true (again) and Good Luck and Safe Sailing to the Pindar Challenge Team in the following legs. And lastly but not least to all the starters of the Vendee Globe on Sunday our thoughts will be with you every mile around on your journey.
Signing off from a dark, wet, windy night with gusts of 30 knots, rolling around, with the flanker pulling us at 12 knots quicker to the bar!
Sophie
Back to top
Back to top