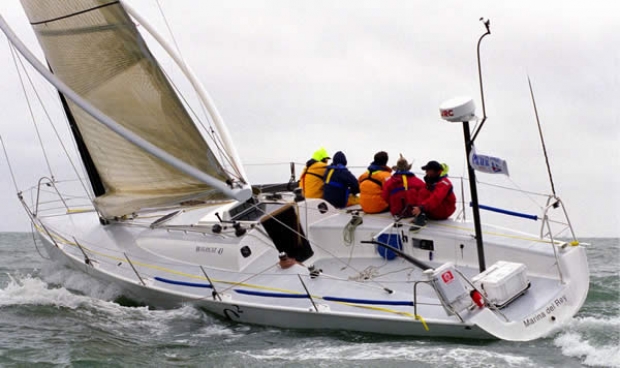 Production Wylie 43
The Wylie 43 is a radical new high-performance offshore race boat from Bay Area architect Tom Wylie and Portland, Oregon boatbuilder Schooner Creek Boat Works. This team is best known for a successful trio of long, slender racers - the 70ft Hawaii/trans-Pacific sled
Rage
, the 77ft China Sea winner
Jelik
, and the Open 60
Ocean Planet
that finished fifth in the last Around Alone race.
The new boat is an ultra-light downwind flyer, designed to provide big-boat performance in a low cost 43ft package.
The Wylie 43's most visible feature is its unstayed carbon fiber masta concept that has been tested on numerous Wylie catboats and
Ocean Planet
. However the deck layout, hull construction and keel design also use leading edge technology to further reduce displacement and increase sail-carrying ability.
The Wylie 43's carbon spar was built by a proprietary triaxial braiding process. The highly engineered hull is built with a resin-infused carbon fibre-foam laminate. The keel has a low resistance lead bulb on a steel fin coated with epoxy/glass with a total weight 2,180kg giving a draft of 10ft (3.05m). The keel flange has been engineered for easy removal for trailering or shipping. With performance paramount, the freeboard has been kept low, beam is a moderate 10ft 6in (3.2m) and maximum headroom in the cabin is 5ft 6in (1.67m).
The accommodation sleeps six including a double v-berth, settees and quarter berths, galley with custom gimbaled butane stove and navigation station.
Just a few days after it was launched, the prototype 43
C2
set off on what was to be her first shake down sail - the 2004 Pacific Cup from San Francisco to Hawaii. After five Pacific Cups on
Rage
, Schooner Creek owner Steve Rander was on board as sailing master to test this break-through design. For the Hawaii race, the five-man crew set an asymmetrical spinnaker on a 20ft carbon pole and easily kept pace with the yachts in their class (
C2
's Americap rating placed her in a class of 50ft-58ft yachts) often reaching speeds closer to those of the 70-foot sleds.
Unfortunately during testing
C2's
mast failed 400 miles from the finish. But the crew was easily able to re-step the broken spar, re-hoist a spinnaker and sail across the line in style still finishing in front of some of the 50 footers.
"We are working with the mast maker to make sure we have this problem solved before we go into production," explained Rander. "We've clearly proved that this design concept is capable of winning ocean races. Her impressive upwind ability should prove to make her equally rewarding around the buoys or just out for a day-sail. The design was conceived to allowtwo people to handle the sails with ease, but there's room for a dozen in the cockpit if that many show up!"
The Wylie 43 comes equipped with a 2 cylinder diesel Yanmar Sail-drive with folding propeller, complete electrical system with house bank and separate starting battery, all Harken deck gear with 4 winches, sail track, control lines, sheets and a full batten main sail by Doyle Sailmakers. At a cost of $275,000 that's a price that could bring high performance to a whole new generation of sailors' whether they are offshore racers or avid day-sailors.
Designer:
Tom Wylie is known as an innovative designer who is capable of designs that clearly out perform their size and yet are easy to sail.
Builder:
Schooner Creek Boat Works has been around since 1972 building a variety of custom offshore racers and cruisers. They are known for the high quality of their products.
More photos on page two...
Back to top
Back to top