Joint winners for RORC IRC Nationals
This year's IRC National Championship, the 14th since the Royal Ocean Racing Club launched its handicap rule in 2000, had the unusual distinction of joint winners in Adam Gosling's brand new JPK 10.80 Yes! (winner of IRC Two) and the French consortium-owned A35, Dunkerque - Les Dunes de Flandre, (which topped IRC Three).

At the prizegiving Gosling thanked the RORC and the race committee; "It was pretty awesome racing considering the tricky conditions."

Benoit D'halluin, helmsman on the Dunkerque boat added: "We are very happy to race in Cowes and we had two good competitors in Bengal Magic and Intention." Dunkerque - Les Dunes de Flandre will return to Cowes in July with the Flanders North Sea team in the Brewin Dolphin Commodores' Cup.

Unlike stormy Saturday, on slightly more serene Sunday the race management team was able to hold one windward-leeward in 8-15 knots winds. This was followed by two round the cans races in the central/eastern Solent, during which the wind built to 20+ knots, creating a short sharp chop from the building flood tide.

Stand-out performer of the day was the RORC's Admiral, Andrew McIrvine and his First 40 La Réponse, in IRC Two, which scored three bullets. However even this was not enough to topple Yes!

Gosling said he particularly enjoyed today's round the cans races. "We all had a smile on our face after the short A-sail reach, which the boat was just beautiful on, and then the 140° run when the wind got up to 20+ knots, which was fantastic."

As to their secret, Gosling said his crew have sailed together for years. "We are just trying to learn how to sail this boat, but each time we've gone out, we've sailed a bit better."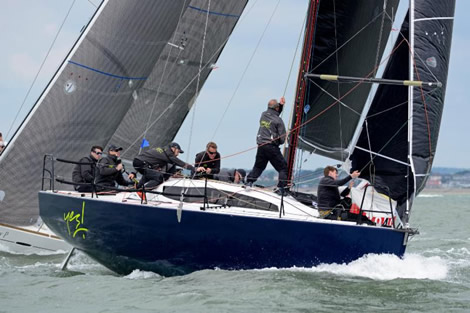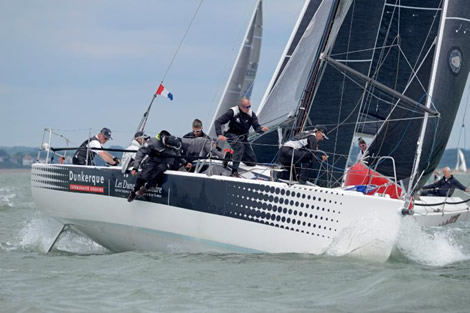 Conversely, the Dunkerque - Les Dunes de Flandre crew has been sailing their A35 for years. "We were happy to have good speed," said tactician Philippe Bourgeois. "It was really a pleasure to win the IRC Nationals. We only came here to practice for the Commodores' Cup."

New to the RORC IRC Nationals this year were the two box rule classes, the FAST40+ and the HP30. The most impressive display of the week came in the former, where the stand-out team was Peter Morton's Girls on Film. Aside from one fifth place finish, this Carkeek Mk3 was otherwise never off the podium, putting in a 2-1-3 today with American William Coates's Ker 43 Otra Vez and Irishman Anthony O'Leary's Ker 40 Antix claiming the other two wins.

Ultimately, Girls on Film finished five points clear of Sir Keith Mills' Invictus. "We think we are fast, especially upwind and quick enough downwind," explained Morton. "In the last race, we bounced back from a pretty horrible start with pure speed. It always looks easy when you're fast." This wasn't entirely without incident, including a luffing match with Invictus after rounding the top mark in the final race that ended with Girls on Film taking a penalty turn.

As to why they have the edge, Morton continued: "It's a hundred little things and we have got a really strong crew - good amateurs and good pros. Our boat handling is pretty good."

Another stand-out performance of the week was that of former RORC Commodore Mike Greville and his Ker 39 Erivale III. Following his recent victory in the Morgan Cup to Dieppe, Greville and his crew have dominated IRC One at the IRC Nationals. Their 9.5 point lead over Rod Stuart and Bill Ram's Corby 37 Aurora was the biggest margin across any of the five classes.

"We are definitely on a roll," agreed Greville. "We have got some new sails which helped, but we've had new sails before. I did put 10sqm on to the kite and that certainly helps on the downwind legs. The crew work went very well."

Today was one for the Jason Ker designs in IRC One. In addition to Erivale III, Irishman Conor Phelan's Ker 37 Jump Juice claimed today's second race, while Andrew Williams' Ker 40 Keronimo won the last race - encouraging in the build-up to her Commodores' Cup with the Israeli team next month.

After finishing last in the HP30 class during the Vice Admiral's Cup in May, John Reivers this weekend turned around his Melges 32 Drop Bear campaign to claim victory ahead of Malcolm Wootton's Farr 30 Pegasus.

American Lloyd Thornburg, best known as owner of the Phaedo Gunboat and MOD 70 multihulls was again campaigning his Farr 280 FOMO here, but finished third overall.

"It's meant to give us some closer racing," explained Thornburg. "We watched it at Cowes Week last year and we felt like we were missing out - so FOMO stands for `Fear of missing out!' We are taking it more seriously than we thought. It was supposed to be a bit of a laugh..." FOMO's crew includes Olympic 470 silver medallists Nick Rogers and Stuart Bithell.

"The results are what they are, but we really enjoyed the racing," Thornburg continued. "We had a really good time."

Enhanced by the new box rule classes and this year's Brewin Dolphin Commodores' Cup, this year's IRC Nationals was among the most competitive on record with 61 boats taking part.
Results
| | | | | | | | | | | | | | | |
| --- | --- | --- | --- | --- | --- | --- | --- | --- | --- | --- | --- | --- | --- | --- |
| Pos | Sail No | Boat | Type | Owner | TCC | R1 | R2 | R3 | R4 | R5 | R6 | R7 | R8 | Tot |
| | | | | | | | | | | | | | | |
| | | FAST 40+ | | | | | | | | | | | | |
| 1 | GBR50R | Girls On Film | Carkeek 40 Mk3 | Peter Morton | 1.27 | 2 | 1 | 5 | 1 | 1 | 2 | 1 | 3 | 11 |
| 2 | GBR1851X | Invictus | Ker 40+ | Sir Keith Mills | 1.269 | 1 | 3 | 1 | 10 | 4 | 3 | 2 | 2 | 16 |
| 3 | USA61137 | Otra Vez | Ker 43 Custom | William Coates | 1.27 | 6 | 2 | 4 | 3 | 7 | 1 | 7 | 6 | 29 |
| 4 | GBR1682R | Tokoloshe II | GP 42 | Michael Bartholomew | 1.266 | 7 | 4 | 2 | 5 | 2 | 8 | 10 | 5 | 33 |
| 5 | SUI19 | Jubilee | GP 42 | Tony Dickin | 1.263 | 4 | 5 | 8 | 2 | 9 | 4 | 9 | 4 | 36 |
| 6 | IRL708 | Antix | Ker 40 | Anthony O'Leary | 1.216 | 3 | 6 | 9 | 9 | 8 | 7 | 4 | 1 | 38 |
| 7 | GBR4242C | Zephyr | Gp 42 | Steve Cowie | 1.264 | 5 | 10 | 3 | 4 | 6 | 6 | 6 | 8 | 38 |
| 8 | GBR39R | Magnum4 | Ker40+ Grand Prix | Andrew Pearce | 1.266 | 9 | 7 | 10 | 6 | 3 | 9 | 3 | 7 | 44 |
| 9 | GBR1542R | 42° South | GP 42 | Mark Rijkse | 1.26 | 10 | 9 | 6 | 8 | 5 | 5 | 5 | 10 | 48 |
| 10 | GBR8449R | Rebellion | Carkeek 40 Mk 2 | Stewart Whitehead | 1.265 | 11 | 8 | 7 | 7 | 10 | 10 | 8 | 9 | 59 |
| 11 | GBR4921R | Ino XXX | HH42 | James Neville | 1.237 | 8 | 11 | 11 | 11 | 11 | 11 | 11 | 12 | 74 |
| | | | | | | | | | | | | | | |
| | | HP30 | | | | | | | | | | | | |
| 1 | GBR209 | Drop Bear M32 | Melges 32 Od | John Reivers | 1.134 | 1 | 1 | 1 | 2 | 2 | 1 | 1 | 2 | 9 |
| 2 | FRA76 | Pegasus | Farr 30 2.15 | Malcolm Wootton | 1.052 | 3 | 2 | 2 | 4 | 1 | 3 | 2 | 1 | 14 |
| 3 | GBR5 | Fomo | Farr 280 | Lloyd Thornburg | 1.103 | 2 | 3 | 3 | 1 | 3 | 2 | 3 | 3 | 17 |
| 4 | GBR011 | Pandemonium | Farr 280 | Jamie Rankin | 1.096 | 4 | 4 | 6 | 3 | 5 | 4 | 4 | 6 | 30 |
| 5 | GBR2798R | Shanghai Lil | Far East 28r | Phil Devereux | 1.05 | 5 | 5 | 4 | 5 | 4 | 5 | 5 | 4 | 32 |
| | | | | | | | | | | | | | | |
| | | IRC One | | | | | | | | | | | | |
| 1 | GBR236R | Erivale III | Ker 39 | Michael Greville | 1.116 | 1 | 1 | 2 | 6 | 5 | 1 | 2 | 3 | 15 |
| 2 | GBR7737R | Aurora | Corby 37 | Roderick Stuart & Bill Ram | 1.094 | 3.5 | 5 | 5 | 7 | 1 | 3 | 3 | 4 | 24.5 |
| 3 | GBR6889R | Keronimo | Ker 40 | Andrew Williams | 1.196 | 6 | 14 | 1 | 2 | 9 | 7 | 5 | 1 | 31 |
| 4 | GBR8888N | Cobra | King 40 | Seb Blair | 1.116 | 3.5 | 7 | 4 | 5 | 2 | 2 | 8 | 14 | 31.5 |
| 5 | GER7001 | Shakti | Ker 46 | Christoph Avenarius and Gorm Gondesen | 1.282 | 11 | 6 | 3 | 1 | 10 | 4 | 6 | 2 | 32 |
| 6 | IRL2007 | Jump Juice | Ker 37 | Conor Phelan | 1.109 | 5 | 2 | 9 | 3 | 12 | 8 | 1 | 5 | 33 |
| 7 | GBR4321R | Oystercatcher XXXI | Humphreys H39 | Richard Matthews | 1.136 | 14 | 4 | 6 | 4 | 4 | 6 | 4 | 7 | 35 |
| 8 | NED9111 | Red Herring | J/111 | Jan Van Berne | 1.097 | 2 | 11 | 8 | 9 | 8 | 9 | 10 | 6 | 52 |
| 9 | GBR759R | Eclectic | Azuree 46 | Colin Campbell | 1.132 | 7 | 9 | 7 | 12 | 7 | 5 | 9 | 8 | 52 |
| 10 | GBR7751R | Journeymaker II | J/111 | Chris Jones | 1.1 | 8 | 8 | 10 | 8 | 3 | 10 | 11 | 9 | 56 |
| 11 | FRA346 | Lann Ael 2 | Jna 39 | Didier Gaudoux | 1.117 | 10 | 3 | 11 | 10 | 11 | 12 | 7 | 14 | 64 |
| 12 | ESP10315 | Stamina | Jnd 39 | Michel Peretie | 1.129 | 9 | 10 | 12 | 11 | 6 | 11 | 12 | 14 | 71 |
| 13 | GBR562R | Night Owl II | Mat 12 | Ed Hall | 1.136 | 14 | 14 | 14 | 14 | 14 | 14 | 14 | 14 | 98 |
| | | | | | | | | | | | | | | |
| | | IRC Two | | | | | | | | | | | | |
| 1 | GBR4863R | Yes! | JPK 1080+ | Adam Gosling | 1.052 | 5 | 1 | 2 | 1 | 3 | 3 | 2 | 2 | 14 |
| 2 | GBR42N | La Réponse | First 40 | Andrew McIrvine | 1.085 | 2 | 6 | 1 | 7 | 5 | 1 | 1 | 1 | 17 |
| 3 | NED6169 | Elke | First 40 | Frans Rodenburg | 1.087 | 3 | 5 | 3 | 2 | 2 | 8 | 13 | 5 | 28 |
| 4 | FRA43855 | J Lance 12 | J/112 | Frederic Bouvier | 1.044 | 1 | 2 | 6 | 6 | 7 | 4 | 9 | 6 | 32 |
| 5 | FRA43831 | Timeline | JPK 10.80 | Marc Alperovitch | 1.046 | 6 | 4 | 11 | 4 | 4 | 7 | 8 | 9 | 42 |
| 6 | GBR73R | Salvo | Jnd 35 | Peter Morton | 1.059 | 7 | 10 | 5 | 3 | 11 | 5 | 10 | 8 | 48 |
| 7 | FRA38418 | Audrey | JPK 10.80 | Michael Boyd | 1.044 | 12 | 3 | 10 | 11 | 10 | 6 | 14 | 3 | 55 |
| 8 | GBR8410R | Premier Flair | Elan 410 | Jim Macgregor | 1.072 | 4 | 11 | 4 | 8 | 15 | 9 | 11 | 11 | 58 |
| 9 | FRA43791 | Shaitan | JPK 10.80 | Jean-Eudes Renier | 1.043 | 9 | 16 | 7 | 20 | 6 | 10 | 6 | 4 | 58 |
| 10 | GBR1010L | Xinska | X 40 | Bernard Olesinski | 1.069 | 8 | 8 | 13 | 15 | 8 | 15 | 3 | 7 | 62 |
| 11 | GBR4070L | Incognito | First 40.7 | Paul McNamara & Tony Lowe | 1.05 | 10 | 14 | 12 | 9 | 12 | 12 | 4 | 10 | 69 |
| 12 | GBR9922T | R&W | J/122 | Andy Theobald | 1.084 | 14 | 13 | 15 | 13 | 1 | 2 | 17 | 12 | 70 |
| 13 | GBR7938R | Al Fresco | Prima 38 | Allan Meredith | 1.079 | 11 | 9 | 14 | 20 | 9 | 13 | 5 | 14.5 | 75.5 |
| 14 | GBR3213L | Dusty P | First 40 | Richard Patrick | 1.076 | 13 | 19 | 8 | 5 | 13 | 16 | 7 | 14.5 | 76.5 |
| 15 | GBR7207T | Playing Around | First 40.7 | Nick Rawbone | 1.053 | 15 | 7 | 9 | 10 | 14 | 14 | 12 | 13 | 79 |
| 16 | GBR8405R | Southern Child | First 40 | Performance Yacht Charter | 1.085 | 16 | 16 | 16 | 14 | 16 | 11 | 15 | 16 | 104 |
| 17 | GBR7384R | Sirens' Tigress | Reflex 38 | Glenny / Child / Keam-George | 1.055 | 20 | 18 | 17 | 12 | 18 | 18 | 18 | 17 | 118 |
| 18 | GBR714R | Kratos | First 40 | Robert Martin | 1.076 | 18 | 17 | 18 | 17 | 17 | 17 | 16 | 20 | 120 |
| 19 | GBR9235R | Mad Max | Max Fun 35 | Andy Williams | 1.086 | 17 | 19 | 19 | 16 | 19 | 19 | 19 | 18 | 127 |
| | | | | | | | | | | | | | | |
| | | IRC Three | | | | | | | | | | | | |
| 1 | FRA35080 | Dunkerque - Les Dunes de Flandre | A35 | Benoit D'halluin | 1.027 | 1 | 1 | 2 | 2 | 9 | 2 | 1 | 1 | 10 |
| 2 | IRL725 | Bengal Magic | J/35 | Knight Build Ltd | 1.016 | 4 | 3 | 1 | 1 | 3 | 5 | 3 | 2 | 17 |
| 3 | NED7623 | Intention | Bashford Howison 36 | Willem Schopman | 1.034 | 3 | 2 | 3 | 3 | 1 | 3 | 5 | 3 | 18 |
| 4 | GBR581R | Antix | X 302 | John Allen | 0.927 | 6.5 | 4 | 4 | 4 | 2 | 7 | 7 | 7 | 34.5 |
| 5 | GBR979R | Malice | HOD 35 | Mike Moxley | 1.022 | 14 | 6 | 6 | 5 | 6 | 1 | 8 | 6 | 38 |
| 6 | NED118 | Winsome | S&S 41 | Harry J. Heijst | 0.989 | 2 | 5 | 5 | 9 | 10 | 11 | 2 | 5 | 38 |
| 7 | GBR9292C | Wildebeest V | J/92 | Craig Latimer | 0.962 | 5 | 8 | 9 | 12 | 5 | 10 | 9 | 9 | 55 |
| 8 | GBR9700N | Only Magic | J/97 | Richard Sparrow | 0.98 | 6.5 | 7 | 8 | 10 | 11 | 4 | 10 | 12 | 56.5 |
| 9 | K1034 | Cetewayo | 7/8 Sloop | David Murrin | 0.992 | 11 | 12 | 7 | 7 | 8 | 13 | 4 | 8 | 57 |
| 10 | GBR8185 | Quokka 9 | Half Tonner | Peter Rutter | 0.946 | 8 | 10 | 11 | 6 | 7 | 8 | 11 | 11 | 61 |
| 11 | GBR3033L | Rigit On Wild Child | Corby 30 | Brian Wilkinson | 0.986 | 10 | 11 | 10 | 11 | 13 | 6 | 6 | 10 | 64 |
| 12 | GBR6895T | Xcitable | X 362 | Peter Hodgkinson | 1.003 | 14 | 14 | 14 | 14 | 4 | 9 | 14 | 4 | 73 |
| 13 | GBR9L | Sunshine | Ker 9m | Malcolm Roberts | 1.018 | 9 | 9 | 12 | 8 | 12 | 12 | 12 | 13 | 74 |
Back to top
Back to top