GC32 Lake Traunsee hat-trick for Minoprio
The GC32's first ever match racing event, the GC32 Alps Challenge Traunsee concluded on Austria's breathtaking Lake Traunsee on Sunday with a clear victory for the French team, NORAUTO, helmed by New Zealand's Adam Minoprio.

Four teams competed in the four day event, which started with two days of fleet racing. The winner from this got to choose his opponent for day three's match racing, leaving the remaining pair of boats to fight it out. The winners and losers respectively from these matches then went on to line up in the final and petit final on the last day.

Organised by Austrian sports marketers PROFS Consulting GmbH in association with the GC32 Racing Tour, the GC32 Alps Challenge Traunsee was the fourth occasion the foiling one design catamarans have begun their season on scenic Lake Traunsee, surrounded by snow-capped mountains. Austria's 'mini Lake Garda' has delivered erratic conditions for GC32 racing previously, but this year there was enough wind not only to complete the full racing schedule, but also for the foiling GC32s to show off their flying ability.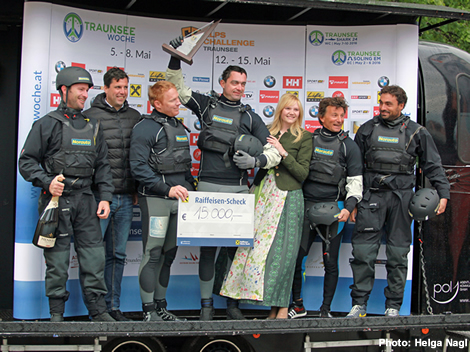 Practice makes perfect and throughout the four day event, NORAUTO was in a class of her own, Adam Minoprio and his crew benefitting from 'two boat training' their GC32s in Brittany. Minoprio, a former Match Racing World Champion, has a good track record on Lake Traunsee, winning there in the class' first ever regatta in 2013 and again with Luna Rossa in 2014.

Having won all but two of Thursday and Friday's fleet races, Minoprio picked PROFS I Youth America's Cup – Team Austria, skippered by Max Trippolt, to race in Saturday's match racing semi-finals. Against the less experienced Austrian youth team, NORAUTO won decisively, 3-0.

Less decisive was the match between the more seasoned GC32 crews: Sebastien Rogues' Team ENGIE and GC32 class president Flavio Marazzi's ARMIN STROM Sailing Team. Marazzi, the Swiss former Olympic Star sailor, got the upper hand initially, taking the score-line to 2-0. Then Rogues, the former Class40 offshore racing champion, fought back to level the score at 2-2 at the end of day three.

On the last day ARMIN STROM Sailing Team won the decider, to gain a berth in the final against NORAUTO.

With winds gusting to 15 knots, but still patchy, NORAUTO was once again unbeaten in the first-to-four final.

Winning skipper Adam Minoprio commented: "Traunsee was good fun - colder than before, but with good breeze for racing most of the time. We had some good racing and good success. We were definitely were manouevring the boat a lot smoother than the other teams. But like all lake sailing, no matter how good your manoeuvres are, getting the right puff is more important and during both the fleet racing and the match racing, we ended up on the right side of every wind shift which gave us the race wins."

In the petit final, to determine third and fourth places, Team ENGIE prevailed, dropping just one race to PROFS I Youth America's Cup – Team Austria.

"It was great to go racing on Lake Traunsee again," commented Team ENGIE skipper Sébastien Rogues. "It was good practice and an opportunity to see how the other teams are sailing before we start the GC32 Racing Tour."

Match racing GC32s received the thumbs up from competitors and organisers alike.

"The format was interesting with fleet racing and match racing," said Flavio Marazzi. "And there was a good mix of teams. It was the first time we'd raced with this crew and with a new boat we'd only sailed for three or four days."

Christian Scherrer, Manager of the GC32 Class Association was also positive: "It turned out to be a really good idea. The matches have been intense, exciting, with some great pre-starts and many lead changes. I was very positively surprised. It's certainly a format we'll consider using more in the future."

Christian Feichtinger, CEO of PROFS commented: "Despite a bad forecast, Lake Traunsee provided awesome foiling conditions. The format with two days of fleet racing and then the 'big match racing final' worked better than expected with thrilling pre-starts and the GC32 crews foiling downwind at 30+ knots - there is nothing better… We're already preparing for the 2017 GC 32 Alps Challenge."

There was also attractive prize money, with NORAUTO heading back to France 15,000 € better off, while ARMIN STROM Sailing Team won 10,000 € for coming second and third placed Team ENGIE 5,000 €.

Teams are now gearing up for the start of the GC32 Racing Tour proper. This kicks off on 26-29 May with the GC32 Riva Cup, held at Riva del Garda on Italy's Lake Garda, where nine GC32 teams will compete..

Results

Finals (match racing, best-of-seven):
NORAUTO v ARMIN STROM Sailing Team: 4:0

Petit finals (match racing, best-of-seven):
Team ENGIE v PROFS I Youth America's Cup Team Austria: 4:1

Semi finals (match racing, best-of-five):
NORAUTO v PROFS I Youth America's Cup Team Austria: 3:0
Team ENGIE v ARMIN STROM Sailing Team: 2:3
Back to top
Back to top