Canfield enters the history books
Taylor Canfield and his US One Sailing Team triumphed in the Congressional Cup, stage two of the World Match Racing Tour, after five days of unbelievable match racing – making him the first skipper to win three Crimson Blazers back-to-back, in the 52-year history of the legendary regatta.

The five-day World Championship event had been beleaguered with unseasonable weather: light and shifty breezes, rain, and calms. That PRO Randy Smith and WMRT Racing Director Craig Mitchell were able to pull off the series, was a near miracle. The repechage was terminated; series were shortened to first-to-two.

But the racers were unflappable, and ever favourable about their participation in the Congressional Cup; known as the 'granddaddy of match racing' and a gateway to the America's Cup.

And finally today, Long Beach delivered. The steady breeze and sunshine this world-class venue is known for arrived, just in time for the Semi Finals and Finals Sunday.

Canfield beat Semi Finalist Scott Dickson (USA) in three successive matches, racing so close to the spectator-lined pier, that Dickson's spinnaker grazed it; earning him a penalty he couldn't shake. At the same time Sehested was duelling Sam Gilmour (AUS) in a breathtaking Semi Final series that went to the full five matches.

The legs were short, to ensure completion of the series; providing few passing lanes, but plenty of excitement. The Congressional Cup had entered a new era of competition, with exhausting, aggressive pre-starts crammed with headsail changes, luffing and tacking duels galore.

Gilmour defeated Dickson, to take third place in the event. "This is probably the best regatta I've been to in the world," Gilmour said, speaking of both the level of competition and hospitality.

In the first of the Finals, Canfield defeated Sehested handily, with a thirty second lead. It looked like the two-time defending champion had the title sewn up. But in the second match, Sehested retaliated, crossing the finish line three seconds ahead of Canfield. And as he rallied strong in the final sudden-death bout, it appeared that Canfield had met his match. Sehested led his rival by mere seconds around the course, then Canfield hit the leeward gate, and was flagged.

"I was definitely a little worried at that point. I made a simple mistake, a stupid error," Canfield confessed. "But the boys were calm."

Pressing up the course, he continued, "We had nothing to lose, so we parked it up at the top mark." They luffed Sehested. "The execution was spot on, and Nicolai made a small mistake," Canfield said, a penalty that scrubbed Canfield's.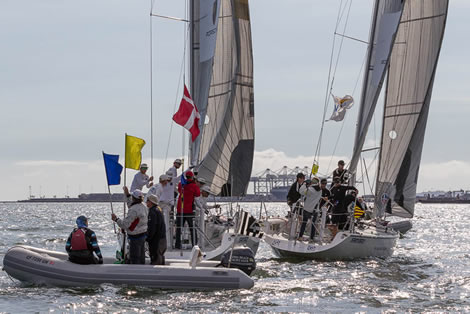 "At this level. you make an error and your competition takes full advantage of it." Back in control, Canfield kept Sehested pinned, saying, "I was very confident on that last run, that we were set up to hold them out at the pin end." US One Sailing Team shut the door on Sehested, took the match, and the Congressional Cup.

Canfield was greeted at the Long Beach Yacht Club by his dad, Bill, and girlfriend Stephanie Roble, 2014 Rolex Yachtswoman of the Year. Wearing an ISV flag like a cape, he looked a bit like a super hero: a super hero drenched in champagne.

He was pleased, he said, not only with this three-peat, but also for logging the seventh Congressional Cup win for St. Thomas Yacht Club. Member Peter Holmberg is a four-time Crimson Blazer winner, in 1998, 1998, 2001, 2002. "We're closing in on Peter's record, Canfield added, with a smile. "We've got a couple more in us, we'll be back."

Carried to the poolside stage by his crew, to don his third Crimson Blazer and hoist the Congressional Cup trophy, he commended his crew. "We lost four races all week … to be at this level, racing against the top teams in the world: that's the world champion team I have behind me."

"We had one hand on the trophy," said a disappointed Sehested. "It's the closest match racing I've done in a long time. But we've had a fantastic week, It's our first Congressional Cup, but definitely not our last. We feel so welcome here."

He echoed the sentiment of many of the sailors, who had experienced the unrivalled hospitality and pleasure of the annual Long Beach Yacht Club event: "Every year we come back because of you, great Long Beach people," said fifth place Phil Robertson (NZL). "We had a ripper."

The World Match Racing Tour now moves on to Copenhagen, Denmark 9-14 May where the battle will restart for the 2016 World title.

Results after Qualifying

1. Phil Robertson (NZL) WAKA Racing 10-1
2. Chris Steele (NZL) 36 Below Racing 8-3
3. Taylor Canfield (ISV) US One 8-3
4. Nicolai Sehested (DEN) Trefor Match Racing 8-3
5. Bjorn Hansen (SWE) Nautiska Racing 7-4
6. Sam Gilmour (AUS) Neptune Racing 6-5
7. Eric Monnin (SUI) Albert Riele Swiss Team 4-7
8. Scott Dickson (USA) Dickson Racing 4-7
9. Johnie Berntsson (SWE) Flux Team 4-7
10. Keith Swinton (AUS) Black Swan Racing 3-8
11. Sally Barkow (USA) Team Magenta 32 2-9
12. Ian Williams (GBR) GAC Pindar 2-9

Quarter Finals Results

Match 1 Sam Gilmour (AUS) 3 v 2 Phil Robertson (NZL)
Match 2 Scott Dickson (USA) 3 v 2 Chris Steele (NZL)
Match 3 Eric Monnin (SUI) 0 v 3 Taylor Canfield (ISV)
Match 4 Bjorn Hansen (SWE) 0 v 3 Nicolai Sehested (DEN)

Semi Final Results

Match 1 Nicolai Sehested (DEN) 3 v 2 Sam Gilmour (AUS)
Match 2 Taylor Canfield (ISV) 3 v 0 Scott Dickson (USA)

Petit Final Result

Sam Gilmour (AUS) 2 v 0 Scott Dickson (USA)

Final Result

Taylor Canfield (ISV) 2 v 1 Nicolai Sehested (DEN)

Overall Results

1. Taylor Canfield (ISV) US One
2. Nicolai Sehested (DEN) Trefor Match Racing
3. Sam Gilmour (AUS) Neptune Racing
4. Scott Dickson (USA) Dickson Racing
5. Phil Robertson (NZL) WAKA Racing
6. Chris Steele (NZL) 36 Below Racing
7. Bjorn Hansen (SWE) Nautiska Racing
8. Eric Monnin (SUI) Albert Riele Swiss Team
9. Johnie Berntsson (SWE) Flux Team
10. Keith Swinton (AUS) Black Swan Racing
11. Sally Barkow (USA) Team Magenta 32
12. Ian Williams (GBR) GAC Pindar
Back to top
Back to top