Dickson gets a seat at the semi-finals table
Scott Dickson beat the odds and booked his place in the Semi Finals of the Congressional Cup, Stage Two of the World Match Racing Tour, by knocking out on-form Kiwi Chris Steele (NZL) in a thrilling five match Quarter Final, taking the last three races back to back.

Congressional Cup defending champion Taylor Canfield (ISV) US One, dispatched Eric Monnin (SUI) Albert Riele Swiss Team, and Nicolai Sehested (DEN) Trefor Match Racing, eliminated Bjorn Hansen (SWE) Nautiska Racing one-two-three, in the early matches of the Quarter Finals here today. But it was a different story for Phil Robertson (NZL) WAKA Racing, who was placed number one, at the end of Qualifying yesterday.

Robertson elected to race Sam Gilmour (AUS) Neptune Racing, – a pairing that presented stunning starts and finishes to the crowds lining the Belmont Veterans Memorial Pier. Robertson won the first match, but Gilmour returned with two wins, before Robertson triumphed in the fourth.
In freshening but shifty breeze from the southeast they embarked on a final, sudden death match. Robertson had a clear start and carried a small advantage at the top mark, but the lead changed on the downwind leg, even as Gilmour fouled Robertson at the gate. Splitting tacks, Gilmour went right, surging ahead to a 25 second lead. Still carrying a penalty, the 22-year-old from Fremantle threw in the penalty turn as Robertson approached the finish line: but too late. Gilmour took match point, eliminating Robertson from the Quarter Finals, saying "I am ecstatic to make it this far," in "some of the most exciting racing I've ever done."

It was a similar duel between 'frenemies' Steele and Scott Dickson (USA) Dickson Racing. Steele won the first two matches, but Dickson – who earned his way into the Ficker Cup Presented by Porsche qualifier as Long Beach Yacht Club rep, then advanced to Congressional Cup – evened the score, as the home crowd roared.

There was an early penalty on Dickson in the pre-start, but Steele was OCS at the start. Dickson went left, Steele right: a risky move in the shifty breeze, and by the top mark, Dickson's lead opened up to a 30 second advantage. The rest was history, as Dickson did his penalty turn and crossed the line half a boat length ahead of Steele.

The first matches of the Semi Finals commenced, but were quickly abandoned as the wind dropped off. PRO Randy Smith announced an earlier start to tomorrow's final day of Congressional Cup racing: 1100 PDT Sunday April 10.

Results after Qualifying

1. Phil Robertson (NZL) WAKA Racing 10-1
2. Chris Steele (NZL) 36 Below Racing 8-3
3. Taylor Canfield (ISV) US One 8-3
4. Nicolai Sehested (DEN) Trefor Match Racing 8-3
5. Bjorn Hansen (SWE) Nautiska Racing 7-4
6. Sam Gilmour (AUS) Neptune Racing 6-5
7. Eric Monnin (SUI) Albert Riele Swiss Team 4-7
8. Scott Dickson (USA) Dickson Racing 4-7
9. Johnie Berntsson (SWE) Flux Team 4-7
10. Keith Swinton (AUS) Black Swan Racing 3-8
11. Sally Barkow (USA) Team Magenta 32 2-9
12. Ian Williams (GBR) GAC Pindar 2-9

Quarter Final Results:

Match 1 Sam Gilmour (AUS) 3 v 2 Phil Robertson (NZL)
Match 2 Scott Dickson (USA) 3 v 2 Chris Steele (NZL)
Match 3 Taylor Canfield (ISV) 3 v 0 Eric Monnin (SUI)
Match 4 Nicolai Sehested (DEN) 3 v 0 Bjorn Hansen (SWE)

Semi Final Pairings:

Match 1 Sam Gilmour (AUS) v Nicolai Sehested (DEN)
Match 2 Scott Dickson (USA) v Taylor Canfield (ISV)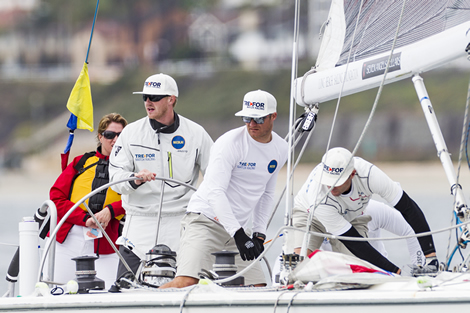 Back to top
Back to top