Sailing on the Solent just got faster - part 2
This article follows on from part 1

What could possibly go wrong?

This is all wonderful, and we are licking our lips at the prospect of high level racing of this kind taking place in fast boats on the Solent this summer, but, based on past experience, there are several ways even a seemingly successful class like this can rapidly go to the wall. So how can this be prevented?
Firstly, the FAST40+ is a box rule class. Typically in such classes boats rapidly end up gravitating to whatever prove to be the beneficial extremities of the box. While, as mentioned, there are some classes or rating systems under which it has proved necessary to slow boats down, the FAST40+ rule largely prevents this and precedent would suggest that FAST40+s will soon become as fast as their rule permits. At the RORC Easter Challenge there were already three FAST40+s sailing at maximum IRC rating: Otra Vez, Girls on Film and Invictus.
However unlike most other box rules, the FAST 40+ has an IRC TCC component to it, so in theory slower, lower rated boats should be able to mix it up with the higher rated faster ones, leaving IRC to create a level playing field. Unfortunately IRC doesn't take into account the benefit of being able to ride at the front of the fleet in clear air. And it didn't work in the Mini Maxi class, also a box rule sailed under IRC, but, in comparison, there the length band was comparatively large (60-72ft), ie a 12ft range compared to a 4ft range for the FAST40+s (or 1.8ft for new boats). Perhaps across a much smaller range, IRC will do a better job? Additionally if there is more traffic at the front of the fleet, perhaps it might make it easier for lower rated boats to find lanes?
Girls on Film owner Peter Morton is sceptical: "I think there will be some days when the lower rating boats will be fine. Generally speaking – I don't know whether it is a function of IRC or getting into clear air, you do want to be at the front of the fleet rather than having to rely on rating. We have previously tried to slow boats down to a rating and it doesn't work. I feel very strongly that if a class is going to be strong it needs to be fast for its length and that is what this class does: If everyone gets up to the top of the band, you actually can't design a 40 footer other than a swing keeler that is much quicker, so people will get bang for their buck, good handicap racing and lots of speed. And these boats really light up. Downwind they feel more powered up than a TP52. And they are much lighter - my boat is 3.5 tonnes lighter than a TP52."
Whether IRC can make FAST 40+ racing equal across the rating band is also harder to analyse as typically the top teams often have the newest, most competitive boats (ie at the top of the rating band) and the best crew. For example, at the end of day two at the Easter Challenge it was the three highest-rated boats that held the top three spots. However breezy Sunday was won by Antix, the lowest rated boat, following an uncharacteristically lacklustre start to their regatta (their first regatta of the year and with some new crew to break in).
So how the immaculately sailed Antix performs this season is likely to be the gauge for how well IRC creates a level playing field within the class.
Antix skipper Anthony O'Leary is confident: "We sailed last season against Invictus a number of times and beat her as much as she beat us, which gives great heart and encouragement to come and do this. Equally – it was interesting at the prizegiving the number of different boats that were getting Easter eggs [ie prize winners at the RORC Easter Challenge] which is testimony to the fact that there is very little between the boats."
As to Antix's situation in the class, O'Leary continues: "It is fascinating that we are the lowest rated boat, 55 points from the top. Regardless of conditions, upwind we are pretty good, well ahead of our rating. Downwind, the newer boats are wider aft and go downhill quicker, which is the flip side of having more rocker in the boat to go upwind. When we can get up and plane, in conditions like today (breezy Sunday), that equalises that pretty quickly, then it is about making the right start."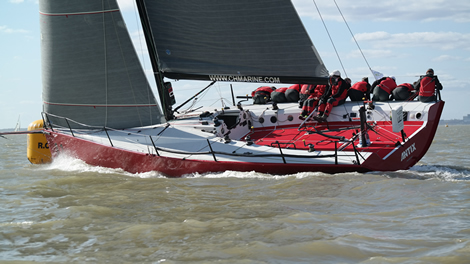 However O'Leary maintains that Antix's crew will have to work particularly hard in the 11-16 knot range off the breeze if they are to compete against the latest designs. "But the flipside is upwind we are going the same speed as everyone else and getting a truck load of time off them. There are probably conditions for everyone in the fleet, if the truth be known. Then it is down to how you start and how the crew get it together, which is what it is supposed to be about."
So if FAST 40+s all start banging one corner of their rule, such as maximum length, rating, etc, they will effectively become a level rating class. At this point classes so often perish as more money needs to be spent to remain competitive, unless avenues where money can be spent are quickly and tightly restricted. Usually this is the hardest time for classes to maintain a balance as some teams will always be keener to spend more money to remain competitive than others.
A likely arms race, as the rule stands at present, will be over sails. Yes, the rule prohibits changing sails race to race, as you can in some other classes, but you can change them day to day. Anthony O'Leary observes: "One of the prominent class rules is that you can change your sails every day which does lead to the potential to people buying extra sails that you wouldn't do if you were doing the normal RORC rules. It doesn't bother me too much, but I'd hate to lose a regatta over that. So if I would change something – RORC made their IRC rules for a reason, so why deviate? This weekend we were sailing with three year old sails and were very happy to do so."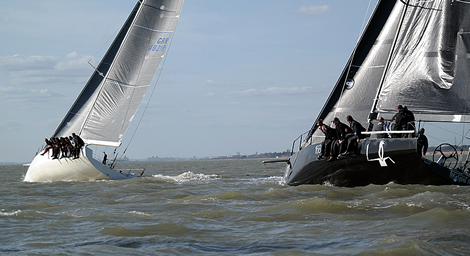 Group 3 'pros'

Most of the top boats make full use of the five pros they are allowed among their 11 crew. On Invictus for example there is Rob and Pete Greenhalgh, former Olympic Finn sailor Mark Andrews, Will Best and Ruairidh Scott, while Otra Vez had the eminent Steve Hayles navigating plus other VOR crew Luke Molloy and Phil Harmer and Girls on Film had Volvo Ocean Race winners Jules Salter and Dirk de Ridder in their number, plus Dave Lenz, Jonathan Taylor and Nick Butt. However on Antix the only Group 3 sailor was the O'Leary Olympic Star sailor son Peter. It will be interesting to see whether cohesive, long standing teams such as Antix can withstand the pressure from teams that do sail with a holster full of pros.
Tokoloshe II owner Mike Bartholomew worries that the class might get 'too professional'. "We saw what happened to the GP42 class originally. That didn't last long. I'm not going to go traipsing around the world, but if it does become an international class it can only help the class generally."
The class being owner-driver is a good thing and equally wise are the provisions made over and above the World Sailing classification scheme regarding replacement helms.
Enticing Peter Morton off his Quarter and Half Tonners is also a good endorsement for the class. Aside from having immense experience, Morton also has a latest generation boat from designer Shaun Carkeek. While his Girls on Film is technically a Mk3 Carkeek 40, she shares the same hull as Stuart Whitehead's Carkeek Mk2 Rebellion, but has been brought up to the maximum length permitted by the class rule (12.55m) through the addition of a transom scoop.
"Rebellion is always very fast downwind, so we slightly moded the boat to make it a bit more competitive upwind. We feel quite comfortable now," says Morton. This also involved the fitting of modified appendages and rig. "It is tweaking things that I quite like about boats," Morton admits. "Looking at this - there is still plenty to come out of it."
Girls on Film was leading at the close of play on Saturday at the Easter Challenge and with big wind forecast for Sunday, didn't venture out on the final day. And this was despite negligible work-up time due to the boat being shipped to Rotterdam instead of Southampton, leading to Morton's crew only hoisting the kite for the first time during race one on Friday and having no working electronics other than a speedo…
We reckon Morton and his crew will be favourite for this season and we hope that that will serve to encourage others to raise their game, rather than put them off.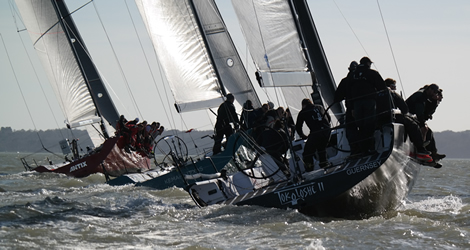 Thumbs up

Among the owners we have spoken to, to a man they are enthusiastic about the new class.
Anthony O'Leary: "It is fantastic. If you consider that last year we had five or six boats that were in that group and we had fantastic racing. Rob Greenhalgh and Stuart Childerley have got enough interest from the owners and enough new people to come along - it is great to have Peter Morton and Johnny Vincent and the lads from Scotland, and the INO team, etc. To have 10 boats this weekend is fantastic.
"Over the weekend it was a little wilder, but on Friday at the top marks it was like one design sailing. The standard is very very high, and that's as it should be."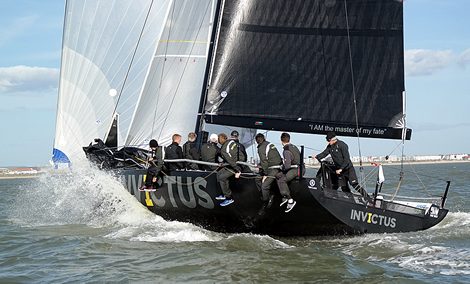 In his first regatta since Cowes Week last year, Sir Keith Mills helmed Invictus to second place overall at the RORC Easter Challenge. He told us: "What is really interesting about the fleet now is that you have got enough boats out there that even on a day like today [breezy Easter Sunday] you can have some really close racing. We had a really close run to the first mark. It was full on.
"By the end of the season we'll have 14 boats. They are all pretty closely matched and some go well in the light and some go well in the breeze. Yesterday we had a very close race with Morty - it was great stuff and bodes well for the season.
"They are wet boats but such great fun to sail. I have a tiller on my boat and it is like racing a dinghy."
Peter Morton: "The FAST 40+ is a great class. 40ft has always been a perfect size for the Solent and the fact that these boats get up and go, makes it great fun. It is a different range of boats and I'm sure there will be different boats doing well when it is slightly lighter and on different courses."
So the most exciting thing to have happened to have to racing in the Solent in decades? "I think so, since the demise of IOR, the heyday of the One Tonners, etc. I think there has been a problem since then, if you weren't a one design fleet or a lead mine. So this is great and, with these, people can do a little bit of tweaking and various bits and pieces and have fun with them. I think they are great boats…and they are a lot easier to steer downwind than a Quarter Tonner!"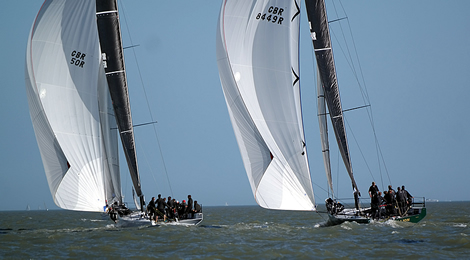 Texan Bill Coates, newly relocated to London, won the RORC Easter Challenge despite most of Otra Vez's crew having never sailed his boat prior to the regatta. "It was fantastic racing and it is only going to get better which is what is nice about it."
Mike Bartholomew, owner of Tokoloshe II: "I think it is great for the development of the sport generally because it has created a lot of enthusiasm. The enthusiasm might be directed towards the FAST 40+, but hopefully it will be carry around to other classes as well. It's been pretty slow to get off the ground, but this year there is going to be at least 12."
And despite the speed, the racing is close. Bartholomew continues: "That was illustrated by a couple of races at Cowes Week last year, when it was ourselves, Invictus and Rebellion and in one four hour long race we crossed the line within seconds of each other having sailed the whole race with the lead changing and being in very close contract with each other. It's like dinghy racing.
Class President, Rob Greenhalgh has the last word: "It has been a lot of hard work by everybody, but all the owners have played ball and all pulled in the same direction to make it happen - they have spent the money and got the boats. The RORC and IRC have been very supportive and we've had a lot of sponsors that have come in to help bring it all together.
"Strategically we are discussing how we grow from here, but what we don't want to do is to dilute what we have going here. Some owners are keen to go to the Med, but I think we'll do another year in the UK and hopefully we'll have more boats worldwide to have something a bit different but still have a UK circuit.
"I think the class will always include the older style Ker 40s at the bottom end because the aim was to include current boats and there are a lot of them around. The top end is limited – we won't go higher than what we have now."
Back to top
Back to top