Sailing on the Solent just got faster
The long-awaited debut of the FAST 40+ class took place at the recent RORC Easter Challenge, marking, in our humble opinion, one of the most significant steps forward in performance, handicap, inshore keelboat racing to have taken place in the UK since the heyday of the IOR Ton classes back in the 1980s.
Why? The FAST 40+ ticks the right boxs. Firstly the boats are (in monohull terms at least) 'fast': To give some indication – the 'fastest' boat in the last Brewin Dolphin Commodores' Cup two years ago was the Irish team's modified Ker 40, Catapult (since bought by Anthony O'Leary and now his latest Antix). At the Easter Challenge Antix was lowest rated FAST40+ with an IRC TCC of 1.215, whereas the fastest boats were hitting the 1.270 upper limit of the FAST 40+ rule.
Its class rule comprises a basic box that includes a permitted rating range based under IRC. Pleasingly, there are other components of the rule preventing the unwelcome and ridiculous practice, seen in some other classes, where owners spend money to slow their boats down to optimise their rating.
But the best aspects of the FAST40+ class are that, thanks to the efforts of Class President Rob Greenhalgh and early adopters such as Sir Keith Mills, Stewart Whitehead, Michael Bartholomew and Anthony O'Leary, etc it has caused a ground swell and succeeded in attracting owners. As a result there were ten FAST 40+s competing over Easter and four more examples are to join the circuit over the course of this season.
Also, because five of the 11 crew on board can be professionals, this should help generally raise the level of the keelboat racing in the UK to a degree we have not seen since the era of the One Tonners. Thanks to the FAST40+, UK-based pro racing sailors may no longer have to be constantly on flights to the Med, US and Caribbean to ply their trade.
The full FAST40+ rule is here, but in essence:
- IRC TCC range 1.210-1.270 (a lower limit of 1.191 will be permitted for 2016). Boats shall hold an Endorsed IRC Rating Certificate (ie requiring measurement).
Boats just outside of the rule can be grandfathered into the class, if they were launched before 1 September 2015. What is permitted for them is indicated below in italics:
- Hull length (LH) 12.00-12.60m (12.00-13.30m)
- Max draft 3.00m (up to 3.15m if fitted before October 2015)
- Displacement length ratio (as shown on IRC cert) <90 (110 and up to 124 for 2016 only)
- Speed ratio (ie IRC TCC² / LH) 0.125< (0.120< and 0.117< for 2016 only).
- Category A World Sailing Building Plan Review Certification (approval to be carried out by Germanischer Lloyd). (N/A)
- Systems to adjust the forestay while racing are prohibited (unless the boat is rated accordingly).
- Sails can be changed day to day, but not race to race
- Offshore Special Regulations Category 4, or more according to event NoR.
- Maximum crew number: 11 (max total crew weight <950kg), including a maximum of five ISAF Group 3 'pros'.
- Owner driver (a stand-in helm must have been Group 1 for the last six years and not competed in the AC/LVC, VOR, Olympics nor been in the top 50 World Match Racing Ranking in the last 15 years)
- No crew changes permitted during a racing day and no contact between support boats and race boats while out on the water.
- Guests may be permitted.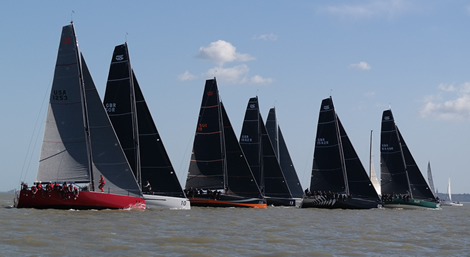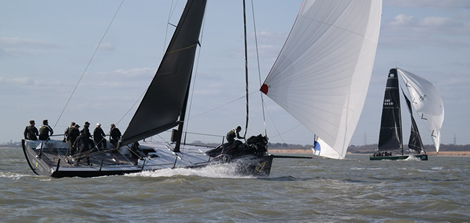 To get the class rolling, its rule grandfathers slightly longer boats such as the Ker 43 Otra Vez of Texan Bill Coates, which won the racing at the RORC Easter Challenge. It also allows in former GP42s, which currently represent the most significant chunk of the FAST40+ fleet with four examples competing over Easter. At the bottom end the grandfathering qualifies the first generation Ker 40s, such as Keronimo and Baraka GP, etc, which typically have TCCs of 1.191 (Keronimo) to 1.203 (Baraka). Although none competed at the Easter Challenge, Andy Williams is supposed to supposed to bring Keronimo to play this season.
Acquiring a secondhand GP42 offers a relatively cost-effective way into the class with boats typically built to a very high spec and comprehensively equipped. However thanks to their having a second lease of life in IRC configuration as FAST40+s, one imagines that they aren't quite the attractive proposition they once were…
Tokoloshe II owner Mike Bartholomew, was the first in the UK to buy a GP42 and managed to acquire one of the most competitive - the Botin & Carkeek-designed Madrid, class winner of the Audi MedCup in 2010. He has subsequently 'IRCed' her.
"Obviously [in addition to their purchase price] their cost is largely influenced by the amount of modifications, because all of them – like us – will change rudders, keels and bowsprit. That all adds up, but it is still a lot less expensive than building new," Bartholomew advises.
"One disadvantage [of the GP42] is that we can't get the weight down. Tokoloshe is several hundred kilos heavier than Invictus, for example, which is a problem in light. A lot is in the rig - our rig is about 60kg heavier than some of the new boats, which is like having a man half way up the mast."
Other GP42s currently racing are Tony Dickins' Jubilee, the Latini Marine-built Farr design that originally was the Swiss-owned Near Miss. London-based Kiwi Mark Rijkse campaigns 42 South, Reichel Pugh-designed former Seawonder 007, built in 2007 while, from Scotland, is Steve Cowie's Zephyr, the former Puerto Calero and sistership to Tokoloshe II.
Of course all eyes are on the hot new kit, purpose-built to the rule. At present these are represented only by designs from Shaun Carkeek (built by Premier Composite Technologies in Dubai – both Stewart Whitehead's Carkeek 40 Mk2 and Peter Morton's Mk3 were racing at Easter) and the new McConaghy China-built Ker 40+ from Jason Ker. The sole example of the Ker 40+ racing in the UK at present is Sir Keith Mills' Invictus, but she's to be joined very soon by Andrew Pearce with his latest Magnum (having sold his previous Mk1 Ker 40) and Johnny Vincent with a new Pace (trading down from his TP52).

Races

The FAST 40+ race schedule for 2016 is Solent-based. It comprises a number of events which will have class starts, such as the RORC Easter Challenge and two rounds of the Warsash Spring Championship this month, before launching into five events that will form the first FAST 40+ Championship:
20-22 May: Vice Admirals Cup
24-26 June: IRC Nationals
5-12 August: Cowes Week
16‐18 September: FAST40+ Nationals, (out of Royal Southern YC)
8/9 October: FAST40+ Round 5 (out of Hamble River SC)
The championship will be scored with a 'low points' system, with a double points coefficient final event and possibly a double points scoring final race to each event and one discard at each event in year one.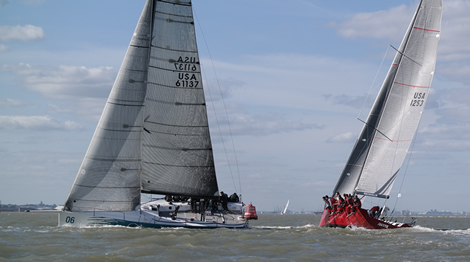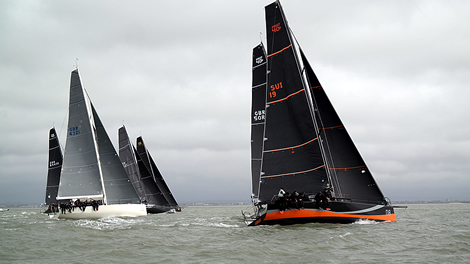 In our view it is possibly a mistake that the circuit be so inshore-orientated, particularly for such long legged beasts.
Mercifully, courses will not solely be windward-leewards and, according to FAST40+ Sailing Director Stuart Childerley, will include some Cowes Week-style round the cans courses and other 'America's Cup' type courses with reaching starts/finishes (as we saw on the fresh days at the RORC Easter Challenge).
Allegedly there is the possibility of adding an offshore component in subsequent years [one imagines the Rolex Fastnet Race might be a lure next year] and of the circuit leaving the confines of the Solent. For example, Irish owner Anthony O'Leary is keen the class competes at Volvo Cork Week and Steve Cowie, the owner of Zephyr, is equally keen on the Scottish Series.
In terms of where he'd like to see the FAST 40+ class in five years' time, Class President Rob Greenhalgh offered: "I'd like to see this adopted internationally as an IRC band and for people to start building boats for it. There should be World and European championships for the FAST 40+ and it would be great to have it racing alongside the TP52s in the 52 Super Series, like the Soto 40s used to. One day perhaps it could become an Admirals' Cup class. But basically it is about making sure the rule stays strong and to encourage people to race good boats, the type of boat that will stand the test of time."
At present a new FAST 40+ costs in the order of £400,000 with annual running costs typically around 15-20% of that.
Tomorrow we look at what can be done to prevent it all from turning pear-shaped....
Back to top
Back to top