BVI turns it on
Day 2 of the BVI Spring Regatta offered up just what the people came for: plenty of sunshine, turquoise water, breeze up to 17 and awesome sailing, with races today taking most classes to the north side of Tortola and around Sandy Cay, a BVI National Park and one of the most spectacular islands in the BVI.
In CSA-Racing 1, 2, and 3, there was little change within the top three boats in each class. In CSA-Racing 1, Spookie, the TP52 skippered by Steve Benjamin (USA) is in first overall with 5 points; In CSA-Racing 2, the First 40 Team McFly - Southern Child, skippered by Tony Mac (GBR), has moved into first place with 9 points; and in CSA-Racing 3, Dark Star, the Puerto Rican J105 maintains their leading position with 5.5 points.

Steve Benjamin said: "We had a wonderful day and our lead is giving us the opportunity to do some maneuver training. We've been practicing starts and a crazy windward mark rounding called a Sambuca, to keep the crew training for St. Barts, so this is ideal training for us. It really helps having Peter Holmberg on board - every maneuver is costly so we try to work out the general wind shift patterns ... but we don't always get them right!"

In CSA-Racing 2, the crew on Team McFly - Southern Child are pleased with their 2 bullets today.

"We had a lovely day with glorious sunshine and two firsts," skipper Tony Mac said. "On race 1, we hugged the Tortola south coast on the first run which I think eventually paid off as we led all around the course until the last leg when the breeze dropped and a boat that is quicker than us got through, but we stayed close enough to him to beat him on handicap. The competition is very good; we picked up a lobster pot yesterday and dropped five places instantly! It could go hopelessly wrong tomorrow but right now we're pretty pleased with ourselves."

Mac has had great success in the past few years at the Spring Regatta. He chartered Quokka, a Grand Soleil 43, in 2014 and the J120 El Ocaso in 2015 and won in class both years.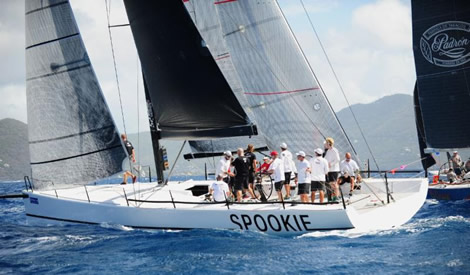 Peter Corr, skipper on the King 40 Corr's Light Racing - Hot Ticket, dropped to second overall in CSA-Racing 3, ending the day with 12 points which put them just ahead of their sparring partners on the J120 El Ocaso (USA). El Ocaso, skippered by Rick Wesslund is sitting in third with 20 points, which has been a bit frustrating for Wesslund who in past years has more often than not been at the front of the pack.

"It's been a challenging few days for us," he said. "We had a couple of over early situations today and a lot of reaching so it was hard to find a passing lane. We were able to make up some time on the first race when we got a chance to separate from the group coming into Little Thatch Cut. Going outside did pay off for us, I was pleased about that. We thought we'd try the same thing coming back through the Cut but it didn't work as well."

In CSA-Racing 3, the J105 Dark Star now has 4 bullets plus a tie for first, ending the day with 5.5 points. "We just tried to stay clear and have good boat handling. The courses today were a pursuit race so we tried to keep between the next mark and the boats behind, that was our main strategy," Rafi Martinez, crew on Dark Star, said. "On the first race, first run, all the boats in our fleet were really close. The boats are fast; Pipedream, the two Melges and we were all less than 30 seconds apart. The lead changed about 20 times on that leg. We knew we had a big upwind leg where we knew we could do really well against these guys which worked."

Chris Haycraft (ISV) on Pipedream, a Sirena 38, has spent the past few days chasing Dark Star. He said, "Dark Star are very quick and they sail very well. Our strategy today was to get ahead of them but when that didn't happen we thought we'd try and lull them out to where they didn't want to be but they were too smart for that and didn't follow. We managed to hang onto the second, they're just quick."
Haycraft, who lives in Tortola, has his 11-year old son Nathan sailing with him. His responsibilities include cooler runs and grinding on the spinnaker sheets, however Nathan said he also tries to help his Dad with strategy, but that it "goes in one ear and out the other."
In other classes, Ventaneiro 3, a Dufour 500 skippered by Renato Faria (BRA) holds first place with 4 points in CSA-Performance Cruiser 1, as does Soma, the Formula 40 skippered by Nils Erickson (USA) in CSA-Multihull.

In CSA-Jib and Main 1, just one point separates Avanti, the Hanse 430 skippered by Jeremi Jablonski, who has 8 points, from Cachondo, the Hanse 455 skippered by Jose Teixidor (PUR).

Lawrence Aqui (ISV), owner skipper of Wild Ting, a Dufour 40, is enjoying his tenth year of racing at the BVI Spring Regatta. Just two points behind Cachondo, Aqui said, "The racing is super close; we're separated by literally one point so the last day could make a huge difference as to who comes in first, second or third. We're all having a lot of fun together and it was so great to see Hot Stuff come in second today; they were so excited, but they have upset the order just a bit."

In CSA-Jib and Main 2, the Jeanneau 40 Girasoli, owned and skippered by Tortola local Keith LiGreci, scored another two firsts today and sits first in class with 4 points. LiGreci said winning is all about his great crew, "I love my crew! We've been together for about 4 years and we just get better and better every year. Every tack was perfect - we didn't slip up at all. Crew and local knowledge really helps but the competition is very good which just pushes us to be better."

Team Aquaholics - Lady Aubrey (NED), a Moorings 50 skippered by Rene van Dop maintain their lead with 8 points in the CSA-Bareboat 1 class, while Warvor, a Sunsail 44i skippered by Willem Ellemeet (NED) also holds their leading position in CSA-Bareboat 2 with 4 points.

In the One Design classes, the IC 24 Stinger (ISV) skippered by Jens Hookanson, has climbed to top position with 21 points, while in the VX One class, Jeff Eiber (USA) on This Side Down has also climbed to first after taking 2 bullets today finishing with 13 points.
Sunday is the final day of racing in the 45th BVI Spring Regatta and Sailing Festival. While the leadership in some classes is well defined, in others there's still opportunity for surprise lead changes on the final day of racing. Stay tuned!

Results - top 5 in each class

CSA - Racing 1 (CSA - 6 Boats)
1. SPOOKIE, TP52 52, Steve & Heidi Benjamin , Norwalk, CT, USA - 1 -1 -1 -1 -1 ; 5
2. Soca, Melges 32 32, Luis Juarbe , San Juan, PR, USA - 3 -2 -2 -2 -3 ; 12
3. Big Trouble, Melges 32 32, Tom Elsen , Chicago, IL, USA - 2 -4 -3 -4 -2 ; 15
4. Tschuss, MAT 1180 39, Christian Zugel , Glanmire, Cork, IRL - 4 -3 -4 -3 -4 ; 18
5. Christopher Dragon, Ker 43 43, Andrew & Linda Weiss , Mamaroneck, NY, USA - 6 -5 -5 -5 -5 ; 26

CSA - Racing 2 (CSA - 10 Boats)
1. Team McFly - Southern Child, First 40 12.24, Tony Mac , Gosport, Hampshire, UK - 1 -2 -4 -1 -1 ; 9
2. Corr's Light Racing - Hot Ticket, King 40 40, Peter Corr , Mona Vale, NSW - 3 -1 -1 -2 -5 ; 12
3. El Ocaso, J 122 40, Richard Wesslund , Miami, FL, USA - 4 -3 -6 -3 -4 ; 20
4. Team Slovakia - Arthur, Beneteau First 40 12.24, Chris Jackson - Sailing Logic , Hamble, Hampshire, GBR - 5 -4.5 -3 -4 -6 ; 22.5
5. LIPTON - Eliott, A40 40, Philippe Charret , Gosier, Guadeloupe, FRA - 6 -11 -2 -5 -2 ; 26

CSA - Racing 3 (CSA - 7 Boats)
1. Dark Star, J 105 34.5, Jonathan Lipuscek , San Juan, PR, PUR - 1 -1 -1.5 -1 -1 ; 5.5
2. Pipedream, Sirena 38 38, Chris Haycraft , Road Town, Tortola, BVI - 2 -5 -1.5 -2 -2 ; 12.5
3. Team Island Water World, Melges 24 24, Frits Bus , Philipsburg, St. Maarten, SXM - 3 -4 -3 -3 -3 ; 16
4. Firewater, Melges 24 24, Henry Leonnig , BVI - 4 -2 -5 -6 -6 ; 23
5. Rushin' Rowlette, Olsen 30, Kevin Rowlette , IVB - 6 -3 -4 -7 -4 ; 24

CSA - Performance Cruiser 1 (CSA - 6 Boats)
1. Ventaneiro 3, Dufour 500 Grand Large 14,73m, Renato Cunha Faria , Rio de Janeiro, RJ, BRA - 1 -1 -1 -1 ; 4
2. Northern Child, Swan 51 15, Sjoerd Bos , Gosport, Hampshire, UK - 2 -2 -2 -4 ; 10
3. Seabiscuit, Moorings 445 44, Patricia Nolan , Roadtown, Tortola, BVI - 4 -4 -3 -2 ; 13
4. Andiamo, Sweden 50 50, Willie Chandler , Memphis, TN, USA - 3 -3 -4 -3 ; 13
5. Ortac, First 40.7 11.9, Peter Anthony , Falmouth, St. Pauls, ANT - 5 -5 -5 -5 ; 20

CSA - Multihull 1 (CSA - 4 Boats)
1. Soma, Formula 40 40, Nils Erickson , Coral Bay, VI, USA - 1 -1 -1 -1 ; 4
2. Triple Jack, Trimaran 47, Richard Wooldridge , Road Town, Tortola, BVI - 3 -2 -2 -2 ; 9
3. Ten Directions, Outremer 51 51, Glenn Davis , Santa Monica, CA, USA - 4 -4 -3 -3 ; 14
4. Piglet, Teegull 2300 23, Joseph San Martin , Christiansted, VI, USA - 2 -3 -5 -5 ; 15

CSA - Jib and Main 1 (CSA - 8 Boats)
1. Avanti, Hanse 430 43, Jeremi Jablonski , Wilton, CT, USA - 4 -1 -1 -2 ; 8
2. Cachondo, Hanse 455 45, Jose Teixidor , San Juan, PR, PUR - 1 -3 -4 -1 ; 9
3. Wild T'ing, Dufour 40 40'4, Lawrence Aqui , St. Thomas, USVI, USA - 3 -2 -3 -3 ; 11
4. Haerlem, Nautor Swan CC 16.76m, Hendrikus Wisker , Round Hill, VA, USA - 2 -4 -5 -4 ; 15
5. Hot Stuff, Beneteau First 40.7 40.7, Girls for Sail , Cowes, GBR - 5 -9 -2 -5 ; 21

CSA - Jib and Main 2 (CSA - 10 Boats)
1. Girasoli, Jeanneau 40 40, Keith LiGreci , Road Town, Tortola, BVI - 1 -1 -1 -1 ; 4
2. Sam of Hamble, Sigma 38 38, Peter Hopps & Serena Alexander , London, London, UK - 3 -2 -2 -2 ; 9
3. Diva, Modified 30 square metre 39, Robin Tattersall , Road Town, Tortola, BVI - 2 -5 -3 -4 ; 14
4. Varuna - Sound Sailing Center, VAr 37 37.2, Martin van Breems , Norwalk, CT, USA - 5 -3 -5 -3 ; 16
5. Second Nature, Hughes 38 38, William Bailey , Road Town, Tortola, BVI - 4 -4 -6 -6 ; 20

CSA - Bareboat 1 (CSA - 16 Boats)
1. Team Aquaholics - Lady Aubrey, Moorings 50 50, Rene van Dop , NED - 2 -1 -3 -2 ; 8
2. Crude Yachties - The Remedy, Moorings 45.3 45, Mike Hill , Road Town, Tortola, BVI - 1 -3 -4 -1 ; 9
3. Team NAIA -Thundergirl, Sun Odyssey 509 51, Bob Beltrano , Henderson, NV, USA - 3 -2 -2 -3 ; 10
4. Mary Jewell, Sunsail 50 50, Larry Caillouet , Bowling Green, KY, USA - 5 -4 -1 -4 ; 14
5. Team Cape Fear - SS Hull 907, Sunsail 47 47, Bob Cowen , USA - 6 -5 -6 -9 ; 26

CSA - Bareboat 2 (CSA - 8 Boats)
1. Warvor, Sunsail 44i 44, Willem Ellemeet , NED - 1 -1 -1 -1 ; 4
2. Tortola Moon, Sunsail 41 41, Alberto Borin , ITA - 2 -2 -3 -2 ; 9
3. Bageal, Sunsail 44i 44, Koen Lindner , NED - 6 -4 -2 -3 ; 15
4. Mau Bisa I, Sunsail 44i 45, Bernard Sampson , Monroeville, PA, USA - 4 -3 -5 -5 ; 17
5. Number 9 - Fine Line, Sunsail 41 41, Ferdinand Costerman Boodt , NED - 5 -6 -4 -4 ; 19

CSA - Multihull 2 (CSA - 5 Boats)
1. Curanta Cridhe, Discovery 50 51, Thierry Simon , Peyrolles En Provence, Bouches Du Rhone, FRA - 1 -1 -1 -1 ; 4
2. Wildfire, Edel 35 catamaran 35, John Hayes , Tortola, IVB - 2 -2 -2 -2 ; 8
3. Slow Motion, Moorings 4800 48, Werner Puche , Berlin, GER - 6 -6 -6 -6 ; 24
4. Martintin, Saba 50 49.1, Stuart Israel , Great Neck, NY, USA - 6 -6 -6 -6 ; 24
5. Nimble, Catana 471 47, Scott Chew , Estes Park, CO, USA - 6 -6 -6 -6 ; 24

IC 24 (One Design - 10 Boats)
1. Stinger, IC 24 24, Jens Hookanson , Christiansted, VI, ISV - 11 -1 -1 -1 -2 -1 -1 -1 -2 ; 21
2. INTAC, IC 24 24, Alec Anderson , Road Town, Tortola, BVI - 3 -5 -6 -3 -1 -3 -2 -2 -1 ; 26
3. Kuliagus II, IC 24 24, Gregory Fink , Rincon, PR, USA - 2 -4 -3 -2 -4 -2 -4 -3 -3 ; 27
4. Aeropost, IC 24 24, Colin Rathbun , Road Town, Tortola, BVI - 1 -2 -2 -6 -3 -4 -5 -4 -5 ; 32
5. Smile and Wave, IC 24 24, Jaime Torres , San Juan, PR, USA - 5 -3 -5 -4 -5 -5 -3 -6 -4 ; 40

VX One (One Design - 11 Boats)
1. This Side Down, VX One 19, Jeff Eiber , Cleveland, OH, USA - 3 -2 -[12] -1 -3 -2 -1 -1 ; 13
2. Cruzan Rhode , VX One 19, Timothy Pitts / Ferra , Newport, RI, USA - 1 -3 -3 -2 -4 -1 -[6] -4 ; 18
3. My Sharona, VX One 19, George Gamble , Mobile, AL, USA - 2 -1 -4 -4 -1 -4 -[7] -3 ; 19
4. Speedwagon, VX One 19, Andrew York , AUS - 4 -4 -1 -[5] -2 -3 -3 -2 ; 19
5. Finger of the Beast, VX One 19, Michael James , AUS - 6 -5 -2 -3 -[8] -7 -2 -8 ; 33
Back to top
Back to top