Limbering up at the RORC Easter Challenge
This Friday's opening regatta of the Royal Ocean Racing Club's domestic calendar, the RORC Easter Challenge, provides an opportunity for the 50 or so crews to ramp up their programs for the 2016 season. To help, for the three day duration of the regatta the RORC lays on free coaching, led by the eminent Jim Saltonstall, supported by RORC CEO and former America's Cup coach Eddie Warden Owen, plus North U Regatta Service's Andreas Josenhans and Chuck Allen, who fly across from the States especially for the occasion.

Those on the steepest learning curve will certainly be FAST 40+ crews, the new high performance class making its debut at the RORC Easter Challenge. Here the two latest entries, bringing the class tally up to 10, are two time Brewin Dolphin Commodores' Cup winner Anthony O'Leary aboard his turboed Ker 40, Antix, and Kevin Miller with his newly optimised GP42 Zephyr.

The FAST 40+s will take up all of IRC One with those with the most time in their boats likely to enjoy most success - namely Sir Keith Mills' Ker 40+ Invictus, Stewart Whitehead's Carkeek 40 Mk2 Rebellion and South African Mike Bartholomew's modified GP42 Tokoloshe II.

Among the non-FAST 40+ 40 footers, Roger Bowden is fielding the King 40, Nifty (ex-Tokoloshe 1) and will face James Gair and the Cowes Race School's Mills 39 Zero II (ex-marinerscove.it) and another former Irish Commodore's Cupper, Conor Phelan's Ker 37 Jump Juice, part of the potent 2008 team, the same year as she won the IRC Nationals.
The RORC's coaching regatta this Easter weekend is also providing an early season warm-up for contenders gunning for spots in the British team in this year's Brewin Dolphin Commodores' Cup, due to take place out of Cowes over 23-30 July. The trials for the British team kick off formally in late April, but the Easter Challenge provides a first glimpse of their form.

Among the British triallists competing this weekend are Simon Henning's Mumm 36 Alice, Rod Stuart/Bill Ram's Corby 37 Aurora, James Chalmers/William Skinner's J/35 Bengal Magic, Robert Stiles' J/109 Diamond Jem, Mike Moxley's HOD35 Malice, Brian Wilkinson's Corby 30 Wildchild as well as the RORC Admiral, Andrew McIrvine and his First 40 La Réponse.

For Guernsey's Simon Henning, 2016 marks the 20th anniversary of his Commodores' Cup debut and uniquely, despite having campaigned his Farr 45 Alice II with GBR White in 2010, he is competing this year in the same boat as he did in 1996. Alice is now some way from being a Mumm 36, but Henning states: "The boat is going well and it is a fun week's racing. We thought we'd give it a go."

Over the years, the Alices have also been regulars at the RORC Easter Challenge, which Henning says is "a great start to the season. It is the first decent-sized regatta. It is great fun and it shakes up the memory a bit." Despite being based out of Hamble Point marina, the Alice crew attends the standing-room only, post-race debriefs provided by Jim Saltonstall and his coaching team, that take place daily at the RORC Cowes clubhouse.
Also celebrating a 20th anniversary will be former RORC Commodore Peter Rutter, who after many years campaigning his Grand Soleil 43, Quokka 8, has bought back the Half Tonner he campaigned so successfully over 1995-7. This winter the original Daniel Andrieu-designed Quokka 3 has been modernised with the installation of a heavier keel and swept-back spreader rig and rechristened Quokka 9.

"The trick was to keep our budget on the new boat within that of the price of the mainsail on the Grand Soleil - and we've achieved it!" explains Rutter. "We bought a swapped keel from Cornwall and secondhand mast from Devon and stuck her all together and done a lot of work ourselves."

The RORC Easter Challenge will be the first outing for the refitted Quokka 9. In 1996 Quokka 3 won her class in all eight races of the offshore championship including outright wins in a race from Rotterdam and the Morgan Cup. "That does put a bit of pressure on us," muses Rutter.

While Quokka 9 is the only Half Tonner currently entered, three Quarter Tonners are entered in the RORC Easter Challenge in William McNeill's Ceccarelli, Illegal Immigrant, Ben Daly's Fauroux, Cobh Pirate and perennial competitor Sam Laidlaw's on the Vrolijk-designed Aguila.

Mixed conditions are in store this weekend, the forecast showing sun and sub-10 knot southerlies on Friday, rain and southerlies gusting into the 30s on Saturday and sun and a 15-20 knot southwesterly for the final day, when racing will finish early enough for crews to pick up their chocolate prizes and be home in time to enjoy Easter Sunday evening and Monday with their families.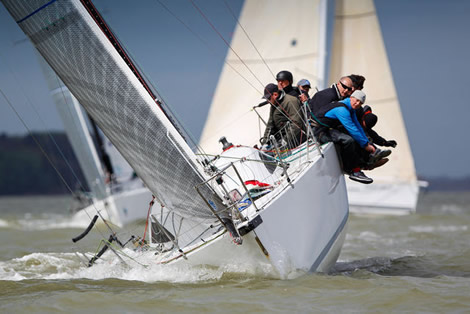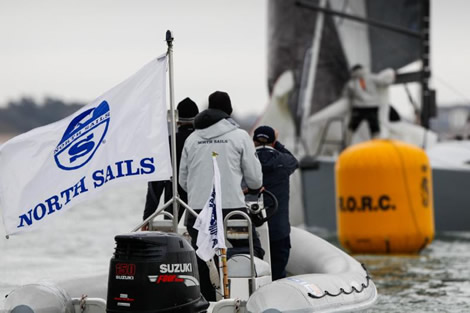 Back to top
Back to top