Ranger prevails
Saturday March 19th 2016, Author:
Andi Robertson
, Location: none selected
For the three J Class crews, day three of their Saint Barths Bucket regatta, may have enjoyed picture postcard conditions – 14-17 knots of breeze and perfect Caribbean seas – but the racing was so intense and physical again that the 26.1 miles circuit today felt like the full marathon.
The duel between Velsheda and Ranger which raged through Friday resumed – Saint Barths business as usual it would seem – but this time it was the Erle Williams-skippered Ranger which prevailed. Ranger triumphed in today's magnificent conditions and actually complement Thursday's victory in the showcase King's Hundred Guineas Trophy to now be up 2-1 in the series with just Sunday's showdown to be sailed.

Velsheda, Friday's narrow winner, looked to be back in control after getting ahead of Ranger early in the race. But a mechanical failure with Velsheda's starboard primary winch meant she could not sheet her headsail fully. That let Ranger pass and from there the Velsheda crew was on the back foot.

Ranger went on to win by about 180 metres at the end of the 26 miles course which took the class from an interesting downwind start, across a short reach before a long beat in the ESEerly breeze up to the H mark by the Ile Fregate and Ile Chevreau, a right turn back towards the northwest tip of the island, a long downwind passing the Ile Fourchue on port before turning for a beat home at Roche Table.

The Velsheda crew did not have to seek out problems. Confounding the winch problem – which is reported to require rebolting before tomorrow's showdown – it again had hydraulic and electronics issues. Indeed it was only the knowledge that a retirement would effectively eliminate them from the title finale Sunday and that most of the remaining work was, fortunately on port tack, that the decision was made to keep Velsheda racing today.

Both Velsheda and Ranger crews reaffirmed today that this is some of the best J Class racing they have had, with no margin for error especially during the sustained tacking battles. "It is just great racing, boat for boat there is nothing between us. And it is all on for tomorrow. We need to be able to keep the pressure on Ranger if we get ahead and really work for it," said Velsheda's navigator Mike Broughton today. "We had a great first half of today's race and then the two or three gear failures unfortunately cost us. Topaz were not far behind."

Five time America's Cup winner Murray Jones, who is calling tactics on Ranger added: "It was a great, fun race. We got ahead on the other side of the island when Velsheda could not sheet their sail in. But we sailed well, we got the transition zone on the long beat back right. It is fantastic racing, super close and we are so enjoying it. The conditions are so ideal for the J Class. We had no problems, thankfully and now it is all on for tomorrow."

Topaz, at their debut regatta, also had their challenge compromised by a mechanical issue, unable to sheet their mainsail in at a critical point. But once again they were in the mix and challenging in the early stages of the race. "We had a nice start and were good at the bottom mark, right in there, but then had our mainsheet problems. But the boat is going well. It is all new to us of course, but we have a really nice crew – quiet, determined and focused. We have the just the finer things to tune now, learning the settings that work best. But we are really enjoying it," commented Topaz' strategist Ross Macdonald.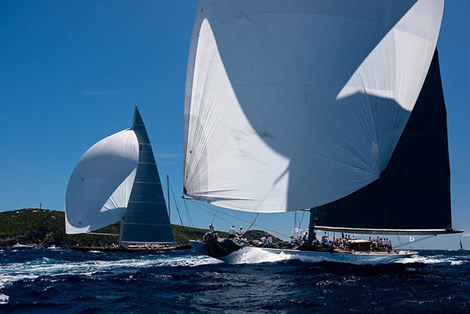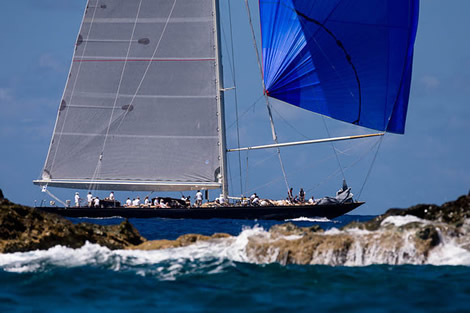 Back to top
Back to top