Ranger shows the way
Thursday March 17th 2016, Author:
Andi Robertson
, Location: none selected
On a windward-leeward course which proved to be particularly tricky and difficult to read, Erle Williams, Murray Jones and the entire Ranger crew delivered their enthusiastic, passionate Owner the best possible birthday when as they won the J Class' most prestigious annual trophy, the King's Hundred Guinea Trophy on the first day of the Saint Barths Bucket regatta.

America's Cup winning tactician Murray Jones, guiding Ranger's skipper-helm Williams, read the breeze best on the critical first beat, believing there was more wind pressure to the left. From a strong, well executed pin end start Ranger was able to lift away after tacking on to port and earn themselves a sizeable lead over Velsheda and the brand new Topaz, which was sailing their first ever race.

Down the first run the Ranger afterguard were reasonably content to spend some of their lead in order to be able to stay in touch with their rivals and from there, in Jones' mind, they were in a position to control their rivals. Across the finish line Ranger lead Velsheda with Topaz in touch and obviously competitive in third.

For the Ranger team, which won the last J Class event of the 2015 season, victors in the mixed fleet racing at Les Voiles de Saint Tropez, carrying their momentum into the start of this year is important. But winning the biggest J Class trophy of the year for their first time ever, is not just the perfect gift to their owner – who is a great supporter and fan of Caribbean racing – but makes up for missing out in Palma in 2014. Then, they lead from the final mark and would have won but for an arbitration penalty for a mark rounding misdemeanour. This time there was no mistaking who the winners are.

"We are all delighted." said Jones. "This is my first day racing in Saint Barths and it is great to start out with a win like this. Our Owner is such an enthusiast that it's nice to be able to win this King's Hundred Guinea Cup for him." "It was a difficult one, quite tricky." recalled Murray Jones, "The course was in a convergence zone. Out offshore it was 100°, more right, and left it was more like 55° and in the middle it was really very light. And so you had to pick your option." "We may have had a good lead at the top mark but it was really difficult downwind. We were a little conservative on the second beat but I was never really concerned about losing the lead." "It was good to see Topaz, they were quick but I think made a few tactical errors. This race was not won or lost on boathandling or boat speed. But they will be happy with their race I think."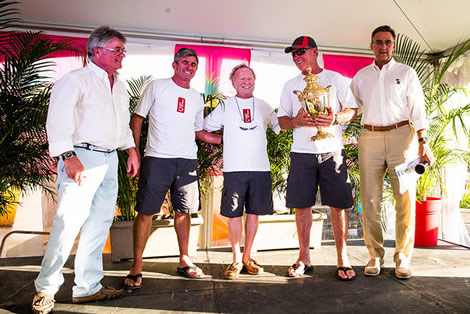 The learning curve is steep for the Topaz crew, which has Andrew Taylor (NZL) as crew boss and double Olympic medallist Ross Macdonald as strategist.

"From our viewpoint there was a certain tension, some pressure on board today for our first race. But really our objective was to get round the course in good shape and come back with all our fingers still attached." smiled helm Jorge Heinritz. "Personally it is such a great experience to steer a J Class race for the first time. Our learning curve is steep but we are quite happy with our day." "Upwind the boats are quite easy to steer but downwind in these lighter breezes and swell it is not so easy." "We missed the train a bit on the second beat and lost touch slightly." He concluded. "It was an absolutely fantastic experience today. There is a bit of pressure on you on the helm with something like 70 pairs of eyes trained on you but I think we did okay," said the German Olympian.
Back to top
Back to top