Fast start from ground zero
A strong Fremantle Doctor delivered a fast start to the opening day of the 2016 World Match Racing Tour season today in Fremantle, WA.

The idyllic Western Australian coastal town of Fremantle saw 20 international crews begin their fast and furious battle for supremacy in the M32 catamarans, a giant leap from the more sedate keelboats traditionally associated with world-class match racing.

However, the first two days are all about whittling down the 20 teams to the last 16 with a series of short, sharp fleet races, with the teams divided into four qualifying groups of five.
With the fast-reaching starts – another major change to the traditional format of the World Match Racing Tour – the premium on making a quick and pinpoint accurate start is higher than ever.
Reigning world champion Ian Williams and his crew on GAC Pindar pulled the trigger earlier than their competitors, and just a second too early for the start gun. The British crew was forced to furl the gennaker and wait for the fleet to cruise past before the umpires released them from their painful starting penalty. At this stage the morning breeze was still soft and fickle. Williams played the classic back marker's card of desperation – or inspiration - gybing away from the pack in search of something different. The six-time match racing World Champion was rewarded with an extra gust of wind on his side of the course, to sail from last to first by the bottom gate marks. From then on Williams defended his new-found lead to win his first race, and then won his next two.

None of the other three group winners was able to match Williams' perfect hat trick. The favourite for this regatta, Taylor Canfield, sailed well, but not quite well enough to win his group today. Instead Canfield's US One sits tied with Sweden's Mattias Rahm but second on tiebreak. Canfield said: "Our starting was a little off, we wanted the pin end of the line most of the time, but sometimes we paid a high price for trying to go there."

Former Olympic sailor Rahm reckons he has probably had more time on the M32 thanks to competing on the M32 Scandinavian Circuit last season, although former 49er World Champion Ed Smyth is a brand new addition to the team for this week. "Ed's experience racing in the Extreme Sailing Series and this kind of short-course racing was very good for us today," said Rahm. "He always knows where we are on the course and what the next move should be."

With just four crew on board, the sailors are always overloaded with too much to do, and even just three 10-minute races takes a massive physical toll on everyone except the helmsman. US One crewman Hayden Goodrick commented: "You don't want to blow your wad on day one. This is a long regatta and it's about keeping something in the tank for the end of the week."

As the day got older, so the breeze got stronger and the later groups were racing in up to 20 knots, hitting speeds of up to 21 knots with one reef in the mainsail. Kiwi professional Phil Robertson brings the perfect mix of experience in world-class match racing and short-course multihull racing. Helped by the likes of 49er Olympic Champion and Volvo Ocean Race veteran Xabi Fernandez, the Kiwi won his group quite easily.

Another highly experienced multihull racer, Yann Guichard, only managed 4th in the same group, although he could be forgiven for not being quite up to speed in the M32 yet. "The last race I did was around the world, which lasted 47 days," smiled the Frenchman who skippered the giant 40m trimaran Spindrift 2 on its Jules Verne attempt to break the record of fastest sailboat around the world. Now he shifts his focus to races that last just 10 minutes. "However long the race, you still need to concentrate all the way round," he said. "Today we made many basic mistakes, in manouveres for example, but the conditions were fantastic and we were having fun even if we weren't winning. We hope to learn quickly."

While there were clear leaders to emerge from three groups, the last group of the day delivered a very close three-way battle for bragging rights, with Switzerland's Eric Monnin, Western Australia's Sam Gilmour and Sweden's Niklas Dackhammar each taking a race win, but with the Swiss crew topping the group leaderboard.

The shock of the last group was to see experienced Aussie match racer Keith Swinton struggling in last place, even with a 2nd place in the middle race. For Swinton's Black Swan Racing there is local pride at stake and he will be thinking hard about what changes they need to make if they're to survive their way through to the knock-out stages of the competition, when it moves into one-on-one match racing.

For all 20 teams, the learning curve in this new era of racing is extremely steep, and the team that learns quicker than the rest can expect to do very well, both here in Fremantle and for this short season for the World Match Racing Tour which reaches its crescendo this July in Marstrand, Sweden at Match Cup Sweden.

Thursday's racing concludes the qualifying series of fleet racing, and the forecast of a more forceful Fremantle Doctor promises to deliver more spectacular racing for the spectators, both at the venue and live online.

Qualifying Fleet Racing Results - Day 1: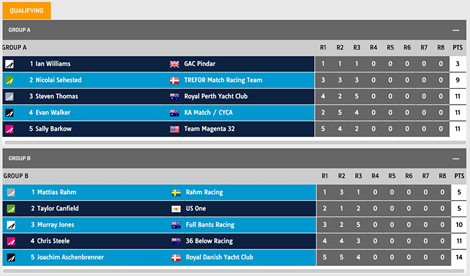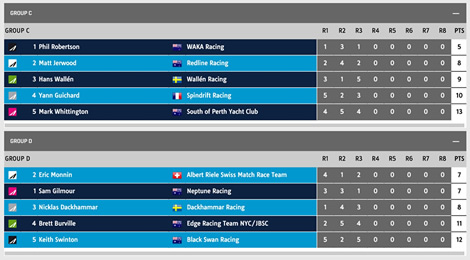 Back to top
Back to top