Honours for Plenty
Alex Roepers' Plenty won the Rolex Farr 40 world championship on Sydney's Manly offshore course today with clever, conservative sailing for a third and a second in the last two races while his two closest opponents fell out of contention with early errors.

Plenty won the 11-race series, conducted by Royal Sydney Yacht Squadron, with a total 34 points from the Australian champion Transfusion (Guido Belgiorno-Nettis) 38 and Struntje light (Wolfgang and Angela Schaefer, Germany), 44.2.

The concluding two races were sailed in a 16-18 knot northeasterly, that raised a short chop on a moderate seaway, over four-lap windward-return courses on the offshore Manly Circle.

Flash Gordon (Helmut and Evan Jahn, USA), which had gone into the day equal second with Transfusion, dropped out of contention at the start of race 10, when she was judged to be over the line early and took some time to thread back to re-start.

Transfusion, from a good start with speed towards the pin end of the line, led around all marks to win from Estate Master (Martin Hill), which held second place around all marks, with Plenty third.

The win moved Transfusion from four to two points behind Plenty going into the last race.

Plenty, however, with clever starting strategy, knocked Transfusion out of contention soon after the start of race 11. After manoeuvring to the leeward end of the line away from Transfusion, Plenty sailed back in the last minute to plant directly under Transfusion as the fleet took off on starboard tack.

With good acceleration, Plenty gradually lee-bowed Transfusion, forced her to tack away onto port to find a clear air lane in the line-up of right-of-way starboard tackers. But Transfusion misjudged, infringed and had to perform a penalty turn that left her in eighth place at the first windward mark rounding.

Struntje light led around all marks to win from Plenty, with Edake (Jeff Carter, Australia), fast in the fresh breeze, third.

Edake, which finished sixth overall, won the Corinthian division, for boats with two professional sailors instead of four and restrictions on new sail purchases.

Winning owner/skipper Roepers, from New York Yacht Club, praised his crew: "Incredible is one word to describe them; cohesive, focused, disciplined, we have incredible camaraderie and talent."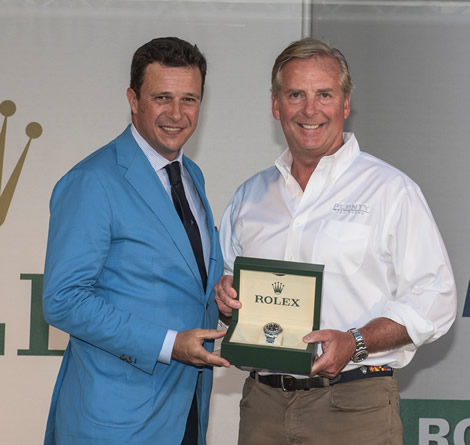 Plenty's crew was Terry Hutchinson (tactician), James Baxter, Greg Gendell, Mark Langford, Matt McDonough, Fletcher Sims, Morgan Trubovich, Emil Wester, and Jennifer Wulf.

Roepers conceded that Plenty had sailed conservatively on the last day: "We wanted to make sure we got off the start line clean. We had an opportunity to knock off Estate Master in the first race but that would have been risky, but we sailed well for third so we were up by two points.

"And in the last race, we had a clear strategy to start to leeward of Transfusion, we pinched them off, got them to tack first and then go off so that all worked out pretty well.

"The event was spectacular, Sydney spectacular, the yacht club hosted spectacularly and we couldn't be happier; this is a 'we like' regatta.

"The conditions were crazy on the first day to very tricky the second day, very challenging the third day to full on racing the fourth day."

Guido Belgiorno-Nettis reflected: "The last start was our downfall. We couldn't quite get the acceleration we needed and we ended up getting hammered by Plenty underneath us.

"We were getting a bit spat out the back, we tacked to go off and find another lane to the right but we timed it very badly got caught under a boat already on port they obscured a whole lot of starboard tackers, and we couldn't see them until the last minute.

"So we had a bit of an own goal, doing a penalty turn and being at the back of the whole fleet at that stage, but managed somehow to work our way back to fourth: pretty good but not good enough.

"Leaving that aside, think about the good stuff: We had a fabulous first race, led all the way worked hard, hopefully we were going to do the same in the second race but didn't have the start that we needed and got caught up in the back of the fleet and that's what happens, that's yacht racing."

Helmut Jahn (Flash Gordon) said: "We had not a good day and a good day. We were over in the first race by a hair, and because we had accelerated we couldn't get back quickly and we won the last race.

"It was a very good regatta; we ended up fourth we could have been second. It was a beautiful venue with different conditions. I am glad I'm here."
Back to top
Overall results
| | | | | | | | | | | | | | | | |
| --- | --- | --- | --- | --- | --- | --- | --- | --- | --- | --- | --- | --- | --- | --- | --- |
| Pos | Sail no | Yacht | Owner | R1 | R2 | R3 | R4 | R5 | R6 | R7 | R8 | R9 | R10 | R11 | Tot |
| 1 | USA 60059 | Plenty | Alex Roepers | 5 | 2 | 2 | 1 | 5 | 3 | 1 | 7 | 3 | 3 | 2 | 34 |
| 2 | AUS 6422 | Transfusion | Guido Belgiorno-Nettis | 3 | 4 | 7 | 2 | 3 | 1 | 3 | 8 | 2 | 1 | 4 | 38 |
| 3 | GER 40 | Struntje light | Wolfgang Schaefer | 8 | 1 | 4 | 11 | 2 | 5.2/RDG | 2 | 4 | 1 | 5 | 1 | 44.2 |
| 4 | USA 60002 | Flash Gordon 6 | Helmut and Evan Jahn | 1 | 7 | 5 | 3 | 1 | 2 | 4 | 5 | 5 | 10 | 6 | 49 |
| 5 | AUS 8883 | Kokomo | Lang Walker | 2 | 3 | 9 | 7 | 6 | 8 | 5 | 10 | 7 | 4 | 5 | 66 |
| 6 | AUS 007 | Edake (Corinthian) | Jeff Carter | 4 | 9 | 1 | 6 | 8 | 7 | 11 | 2 | 10 | 7 | 3 | 68 |
| 7 | AUS 615 | Estate Master | Martin Hill | 6 | 5 | 8 | 9 | 4 | 9 | 7 | 3 | 8 | 2 | 7 | 68 |
| 8 | AUS 5868 | Kindergarten | Rodney Jones | 7 | 8 | 6 | 4 | 11 | 5 | 6 | 1 | 6 | 8 | 8 | 70 |
| 9 | AUS 8001 | Forty | Stephen Barlow | 11 | 6 | 10 | 8 | 10 | 11 | 8 | 6 | 4 | 12 | 11 | 97 |
| 10 | AUS SM2008 | Double Black (Corinthian) | Robert Pitts | 12 | 10 | 3 | 5 | 7 | 6 | 10 | 12 | 12 | 9 | 12 | 98 |
| 11 | AUS 64221 | ZEN (Corinthian) | Gordon Ketelbey | 9 | 11 | 12 | 12 | 9 | 4 | 9 | 9 | 11 | 11 | 9 | 106 |
| 12 | AUS 8884 | Exile (Corinthian) | Rob Reynolds | 10 | 12 | 11 | 10 | 12 | 10 | 12 | 11 | 9 | 6 | 10 | 113 |
Back to top