Oman Sail returnee
Morgan Larson will head up Oman Air's campaign for the Extreme Sailing Series' first foiling GC32 championship in 2016 that kicks off in Muscat, Oman, from 16-19 March, with a new crew made up of familiar faces and fresh young talent.

For the 44-year-old American, one of the most experienced and accomplished skippers on the professional racing circuit, the appointment marks a welcome return to Oman Sail after he campaigned Oman Air to second place in 2012 behind Leigh McMillan's The Wave, Muscat before moving to the Swiss team Alinghi.

He has represented the USA in the Olympic 49er and 470 classes, been tactician with three America's Cup campaigns and won three World Championships (Farr 40 and 505) and 15 National Championships as well as claiming the Extreme 40 trophy in 2014 for the Swiss team.

Last year, Larson campaigned Alinghi's GC32 in the Bullitt GC32 Racing Tour, losing out to overall winners Sultanate of Oman by a single point. In 2016 he will use his expertise and experience to give Oman Air its best chance of landing a first Extreme Sailing Series trophy.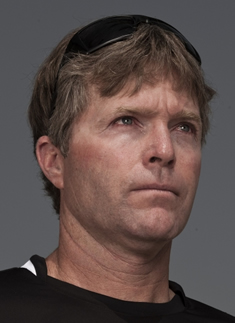 "I feel like I made good friends with the Omani guys and have stayed quite close so it is exciting to be back with Oman Air," he said. "We were pretty successful in the past though with these new GC32 foiling catamarans, we cannot rest on past performances.

"These boats require a lot more teamwork and a lot more muscle and stamina so if we are going to win, we are all going to have to be much fitter and work harder on our teamwork. We have all raced GC32s before but there is a lot of preparation to be done and there will still be a lot of learning as we go along.

"Even though the guys just won the 2015 Extreme Sailing Series, I don't believe we will have a head start because these foiling boats are so different but I have a lot of respect for the guys and feel it an honour to be working with them representing Oman Air."

Pete Greenhalgh, a member of Leigh McMillan's three time champion crew on The Wave, Muscat, will be boat captain while teammate Sarah Ayton, who became ISAF Rolex World Sailor of the Year in 2015, will take up the position of Oman Air coach. Omani bowman Nasser Al Mashari and Ed Smyth from Australia will return to action with newcomer James Wierzbowski, the 24 year-old Australian who has campaigned 49ers, Extreme 40s and GC32s.

"We are thrilled to be welcoming Morgan back because he brings so much to the campaign, both as a sailor and as a person," said Pete Greenhalgh, who is looking forward to taking delivery of Oman Air's brand new GC32.

"He has the full range of sailing skills - good at starting, good at racing and fast – and is really good with the crew, both the sailors and the shore guys. A really nice guy to have around. With Morgan involved, Oman Air start their 2016 campaign firmly on the front foot."

Oman Air CEO, Paul Gregorowitsch, added: "It is with great pleasure that we announce another Oman Air Extreme Sailing Series campaign in 2016 and with anticipation that we welcome Morgan Larson back to the helm. The Extreme Sailing Series presents us with superb opportunities to raise awareness of our Oman Air brand and the attractiveness of the Sultanate of Oman in key markets around the globe."

The full 2016 Extreme Sailing Series programme has yet to be announced, but the Sultanate of Oman looks forward to welcoming the world's leading Stadium Racing Series back to its capital city, Muscat.

"The world will be watching the first Act of the 2016 Extreme Sailing Series as the fleet will be flying above the water on the GC32 foiling boats for the first time.

"We are delighted to have the opening Act and to be able to welcome the international sailors to experience Oman, which is becoming renowned as one of the best sailing venues in the world. It will be a spectacle for the ever-growing global audience and the sailing fans of Oman," said Oman Sail CEO, David Graham.

The 2016 Oman Air campaign is also supported by Boeing and EFG Bank.
Back to top
Back to top