Done and dusted for Bella Mente
It's going to the wire at Quantum Key West 2016 with several classes to be determined on the final day of racing, Industry Partner Day. Organisers, the Storm Trysail Club, held three more races on all three courses today in solid 10-14 knot winds that started out of the northeast and slowly clocked around to the east, all per prediction.

The 10 classes on Divisions 1, 2 and 3 have now completed nine races. Division 1 and Division 3 courses intend to hold one start on Friday to finish a 10-race series. Division 2 managers have the option of running two races for the J/70, Melges 24 and C&C 30 classes. We will know tomorrow their decision based on the weather forecast of good wind conditions in the morning, but then dying later into the day.

No class is closer than IRC 1 where the TP52 entries Spookie and Quantum Racing are separated by just a half point. Skipper Doug DeVos steered Quantum to victory in all three races today and now has the low score of 16.5 points. Skipper Steve Benjamin and his crew on Spookie placed second in all three starts today and has 17 points.

The two designs are similar in being from Botin Partners and built to race in the TP52 class, but small differences mean they have slightly different IRC ratings - Quantum Racing owes Spookie about a minute over an hour-long race so match racing the rival is not an option. "We just have to get a good start and try to get away from them enough so that we can save our time," Quantum tactician Morgan Larson said. "It's tough because they kind of follow us around the course without making too many manoeuvres."

Benjamin, who held the lead after winning all three races yesterday, said some poor decisions on sails deprived Spookie from having better results. "It will be important that we make the right sail choices tomorrow," he said.

Quantum Racing is a multi-winner of the 52 Super Series while Benjamin is a relative newcomer to the class, having only purchased his boat last summer.

"I don't think we can finish worse than second so we're real happy with that. We feel like we've made a lot of progress with the boat," Benjamin said. "We're going up against the best team in the world and holding our own. It's an honor to be able to hang right with them."

The Melges 24 is another incredibly close class with skipper John Brown leading Blind Squirrel to a one-point lead over skipper Richard Thompson aboard Black Seal. Kevin Jewett is calling tactics on Blind Squirrel, which has won three races and placed second in four others in totaling 14 points.

"We just have to go out tomorrow and sail the way we have been," said Brown. "We've gotten good starts in just about all the races and our crew work has been superb. I've got a bunch of good sailors on the boat and Kevin has done a fantastic job with tactics."

Black Seal, which earned the Mount Gay Rum Boat of the Day honours yesterday, has posted five bullets in the series. Thompson, who lives in London, was not happy that Blind Squirrel was match racing Black Seal in today's final race. Blind Squirrel finished seventh out of 12 entries, while Black Seal was eighth. Both boats threw out that result, but it could be more of the same one-on-one tactical combat on Friday.

Helly Hansen skipper Tim Healy is hoping for two races on Friday since he stands second in J/70 class, 10 points behind Calvi Network. That is not insurmountable in a 54-boat fleet, although skipper Carlo Alberini and his crew on Calvi Network have not finished worse than sixth so far.

"Those guys are going really well so they would have to make a mistake," Healy said. "In a fleet this size, anything can happen. We were over early in the last race last year so you never know."

Healy and his Helly Hansen team found another gear today, winning two of three races with a runner-up result in the other. "We changed some things with our tuning and rig to account for the short chop and it really helped. The boat felt really good today and we were going well as far as boat speed," he said.

It's a similar scenario in the C&C 30 class as skipper Dan Cheresh and his Extreme2 team probably need two races to make up four points on Themis. Skipper Walt Thirion and the Themis team posted a strong score line of 2-1-2 to take the lead away from Extreme2.

"We have to get off the start line, catch that first wind shift then try to stay out front. We just have to sail our own race and see what happens," Cheresh said. "We won the first race today and thought we had good wheels, but we had got caught on the wrong side of some shifts in the other two races. This is a tough class, and if you get behind it's hard to fight back."

Teamwork and Orion, a pair of J/122s, have been battling all week and are just three points apart going into the 10th and final race. Skipper Robin Team has steered Teamwork to victory in six races, placing second in the other three. Skipper Paul Milo and Orion won the three races Teamwork did not and finished second in all the others.
"It's been a dogfight just like we expected. Every tack, every gybe, every mark rounding - we are within feet of Orion," said Team, a multi-time class winner in Key West. "We've gotten to know the guys on Orion and they're an awesome group to sail against."

Team credited his foredeck crew comprised of son Coleman and Matt Welborn for the two wins on Thursday. "We're making our gains on the downwind legs. We just seem to be able to carry the kite deeper into the leeward mark," he said.

Milo admitted it would be tough to make up three points in one race, although Teamwork could have some sort of breakdown. "That's an incredibly well-sailed boat and the fact we're chasing them around the course, and sometimes the other way around, is very encouraging. We've had a lot of fun competing against Teamwork this week," he said.

Skipper Mike Bruno and his crew on Wings hold a four-point lead over skipper Iris Vogel and the Deviation team in J/88 class, so it will come down to tomorrow's result to determine a winner.

Meanwhile, Wired increased her lead in ORC 2 class with skipper Henry DeGroot steering the J/80 to a 3-2-1 score line. Wired now has 15 points, six better than Mike Beasley's GP26 Rattle N Rum, so its not over yet in that class either.


In contrast, Hap Fauth and Bella Mente have already clinched victory in Maxi 72 class with three bullets today. Bella Mente is six points clear of Alex Schaerer's second placed Caol Ila R in the four-boat class.

"We had a really good day," said Fauth. "Our strategy has been the same all week - get good starts, get out front and let Bella do the rest. She's going really well. It's been a fabulous week and we are very thrilled to win such a competitive class. We're the oldest boat in the fleet and the other three made a lot of improvements since the World Championship. It's nice to know that our boat is still comparable in terms of speed."

It was the second straight Quantum Key West class victory for Bella Mente, which went on to win the class World Championship last year. The also won today's Industry Partner Boat of the Day Trophy.

"Winning Key West in 2016 is way more satisfying than winning in 2015 because of the closeness of the fleet. The scorecard doesn't reflect how close the racing was here this week," said tactician Terry Hutchinson. This was a really good test for the program and this result is a great benchmark for the boat and team."

Skipper Andrew Weiss and the crew of the Sydney 43 Christopher Dragon have built a comfortable 13-point lead over John Cooper's Mills 43 Cool Breeze in IRC 2. It's a similar story in the J/111s, where skipper Peter Wagner has sailed Skeleton Key to an insurmountable 14½ point lead over Rob Ruhlman's Spaceman Spiff.

Today brought champagne sailing conditions for the four boats in the Performance Cruising class, which is doing one distance race per day around government marks. Skipper Joseph Mele has steered his Swan 44 Triple Lindy to line honours in two straight races, but skipper John Streicker and his Defiant team have won all three races this week on corrected time. Principal race officer Bruce Bingman has created courses in the range of 20 miles with the fleet taking just over 2½ hours to finish.

"You only need one other good boat to race against and we have that in Defiant. It's been very competitive racing, very enjoyable sailing and we're having a wonderful time," said Mele, who like Streicker resides in New York City.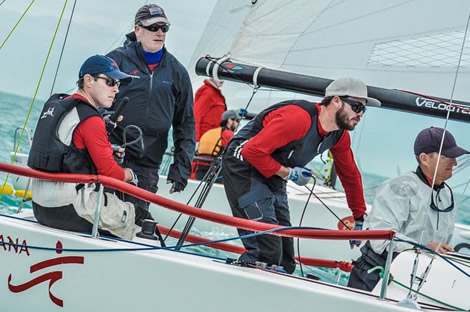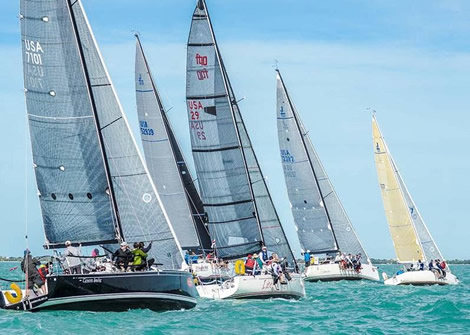 Back to top
Back to top