Bella Mente edges ahead
Unlike yesterday's howling wind, today started well at Quantum Key West Race Week.
During his morning weather briefing, former America's Cup Champion Ed Baird alerted the assembled sailors about the importance of Wednesday's racing: "More than likely, there's going to be three races today, That means the regatta is going to be more than halfway complete by the time you come off the water. Like I tell my kids with their junior regattas, this is moving day. This is when all the action happens. Some boats are going to fall off the cliff while others are going to climb up the standings."

Baird's words proved prophetic and many teams did indeed make a major move on Mount Gay Rum Day as multiple races were contested in perfect 15-18 knot northeasterly winds that held steady enough to provide the closest race action of the week.

On Division 1, it was Bella Mente in the Maxi 72s and the TP52 Spookie in IRC 1 that had an outstanding day on the water to take the lead in their respective classes. On Division 2, Extreme2 posted a string of superb results to take charge of the new and competitive C&C 30 class. On Division 3, the J/80 Wired showed it will be a factor in ORC 2. And on Division 4, the New York 40 Defiant won its second straight distance race to seize control of the Performance Cruising class.

"Today was important for a lot of people, and it was a perfect day of racing. When you've completed six of 10 races, you want to be in position to win the week," said Dan Cheresh, skipper of Extreme2. "We knew it was key to do well today and we're happy with our results."

Meanwhile, several boats that came out of the gate strong on Monday did well again on Wednesday to increase their advantage. Christopher Dragon (IRC 2), Skeleton Key (J/111) and Blind Squirrel (Melges 24) have all taken commanding leads.

Skipper Hap Fauth and his 20-man team on Bella Mente posted a score line of 1-1-2 to move past Alex Schaerer's day 1 leader Caol Ila R in the Maxi 72 class.

"We started the boat well and sailed consistently the entire day. We were well prepared for the conditions, had all the right sails. It was pretty much a mistake-free day," said Fauth.

Two-time Rolex Yachtsman of the Year Terry Hutchinson and America's Cup veteran Adrian Stead are serving as tactician and strategist, respectively, on Bella Mente.

"Tactically, Terry is on top of his game and working very well with Ado," Fauth said. "Our goal today was to start well and stay clean. We didn't want to get tangled up with the other boats like we did on Monday."


Skipper Steve Benjamin steered Spookie to victory in Race 4 and 5 in IRC 1 then took second in the third race of the day to overtake Doug DeVos' Quantum Racing. St Thomas native and former America's Cup champion Peter Holmberg is calling tactics for Benjamin.

"We made a bunch of changes based off Monday and I would say the changes we made were all for the positive," said Benjamin, crowned just last week as the 2015 Rolex Yachtsman of the Year.

Benjamin said the crew debrief on Monday focused on improving communication. Crew members also made a few adjustments to the rig tune, giving Benjamin more helm.

"We had much better communication between helmsman and tactician, between tactician and trimmer and so on," Benjamin said. "We're still learning how the boat feels and how it should feel. We learned a lot on Monday that we applied today."


Dan Cheresh steered Extreme2 to victory in Race 4 then added a pair of second places to ease into the lead in C&C 30 class, which has proven quite competitive with four different boats winning races so far.

"We had some trouble with crew mechanics on Monday. We talked about some things and our crew work was much better today," said Cheresh, who has Olympic medallist Morgan Reeser aboard as tactician. "We were fairly conservative on the starting line and just took what we could. We saw a lot of wind shifts and did a good job of staying in phase."

Wired is a J/80 owned by Henry DeGroot from Newton, MA, and is the slowest-rated boat in an ORC 2 class comprised primarily of sport boats (three Farr 280s, three GP 26s). However, DeGroot and his team have sailed quite well so far in winning three races and placing second in three others.

"I'll admit it's very helpful to have a favorable rating, but we are trying to sail the boat as well as it can possibly sailed and I think we are doing that," said DeGroot, who holds a seven point lead over Mike Beasley's GP 26 Rattle N Rum. "Our best finishes have been due to good starts. After the first couple legs, the other boats get away from us and it basically becomes a race against the clock. This is my third straight Key West with this team and we work very well together. We pretty much had an error-free day."

Christopher Dragon, the Sydney 43 owned by Andrew and Linda Weiss, has put forth a very impressive performance in IRC 2 - winning five of six races and placing second in the other. Legendary sailmaker Butch Ulmer is calling tactics for Andrew Weiss, who has Byren LaMotte as strategist.

"We worked the chinks out a bit on Monday and the team is starting to pull together. Our sets and takedowns were a lot cleaner today," said Ed Bahen, captain of Christopher Dragon. "Butch is putting us in the right places and we're executing our maneuvers."

Christopher Dragon has a low score of seven points, six ahead of Peter Krueger's J/125 Double Trouble. Bahen said third place Cool Breeze, the Mills 43 owned by John Cooper is also sailing well. Those three boats have raced in close quarters for much of the regatta, Bahen said.

Skipper Peter Wagner and his Skeleton Key have really stretched out the lead in J/111 class. Two bullets on Wednesday gave the San Francisco Bay area boat a total of five for the regatta and a comfortable 11-point lead over Spaceman Spiff.

"The Skeleton Key guys start well and are very consistent. They're also darn fast," said Rob Ruhlman, skipper of Spaceman Spiff. "If we're going to do something we need to do it tomorrow."

In an attempt to get the best bang for the buck value in races, Division 2 principal race officer Dave Brennan actually completed four races today, which was enough to trigger a discard in the scorelines for the Melges 24 and J/70 classes.

Italian skipper Carlo Alberini's Calvi Network posted a scoreline of 2-3-1-3 on to maintain the lead in the J/70s, the largest fleet in the regatta with 54 boats. Branko Brcin is calling tactics for the defending regatta champion, which now has a low score of eight points and leads the reigning J/70 World Champion, Mexico's Julian Fernandez Neckelmann on Flojito Y Cooperando by three points. Relative Obscurity and Tim Healy's Helly Hansen are still in the mix with 14 and 19 points, respectively.

"There are a lot of very good boats and very talented sailors in this field. We prefer strong wind so we are enjoying the racing here this year," Alberini said. "The game is far from finished. Tomorrow is a new day and we must keep our focus."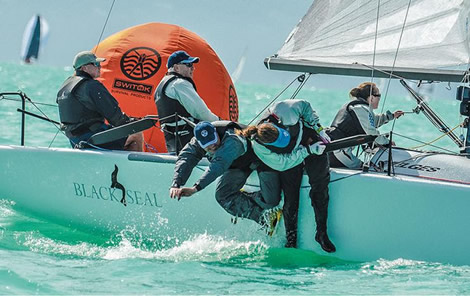 Factoring in the discard in points put British skipper Richard Thompson and the Black Seal team into first place of the 12-boat Melges 24 class. Jamie Lea and Nigel Young are tactician and strategist, respectively, who has won four races and leads Blind Squirrel by a point. Their impressive 1-1-1-3 scores for the day was enough to earn them the Mt Gay Rum Boat of the Day prize.

"I really must give credit to my tactician, Jamie Lea, for this prize. He made a lot of great calls today," Thompson said. "Our crew work as a whole was fantastic. Blind Squirrel sailed very well today, but we were just a little better."

Lying in fifth place in the Melges class is Thomas Ritter's Tramp, who also had a day good enough to earn them the Corinthian Boat of the Day award.

The ORC 1 class is close, where J/122 sisterships Paul Milo's Orion and Robin Team's Teamwork are battling every race and are only two points apart. Four boats are still very much in contention, with Ben Hall's modified Evelyn 32 Bluto in third place and Peter Sulick's SkyFall in fourth place in the hunt, totaling 19 and 26 points.

Skipper Mike Bruno and the crew of Wings stayed on top of the J/88 class by closing with consecutive second place finishes on Wednesday. Rob Fear is tactician on Wings, which leads Deviation by three points.

"It has been really close sailing. Wings sails very consistently and very fast, which keeps us on our toes," said Deviation skipper Iris Vogel, who sandwiched a pair of bullets around a seventh on Wednesday. "We had one bad race today and we cannot afford to do that. We need to be more consistent."

The Performance Cruising class is a new addition to Quantum Key West 2016 and principal race officer Bruce Bingman has the four entries doing distance races around government marks. Defiant, a New York 40 owned by John Streicker of New York, has won both races.

"It's a matter of teamwork. We have 10 people on the boat that have all sailed together before and we know each other's strengths and weaknesses," Streicker said.

Triple Lindy, a Swan 44 owned by Dr. Joseph Mele of New York, captured line honors on Wednesday with Defiant not far behind and easily saving its time on ORC handicap.

"We sailed pretty close to our course the whole way," Streicker said. "The only deviations were to go around crab pots. It's like a mine field out there at times."

Racing resumes tomorrow at 11:30 AM, with another three races expected in another day of similar breeze.
Back to top
Back to top