Honours for Convexity
Convexity, the M32 skippered by Chicago-based Don Wilson won the first event of the M32 Series Bermuda this weekend sailing on the Great Sound, the same race course as will be used for the 35th America's Cup in 2017.

Convexity won the event just one point ahead of The Magenta Project team skippered by Sally Barkow including crew-members from the former Volvo Ocean Race team, Team SCA, and fellow Rolex Yachtswoman of the Year, Stephanie Roble.

After the scheduled practice day on Friday was cancelled due to high winds, the five teams competing in the first event of the Bermuda Series were given little time to prepare for a gruelling eight races on Saturday as the breeze held at 20 knots with gusts over 25 knots.

Barkow and her crew were quick out of the blocks winning the first two races before Convexity clinched the third. By the fifth race, it was the turn of Volvo Ocean Race skipper Charlie Enright and his 55 South 11th Hour Racing team to find their form taking three bullets in races 6-8 and giving them third overall on Day 1.

Joining the fleet for Day 2 as the breeze settled to an ideal 12-14 knots over the turquoise waters of the Great Sound were Finnish skipper Olli-Pekka Lumijarvi sailing a chartered M32, and the colourfully branded Cape Crow Vikings with M32 linchpin, Swede Håkan Svensson at the helm.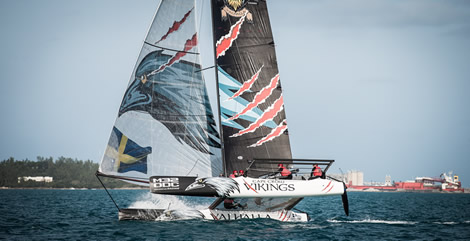 Once again, The Magenta Project and Convexity were the ones to beat as each team tussled for the lead over the seven races, Convexity taking four bullets in races 1,4,6 and 7. As the points from both days accumulated to give the final result, Convexity's steady performance placed them ahead by just one point for the overall win of the first event.

"It was a ton of fun and the team did a great job getting us around the course!" said Wilson.

The series returns to Bermuda next month from 19-21 Feb with a third event from 11-13 March and a final event 15-17 April.

Joining the Bermuda fleet in February will be Team GAC Pindar skippered by British five-time Match Racing World Champion Ian Williams.
Results:
| | | | | | |
| --- | --- | --- | --- | --- | --- |
| Pos | Team Name | Skipper | Day 1 | Day 2 | Tot |
| 1 | Convexity | Don Wilson | 16 | 11 | 27 |
| 2 | The Magenta Project | Sally Barkow | 16 | 12 | 28 |
| 3 | 11th-hour Racing | Charlie Enright | 31 | 21 | 52 |
| 4 | Jarvinen & Lumijarvi Sailing Team | Jarvinen & Lumijarvi | 38 | 28 | 66 |
| 5 | Valhalla | Hakan Svensson | 48 | 34 | 82 |
Back to top
Back to top