First new Bribon in seven years
H.M. King Juan Carlos of Spain was in Sanxenxo where he took his first sail on board José Cusi's 'new' Bribon, a classic 6mR class boat, acquired approximately a month ago in Loviissa, Finland.

Bribon and her sistership Acacia have been docked in Sanxenxo since Tuesday, and the King arrived at the Royal Club Náutico on Saturday at around midday, where his fellow crew mates Pedro Campos, Alberto Viejo, Roi Álvarez, and Luis Saenz among others were awaiting him.

Formerly known as Ian, the monarch's new boat is a 6mR, which became popular between the 1920s and 1940s, and was even an Olympic class until the Helsinki Olympic Games in 1952. Roughly 500 6mR have been built over the years of which around 100 are still raced, maintained respecting their original design.

Mauricio Sánchez-Bella, the owner of Acacia, the twin of the new Bribon, is the boat which His Majesty King Juan Carlos competed on in Sanxenxo last month following a seven-year absence from yacht racing. Along with José Cusí and Pedro Campos, he was one of the people to have travelled with the monarch to Finland, and explains why their chose to acquire Ian.

"We were looking for a boat which was as close as possible to Acacia. Both mine and the new Bribon are by the same designer, built in the same year and at the same boatyard," explains Sánchez-Bella. "She is an absolute gem. Fully varnished, well-maintained and reconstructed with utmost fidelity, she has a modern and really competitive sailing rig and steering system. Everyone's reaction on seeing the boat was very positive. It was in impeccable condition, and the kind that you don't often find up for sail, so was a very attractive option."
These boats are not only highly competitive, but also hold great historical significance, he continues: "There are people who believe that this boat is a recreational craft, and it isn't the case. It is extremely competitive. He (H.M) is a tremendous fan of regattas, and boats of this kind offer the perfect combination of competitiveness, and the conservation of cultural heritage. It was this possibility of being able to maintain the competitive aspect whilst safeguarding a sailing masterpiece, which was what most attracted King Juan Carlos."

Sanxenxo on Saturday was also special because it was the first time the two sisterships had been reunited in 86 years.

"After more than 80 years, to find two equal boats reunited, each which has lived a completely different life, is quite unique," pointed out Sánchez-Bella.

In the world of classic sailing, the reunion of the two boats has created a great deal of interest. "People have written to us and called from many countries, asking to see photos of the boats together, because it really is quite a big event within the 6mR sailing world."
Both boats were designed by Gustaf Estlander, one of the most successful naval architects in the 20th century. The Allende family from Bilbao, who for generations were strongly involved in the world of sailing, commissioned the construction of Acacia, and Estlander, "drew up plans for them both with the idea of keeping Ian, yet he passed away the following year, and never got to sail it."

Following their construction in Gothenburg in 1929 at the Swedish boatyard Abrahamsson & Son, the two boats went their separate ways: one came straight to Spain, and the other stayed in northern Europe.

To date, the former Ian has had approximately five owners, the same number as her twin Acacia.

Its last owner was Finnish businessman Michael Cedercreutz, who owned Ian for 11 years. "In the last three years he no longer sailed, and put the boat up for sale for personal reasons. Yet when he sold it, it was with tears in his eyes, it was very emotional," describes Sánchez-Bella.

It is the emotional component, which quite probably differentiates a classic boat from others. And in this respect the parallel between the two twins continues: "The Cuyàs family was the owner of Acacia for longer. They thought that this one had sunk, but then they discovered online that it had been refitted, they called us and came to Vigo to see it, because it was the boat they had sailed on as children with their father. They were really excited."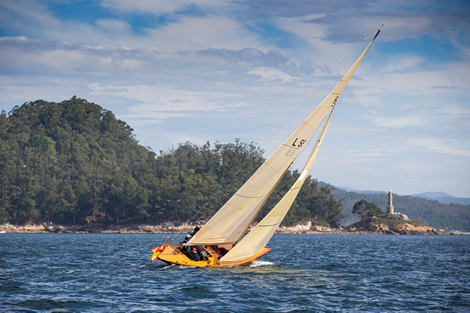 Back to top
Back to top