Southworth finally claims J/24 World title
Ian Southworth and his crew kept their cool and sailed home an amazing start-to-finish win in the final race of the J/24 Worlds in Boltenhagen, Germany. Mike Ingham, who was very close, finally had to let the prestigious trophy go to Southworth and his crew from the Solent.
As on Thursday, racing was started with a Black Flag after Principal Race Officer Klaus Lahme called a general recall. Southworth, who had already suffered a Black flag disqualification on Thursday, opted for a conservative start, as he couldn´t afford to let opponent Mike Ingham get away or – or even worse – let himself get pushed over the line.
Chris McLaughlin, who sails on board Southworth's Il Riccio, said: "Our worst fear was to have a Black flag start again, but were relieved to get a good start and to find ourselves first at the windward mark through some very difficult shifts arriving."
Southworth and his crew have been sailing Il Riccio for five years now. "It has been the longest quick campaign of our lives", continued McLaughlin. "We used to race J/24 in the 1980s and in the early 1990s quite successfully, so in 2005 we thought we could just step on the boat and win the J/24 World Championship in Weymouth". The crew finished eighth – "that was very hard" - and since then has constantly been working on speed, performance and sailing skills. "We have virtually rebuilt Il Riccio from the keel to the mast top", said McLaughlin. At some World Championships like in Howth, Ireland, and in Cannigione, Italy, the crew came very close to winning , but narrowly lost in the end.
"The thing we have learnt is that if you are not enjoying yourselves, you will never succeed", said McLaughlin. "We have a team that is very close to each other, who has fun along the way, no matter if we win or lose. There were times in the middle of this week when I became very nervous and tense, and the rest of them laughed my out of it and made me have a glass of wine, and I felt a lot better the next day."
Tactician on Il Riccio is legendary David Howlett, currently Head Coach of the German Olympic team. McLaughlin continued: "I have known David since I was 18 years and it has been fantastic to sail with a friend who is also such an incredible coach. David is a very special person, and also very demanding. We have not been drinking this week, we have not been partying, and we have eaten a lot of cake and tea in the afternoon because David has high standards. I think if the German Olympic team has the same experience as we have had, I think they should be winning some medals in Rio."
But, according to McLaughlin, the most important part of the team is bow woman Julia Scott. Julia is a former 470 and Yngling Olympian. "Despite obeing a brilliant sailor, Julia makes sure that everyone is nice to each other. She is the boss! And she is incredibly tough. When we sailed the worlds in Weymouth in 2010, Julia had just given birth to her first kid one week before. I think there haven´t been many J/24 who have measured in a breast pump at an international competition!"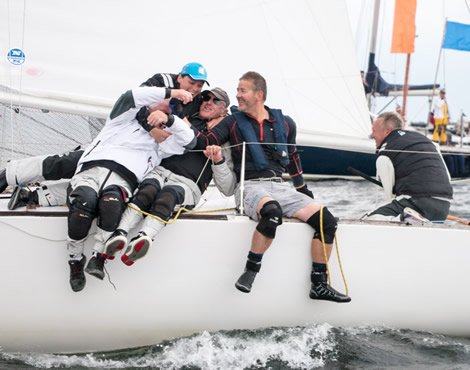 Mike Ingham from Rochester, USA, who was sailing with the 2014 J/24 World Champion, Will Welles, as a tactician, couldn´t cover Southworth's boat in the last race and finished eighth. With 26 points difference, he and his crew finished runners-up at these J/24 Worlds. Travis Odenbach, who finished third overal, also comes from Rochester, USA.
Competition was tight for the title of the best female crew. In the end, Stefanie Köpcke and her Vega Ragazza team won, closely followed by Ragna Thönnessen and her crew on Juelssand, with just one point separating them. Vega Ragazza sailed a very good series this year, crowned German Champions 2015.
Best German boat was Team Tinto from Hamburg, helmed by Till Pomarius. Tinto, with a mixed crew with an average age of less than 25, took the honours from older and more experienced crews such as Teams Rotoman and Süllberg. "Our next goal are the 2016 Worlds in Japan", said genoa trimmer, Bele Schuett.
Tonight, the Worlds end with a closing ceremony in Boltenhagen Marina. After a week with exciting racing and good fun, time has come for the crews to face workaday life again – or, as Chris McLaughlin said: "I will put my tie and suit on, I will get my hair cut at lunch time and go back to pretending to be an executive."
Back to top
Back to top