Sultanate of Oman's day in the sun
Alinghi has won the Bullitt GC32 Sailing Cup Kiel after a light airs finish to the regatta in northern Germany. Morgan Larson and the Swiss team were always going to be hard to beat after a freaky Friday when they took six wins from eight races.
Spindrift racing was top boat of Saturday, but today Sultanate of Oman finally found some better form to win the day with scores of 3,2,1. Team ENGIE also had a great day with 1,4,2 to leapfrog ARMIN STROM Sailing Team in the overall standings and finish 4th overall.
Alinghi was the stand-out performer in front of the big spectator crowds lining the Kieler Fjord, but Larson wasn't taking anything for granted. "I haven't forgotten about that practice race on Thursday where we capsized and almost broke the boat on the rocks and somehow escaped it all. I'd say about half way through that capsize, I said a very bad word, and that was because I knew about all the work that went into getting here, and that we probably weren't going to be in the race. We're lucky even to have been racing here. To win is a massive bonus."
Spindrift racing's performance was good enough for Yann Guichard to hold on to second overall, six points clear of Sultanate of Oman. With a curtailed schedule due to the lack of stable breeze, McMillan knew he only had an outside chance of beating Spindrift. "Today we just wanted to finish on a higher note. Yesterday we were pretty dominant on the starts but not able to get it round the course as well. Today we had some good starts and managed to convert it into some good races. We're just starting to figure it out as a new team and getting the communications right. It was a shame it was the last day really."
Yann Guichard was pleased with his team's showing in Kiel. "The conditions were unstable on the race course today, both in terms of strength and direction, which made the sailing complicated for all the teams. Congratulations to Alinghi who showed impressive consistency during all the event. I'm happy with our result and the team's work since we made progress everyday."
Team ENGIE was looking much happier in the light breeze after a Saturday of difficult foiling conditions. "It was good for team morale to win another race today, and move a place up the scores," said skipper Seb Rogues. "I think the team have a good feel for the boat in these conditions." Former America's Cup helmsman Seb Col was sailing on Team ENGIE and said the slower pace suited their style while Rogues learns about short-course racing. "He comes from offshore, long distance sailing, and so we prefer it when there is longer decision time rather than having to react quickly. Skippers like Morgan and Leigh have done so much short-course racing, it is hard for Seb to match them at this stage in his career."
While Sultanate of Oman remains in the overall lead of the Bullitt GC32 Racing Tour after three events, the team's lead has been cut to just a point, with Alinghi breathing down McMillan's neck. So far the three events have yielded three different winners. Winner of Cowes a few weeks ago, ARMIN STROM Sailing Team had a difficult day on the water today, but the team's skipper and GC32 Class President, Flavio Marazzi, still appreciated the crowds who cheered on the crews. "It has been really good to be racing in front of such large crowds here. It's quite amazing to see so many spectators who enjoy watching the sailing, so why not come back to Kiel!"
The next event on the Bullitt GC32 Racing Tour starts in Rome, on 27 August.
Results:
| | | | | | |
| --- | --- | --- | --- | --- | --- |
| Pos | Team | R15 | R16 | R17 | Tot |
| 1 | Alinghi | 4 | 1 | 3 | 32 |
| 2 | Spindrift racing | 2 | 5 | 4 | 46 |
| 3 | Sultanate of Oman | 3 | 2 | 1 | 52 |
| 4 | Team ENGIE | 1 | 4 | 2 | 62 |
| 5 | ARMIN STROM Sailing Team | 5 | 3 | 5 | 65 |
2015 Bullitt GC32 Racing Tour results after three events
1 Sultanate of Oman - 6
2 Alinghi - 7
3 Spindrift racing - 10
4 ARMIN STROM Sailing Team- 11
5 Team ENGIE - 12
6 Team Argo 32 - 17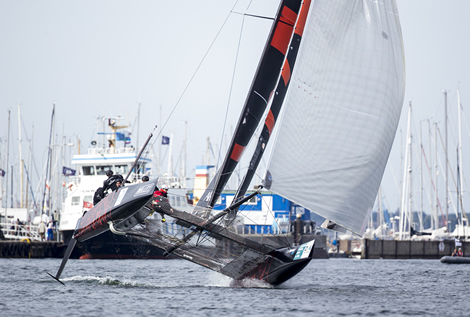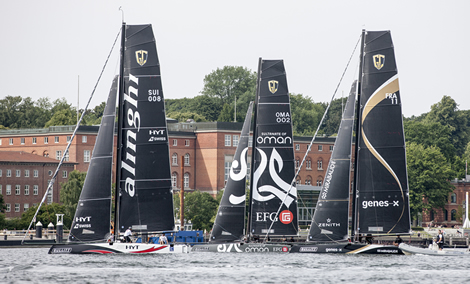 Back to top
Back to top