Provezza's day in the sun
Race wins have been somehwat elusive for Ergin Imre's team on the 52 Super Series circuit this season. The crew which has British Olympian Andy Beadsworth on the helm, American Tony Rey calling tactics and ace Palma-based Nacho Postigo pushing the buttons on the navigator's computer, had proven their potential in Valencia and Porto Cervo.
To dates their best scores have been two second places in the season's curtain raiser in Spain's America's Cup city and their fourth overall in Sardinia contained a second in the 31 miles coastal race and a couple of thirds.
But the Provezza team composed two back to back wins today on the Bay of Palma at the TP52 World Championships Peurto Portals, elevating themselves to second overall and chasing hard behind the championship leaders Azzurra which posted a second and third to sit five points clear at the top.
The recipe for Provezza's success in the first race was the Bay of Palma staple. Win the pin, go fast to the left and enjoy a progressive lift on port tack. But although that worked out well for them so too the right paid and they came to the top mark bow to bow with Phoenix and Ran Racing which had worked hard right.
Second time was not even as straightforward as that, but Provezza escaped a scrabble of boats at the top mark first time up to lead away downwind. On the second upwind they built their cushion, keeping the tussle between Azzurra and Bronenosec in their rear view mirrors. But in the end both wins were conclusive. According to tactician Rey their success today is down to small incremental improvements and going the right way. But no other boat this season has won two races on the same day. Azzurra and Bronenosec have won successive races, but on different days, while Provezza carved themselves out a memorable red letter day, Rey later admitting that he got the crew together for a quick photo with the fleet behind them at the second finish line:
"This is the most competitive fleet in the world and I just said let's get a picture because I never quite know when I will win a race again, so let's enjoy the moment."
Meanwhile Azzurra has stayed on message, consistency ahead of brilliance. Guillermo Parada and the Yacht Club Costa Smeralda team have started well and sailed cleanly and realtively conservatively once they have gotten themselves well position on the first beat.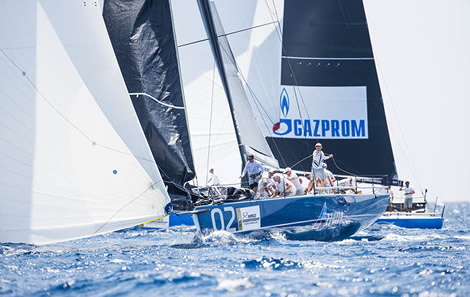 As tactician Vasco Vascotto noted, so far different teams have had their day. He is happy to keep scoring solid results: "We are pleased with how we are sailing right now. We are happy about our consistency. That is the important point. It is all good for the classification of the world championships and it is very important for us. We did two very good starts and that makes it a little easier to manage the situation. When you are in the pack you have to choose and split. We hope that we continue that it continues like that.
"I feel we are sailing with not too much pressure on ourselves. We know there are plenty of baots can win but when you are eighth or ninth you are just looking to get seventh or eighth. You are not trying to win 20 points straight away. That is one thing we are doing quite well right now."
After the up day on Tuesday when they came ashore regatta leaders, it was a down day for Platoon who finished a distant 12th in the second race to drop to fourth overall, while Sled, which had been second after Day 1 went 12,7 to drop to seventh. Quantum Racing, the reigning World Champion, slid from seventh overall to ninth.
Rey is hoping the Provezza team can hold on to their winning ways: "It was a spectacular day for us. You know it is a funny old sport. It is all about small increments and a few things fell our way today and obviously when you have a day like today, you want to bottle it, write it all down and remember it and do it all again tomorrow. That is what we hope is going to happen, but hey this is the toughest fleet in the world, we are just happy to give Ergin the wins today and looking forwards to doing it all again tomorrow."
Results:

1. AZZURRA ITA (A & P Roemmers ARG) 2, 7, 2, 3, 14pts
2. PROVEZZA TUR (Ergin Imre TUR) 11, 6, 1, 1, 19pts
3. RÁN SWE (Niklas Zennstrom SWE) 5, 4, 5, 6, 20pts
4. PLATOON GER (Harm Muller Spreer GER) 1, 5, 6, 12, 24pts
5. BRONENOSEC RUS (Vladimir Liubomirov RUS) 9, 3, 10, 2, 24pts
6. PHOENIX BRA (Eduardo de Souza Ramos BRA 4, 12, 4, 4, 24pts
7. SLED USA (Takashi Okura USA) 6, 1, 12, 7, 26pts
8. ALEGRE GBR (Andy Soriano GBR) 7, 2, 7, 10, 26pts
9. QUANTUM RACING USA (Doug DeVos USA), 3, 11, 3, 9, 26pts
10. XIO ITA (Marco Serafini ITA) 8, 8, 8, 11, 35pts
11. GLADIATOR GBR (Tony Langley GBR) 13, 10, 9, 5, 37pts
12. PAPREC FRA (Jean-Luc Petithuguenin FRA) 10 9 11 8, 38pts
Back to top
Back to top