Laurent Giles classic claims Gold Roman Bowl
Of the 1,584 starters, the 2015 J.P. Morgan Asset Management Round the Island Race, organised by the Island Sailing Club, was won by Giovanni Belgrano and his 38ft 1939 Laurent Giles design, Whooper and is this year's recipients of the race's main prize.
It's the second time Belgrano has won the race's most prestigious prize, the Gold Roman Bowl, having also been victorious in 2004. Second, just two minutes adrift on corrected time, was another previous overall winner, Ed Donald's Nordic Folkboat Madelaine. Third overall went to Jo Richards' H-Boat Woof.
Sir Keith Mills' brand new Ker 40+ Invictus was winner of IRC Group 0, less than a minute ahead of Tony Langley's TP52 Gladiator with Steward Whitehead and Jeff Blue's Carkeek 40 Mk2 Rebellion third.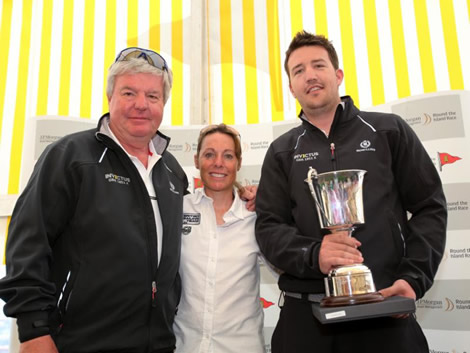 JPKs cleaned up in IRC Group 1 and Group 2 with Arnaud Delemare and Eric Mordret's JPK 1080 Dream Pearls claiming Group 1 and David Franks' JPK 1010 Strait Dealer winning Group 2 on corrected time.
The annual Prizegiving event, superbly managed by the team at the Club, was introduced by the ISC Commodore Mark Wynter and then, after an introduction to the special guest, Paralympic sailing Gold medallist Helena Lucas MBE, the team moved briskly through the presentation of trophies and salvers plus Race Partner prizes, with Sailing Secretary Chris Thomas co-ordinating proceedings on-stage with the Rear Commodore Sailing and Race PRO Mike Peskett.
Dave Atkinson, speaking on behalf of the ISC Race Management Team, commented that yesterday's race provided a classic Round the Island Race day for the ISC's Race Management team including around 120 volunteers and the 15,000+ sailors taking part.

"We were blessed with great weather and good winds. Whilst there were a number of racing incidents, these are not uncommon when you have this number of people out on the water. However, given the co-operation of all the agencies that work alongside us, everything was handled with the utmost professionalism and skill and also dealt with quickly throughout the day."

The ISC is delighted that every one of the 1389 boats that finished were across the line before the scheduled 2200 cut off in order to qualify for a result. From the initial 1584 entries, there were 104 retirements and 11 OCS/DSQ.
Next year's J.P. Morgan Asset Management Round the Island Race will take place on Saturday July 2, 2016.
Top prizes

OBSERVER TROPHY & JPMAM TROPHY - First Monohull to finish
GBR1R LEOPARD Mike Slade

GOLD ROMAN BOWL & JPMAM SALVER - First Overall IRC
GBR363R WHOOPER Giovanni Belgrano

SILVER ROMAN BOWL & JPMAM SALVER - Second Overall IRC
FGBR707 MADELAINE Ed Donald

ROYAL THAMES CHALLENGE TROPHY & JPMAM SALVER - Third O/A IRC
K9 WOOF Jo Richards

ROYAL LONDON CHALLENGE CUP & JPMAM SALVER - Fourth O/A IRC
GBR504R MANDARIN Paul Dunstan

JPMORGAN TROPHY - First Overall IRC Group 0
GBR1851X INVICTUS Sir Keith Mills
Back to top
Back to top