Velsheda steps up
Appropriately it was the yacht with the longest and most storied history, Velsheda, which today won the J Class Falmouth Regatta's premier trophy of the week, the Kings Hundred Guineas Cup contested today over a 17 miles round-the-buoys passage around Falmouth Bay.
Raced in a light, shifty southerly breeze on a course which offered a fair share of upwind, downwind and reaching, Velsheda got their bow in front of Ranger on the first 3.4 miles windward leg and was able to stay ahead at each of the subsequent turns. While Ranger held a steady second all the way around the course, never quite able to get close enough to Velsheda once the course became more of a boat speed test rather than offering tactical options, Tuesday's winners Lionheart were unfortunately never able to come back from jumping the start gun and having to recross. They compounded their disappointment when they bore away into a big hole in the breeze at the third mark and thereafter were never able to make any real impression on the race.
While Velsheda win the Hundred Guineas Cup, after two races all three boats - LIonheart, Ranger and Velsheda - are tied on the same 4 points aggregate. Ranger led off the start line and passed one and half boatlengths ahead at the first cross. But the Velsheda brains trust of Tom Dodson, Hamish Pepper and Mike Broughton chose to stay further right where they found a favourable right shift which brought them in to the first windward mark on a solid layline with a couple of boat lengths advantage over Ranger.
On the ensuing reach to Mark 3 Ranger flew a staysail and gained a boat length and the two gybe set back into the best breeze together. It was really only on the penultimate leg that Velsheda managed to extend, finishing 2 mins 27 second ahead of the white hulled Ranger.
The big spectator fleet on the water were treated to close racing through the two hours or so of racing, but the Race Officers set a course which was also good for the large number of watchers which lined beaches and headlands, turning within half a mile of Gyllyngvase beach and finishing again by Pendennis Castle.
Velsheda's Kiwi tactician Tom Dodson said wryly: "It was a bit of a spectator-orientated course. You don't mind that when you are in front and have a bit of a procession behind. There were still some passing lanes. But we don't want to give Lionheart too much sympathy after yesterday because their boat is going fast. And it is a lovely place to win."
Told that they had won the 'big cup', Dodson confirmed: "We treat each race as one race at a time, each as it comes but it is nice to win the big one. We have won a few overalls at regattas and Corinthians, but it's nice to win this one. It has been a little while between drinks and the crew have done a good job on the boat over the winter. Our crew we have now are good and that was a busy old day on the water. Sometimes the windward leewards are a bit easier than that. You are never quite sure what the wind is going to do on the next leg. It was pretty shifty with a big shift half way through. Ranger were always looking to get some leverage to get past us and mostly we were just looking to make the best speed to the next mark. I think we did a good job on each mark crew wise and helming.
"Yesterday we thought we sailed well and got not such a great result. Today we sailed well and got the win. Probably the key was calling the gybe set at the top mark. If we had got that wrong it would have been a game changer, but we got the first beat. We crossed right at the right time and got us a nice shift which got us ahead of Ranger, but the boat is going well. The crew work slick, I think we out manoeuvred Ranger. The boat is still not going so well in the light but when you have the pressure and have the boat rumbling then it is going well."
Lionheart's Guy Salter was objective about what was a disappointing result for Lionheart which won three of last year's four regattas: "We had a bad start and put ourselves under a little too much pressure early on. The writing was on the wall from there. We were playing catch up. It was processional thereafter. The big loss was at mark 2. The other two boats went for the gybe set and we wanted to something a bit different. We were aware that there was a bit less pressure but when we called the bear away set there was a nice little puff coming out the Helford River and we were not too different from the other boats but then it really went super bad. If we had been there 25 or 30 minutes later when the breeze had filled we would have been fine. But we struggled to get out of there. That was the race. On days like this when there are holes and shifts, the breeze was going through 60 to 70 degrees and so you never give up. It was all good fun."
Results, Kings Hundred Guineas Cup (corrected time)
1 Velsheda 1hr 55m 5 s
2 Ranger 1hr 57m 41s
3 Lionheart 2hrs 2m 56s
Overall after two races
1 Velsheda 4pts (3,1)
2 Lionheart 4pts (1,3)
3 Ranger 4pts (2,2)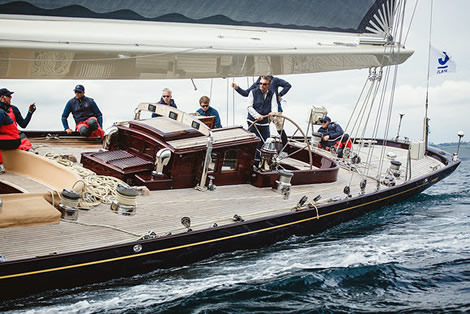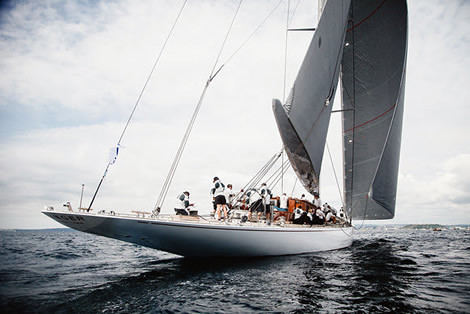 Back to top
Back to top