The first shall be last....
Conditions off Sardinia's Costa Smeralda were the most consistent yet at the Audi RC44 Porto Cervo Cup. The 7-10 knot NNEerly allowed the race committee on this, the event's penultimate day, to hold four races, compensating for windless Thursday's loss to the schedule.
Despite the best conditions yet, the day was a high scoring one with consistency noticeably absent from the performance of even several experienced teams.
Hugues Lepic's Aleph Racing was last in today's second race when she was penalised and had to carry out a penalty turn for preventing Artemis Racing from crossing the finish line, but went on to win the next race.
Similarly, yesterday's star performer, Vladimir Liubomirov's Bronenosec Sailing Team, had a disappointing day posting a 10th and 12th, causing this morning's overall leader to plummet to 7th overall. But the biggest 'hero to zero to hero' was Team Nika, which won the first race, came last in the third and won the fourth.
"I have mixed feelings – ups and downs," said Team Nika owner Vladimir Prosikhin, after he and his crew had finishing mutually dowsing each other in champagne. The last place in today's third race occurred because, as they attempted to roll Peninsula Petroleum while rounding the top mark, they failed to keep clear causing John Bassadone's RC44 to touch their genniker. As a result Team Nika was penalised and had to carry out a penalty turn.
"If I hadn't touched Peninsula I would be second, so that is quite painful," continued Prosikhin, otherwise elated from today's two wins. Instead, the penalty turn cost them five places and they ended the day sixth overall.
"I think we'll definitely get a prize for being most inconsistent," said Team Nika's tactician, America's Cup skipper Dean Barker.
The fourth win today went to Katusha, on which new co-owner Alexander Novoselov is racing his first RC44 regatta. "It was a great day and for me it was a complete surprise," admitted the Geneva-based Russian, who has previously raced Melges 20s. "I put 99% of the victory down to the team, who are nice and professional. I was proud of us. It is very exciting, not easy, but really enjoyable."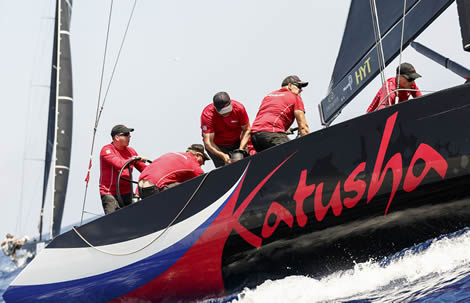 Katusha's American tactician Andy Horton said of Novoselov: "I'm SO proud of him! This is his first RC44 regatta and normally we might be fourth or fifth up the first beat and then lose places, but instead we were fighting and going forwards. It was a great, great day - it's good to be back!" The race they won came from sailing to the generally slightly windier left side of the course and then finding themselves able to cross once they tacked.
Back at the top of the leaderboard are the familiar teams from 2014 – Team Aqua and Peninsula Petroleum, both of whom scored 20 points today, as did third placed Aleph Racing. However Team Aqua now leads by five points.
"Today was good and bad, but generally a step in the right direction to where we think we should be sailing," said Peninsula Petroleum owner John Bassadone, whose team posted a 2-2-7-9 today. "It was very tricky and tough, and quite shifty and in the last race we changed to the no2 headsail and the wind dropped and we didn't change back. But we are very happy, although there are six boats within five points of each other which shows the high standard."
The day had its share of drama. In today's first race, Nico Poons' Charisma managed to hook the starboard leeward gate mark. "We were a boat width off it and all of a sudden the mark sucked in towards us - a huge loop in the anchor warp had got caught around our bulb. We couldn't get it off by backing down and it damaged the trim tab, so we eventually had to cut the loop to get away."
Tomorrow is the final day of fleet racing at the Audi RC44 Porto Cervo Cup and, astonishingly, any of the top nine boats is still in with a chance of winning.
Results
| | | | | | | | | | |
| --- | --- | --- | --- | --- | --- | --- | --- | --- | --- |
| Pos | Boat (Sail no) | R1 | R2 | R3 | R4 | R5 | R6 | R7 | Tot |
| 1 | Team Aqua (GBR 2041) | 1 | 3 | 6 | 7 | 6 | 2 | 5 | 30 |
| 2 | Peninsula Petroleum Sailing Team (GBR 1) | 4 | 7 | 4 | 2 | 2 | 7 | 9 | 35 |
| 3 | Aleph Racing (FRA 17) | 9 | 6 | 2 | 4 | 12 | 1 | 3 | 37 |
| 4 | Artemis Racing (SWE44) | 3 | 10 | 3 | 6 | 11 | 3 | 2 | 38 |
| 5 | TEAM CEEREF (SLO 11) | 2 | 5 | 11 | 3 | 5 | 4 | 8 | 38 |
| 6 | Team Nika (RUS 10) | 8 | 1 | 9 | 1 | 7 | 12 | 1 | 39 |
| 7 | Bronenosec Sailing Team (RUS 18) | 6 | 2 | 1 | 10 | 4 | 5 | 12 | 40 |
| 8 | Charisma (MON 69) | 5 | 4 | 7 | 12 | 3 | 9 | 4 | 44 |
| 9 | Katusha (RUS 21) | 7 | 8 | 10 | 5 | 1 | 6 | 10 | 47 |
| 10 | Artemis Racing Youth (SWE 4) | 11 | 9 | 8 | 9 | 10 | 8 | 6 | 61 |
| 11 | MAG Racing (POL 44) | 10 | 11 | 5 | 11 | 9 | 10 | 11 | 67 |
| 12 | RUS - 7 Anywayanyday (RUS 7) | 12 | 12 | 12 | 8 | 8 | 11 | 7 | 70 |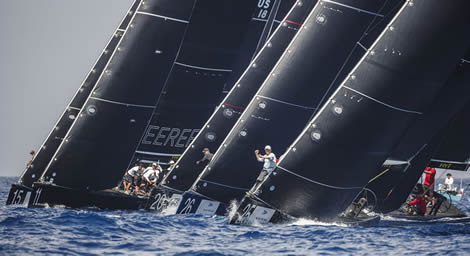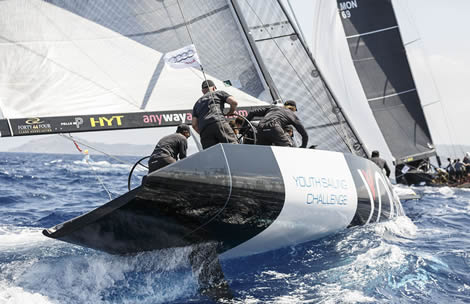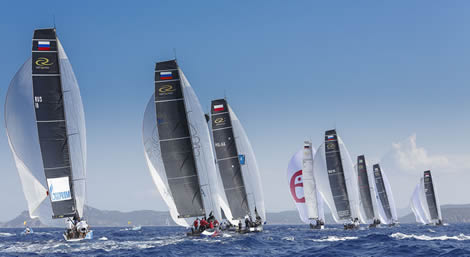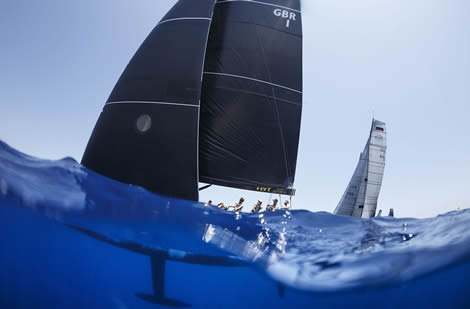 Back to top
Back to top